A RAYO OF SUNSHINE – Vallecano have reasons to be happy
Updated: 11 October, 2011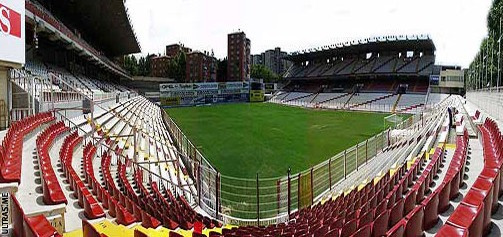 By Alex Bromley
Rayo Vallecano, as an 'institution' of Spanish top flight football, has had a pretty prosperous start to the new season in terms of both their men's and women's senior teams.
The men, who are back in amongst the big boys for the first time in eight years, are still somewhat finding their feet but have been defensively strong in the opening encounters; something that everyone associated with the club can take heart from.
Having come off the back of a bit of a pounding at title-hopefuls Real Madrid, Rayo travelled to the other end of the proverbial spectrum with a tricky tie away at Racing Santander.
Now, unlike Strictly Come Dancing where I have a knack for picking a finalist in the first couple of weeks, I am a dab-hand at completely making a fool of myself when it comes to predicting relegation contenders; my sister remembers how I famously categorically stated that Blackburn Rovers would be safe for a decade immediately following their Premiership win – needless to say, they plummeted to the then "League 1" within a couple of seasons.
Blackburn fans should also be worried to hear that I tipped them to stay up this time round too.
However, I also believed that Racing would be headed down to the Segunda in rock bottom come May, and so it would be vital for other potential strugglers to pick up points where they could against Santander – something the temperamental Rayo failed to do on Saturday.
Despite taking the lead, Rayo couldn't capitalise and close the game, and so left the north with an infuriating point.
Now don't get me wrong, I think Rayo will survive, but they will need to be much more ruthless if they are to avoid the dogfight that has become synonymous with newly promoted clubs.
On the other hand however, the female side of Rayo are flying, but still not quite good enough for top spot.
They have the joint best goal difference in the league, but have lost one of their opening five fixtures to the female powerhouse of Barcelona.
They just dominate everything don't they, those Catalans?!
However the big news for the female game this week was the draw for the Women's Champions League, a tournament which I have sort of grown a soft spot for since attending last year.
Many followers of the English game will not be too pleased to see that Arsenal have been drawn against the current Spanish Superliga Femenina champions, and will have their work seriously cut out when they travel to Madrid next month.
With Glasgow City being the only other British team in the last 16 of this year's tournament, hopes of the home nations progressing far are stretched.
The Scots face FFC Turbine Pottsdam (last year's runners up), and although Rayo women don't really take to European football, they are without a doubt one of the best teams in the competition and if you get a chance, I would strongly recommend heading to see either of the two legs – chances are that they will be unbelievably cheap, and though the standard of football may well be below that of the men, the level is clearly amongst the best in this continent.
I shall be intermittently covering the female side of football in Spain, and would love to hear your views on the women's game, either just in Spain, in England, the Women's Champs League or indeed worldwide. Keep your eyes peeled for more from the women's world in my further articles.
Twitter: @AJBromley
Follow @icentrocampista