Can Spain find redemption in Rio?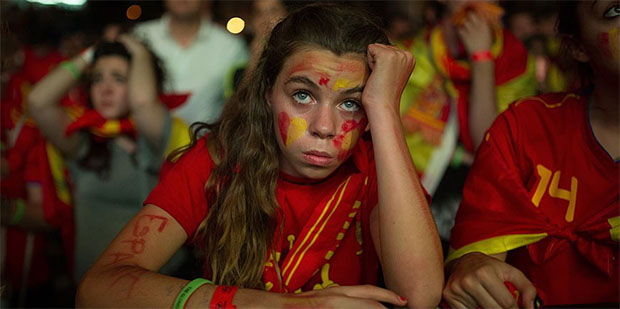 If you trawl back through the record books to the inception of the tournament in 1930, you will find only four reigning champions that have suffered defeat in their first match at the following World Cup; Italy in 1950, Argentina in 1982 and 90 and France in 2002.
None however, were beaten by such as an emphatic margin as Spain were in Salvador on Friday.
The Netherlands, who despite an unbeaten qualifying campaign were disregarded by many, tore apart Del Bosque's men in a fashion that La Roja are themselves used to dishing out.
The infamous 'Tika Taka' brutally trampled on by pace, power and directness.
With the likes of Iniesta, Villa, Xavi, and Alonso all nearing the end of their international careers, Spain find themselves in the middle of a transition phase which has come about at the very worst possible time. It's a transition phase which based on Fridays evidence, looks like going horrible astray.
The introduction of Diego Costa into the Spanish fold was considered by many as being the final piece in the Spanish jigsaw, yet his role in the team throws up a bigger puzzle than before. The runs that the Atletico Madrid player was making behind the Dutch defence were the right ones, but there were few occasions in which they were found.
Long balls simply aren't part of the Spanish philosophy, and as a result both Costa and Spain changed their game slightly in order to meet each other's needs.
The hoped perfect collaboration quickly turned into a mismatched nightmare.
Yet there is an old adverb that warns against writing off a forsaken wounded animal, and whilst they may look down and out, La Roja must find comfort in the fact that they have been here before.
Beaten by Switzerland in their opening game of the 2010 World Cup, Spain resurged to win the crown for the first time. And while retaining it looks some way off this time around, even the harshest of Spanish critics will be folly to completely rule them out of contention just yet.
As was the case four years ago, a crucial group game against Chile could well decide their fate. That day goals from Iniesta and Villa gave Spain a 2-1 victory which saw them qualify as group winners, but things have changed somewhat since then.
Whilst the Spanish squad has aged by another four years, Chile is currently enjoying a renaissance period which has led many to name them as real outsiders for this year's trophy. A comfortable 3-1 victory against Australia saw them open their campaign in the best possible way, and they have the players, and style, to cause Spain some real problems.
Barcelona's Alexis Sanchez in particular will have smiled when he looked at the ease in which Arjen Robben glided past the Spanish defence, and his pace will cause La Roja problems all game.
On the front foot, this Spanish team still remain one of the greatest of all time, but on the back foot against players who are running at them with pace, it is all so different. Ramos and Pique are great defenders in their own right, but even a ten yard start against Robben for what would result in his second goal of the evening, proved futile.
Just like the Netherlands on Friday, Chile will be happy to let Spain have the ball in areas in which they can do little harm, before drawing them in and hitting them on the counter attack.
Del Bosque will know this; preventing it is a different matter.
With Spain having more than enough guile going forward themselves and with the stakes higher than ever, it promises to be an intriguing clash which promises so much to the neutral.
However for La Roja, for once, entertainment must play second fiddle. Forget the manner of the result, for them, this is all or nothing.
Follow @icentrocampista