RESURRECTION MAN – The second coming of Sergio Canales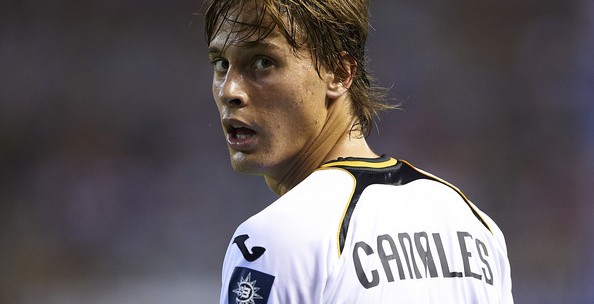 By Richard Thorburn
Rewind just a couple of years and there was one name on the lips of everybody in La Liga.
Up in Cantabria, 17-year-old Sergio Canales was causing a storm with a string of imperious performances for his club Racing Santander.
With his flowing blonde hair and his boy band looks, Sergio Canales almost epitomises the modern day footballer. Combined with his un-nerving skill on the ball and a maturity way beyond his youthful appearance, it was taken as a given that Canales would develop into a 'footballing' superstar – one that would take La Liga by storm.
High hopes were also had on the international scene and with Canales already a European Champion at U17 level he was very much seen as a symbol of the new generation of a Spanish national team that were intent on carrying on their ruthless world domination.
At club level, Canales came through the youth ranks at his home town club of Racing Santander and after the sacking of Juan Carlos Mandiá, he finally got his chance under new manager Miguel Angel Portugal.
He soon began to show La Liga glimpses of his immense talent and potential.
As first impressions go, it wasn't a bad one as Canales bagged a brace on his debut against Espanyol, and it was evident to everyone at the Olympic stadium that day that a star had be born and was about to shine to the world.
Perhaps for Racing fans however, that star shone a little too bright and alerted a whole host of top clubs all of whom were interested in securing his signature.
In the end Canales was tempted to move to the bright lights of Madrid and join Real in a deal that is believed to be around the £4 million mark. With his contract up at in 12 months time, Santander had little option but to cash in.
It is at this point that the tale of Canales takes a slightly darker twist however, and it is a warning to all young players that although the glamour and prestige of playing for Real Madrid may entice many, like many big clubs it has also suspended a players development.
While he had cemented himself in the first team at Santander, Real Madrid was a different story and far from guaranteed a place in the starting line up, Canales made just 10 appearances for the club none of which resulted in troubling the scoreboard.
The fear Canales was going to join a whole host of players whom never fulfilled their potential loomed every near.
But then last summer came a glimmer of light and a two season loan move to Valencia quickly transpired. It's a move that has paid dividends for both player and club so far.
He scored the solitary goal that saw Valencia overcome Granada last weekend, and has impressed everybody since his arrival at the Mestalla.
Canales is grabbing the opportunity to be king with two hands and with a reported £12 million option to buy at the end of the two year loan, Valencia may just have pulled off one of the biggest coups of recent seasons – leaving Madrid left to rue what could have been had they granted a more regular starting berth to the player.
While merely warming the bench at the Bernabeau,  he has been given free rein to rule the Mestalla this season which can only help turn the twenty year olds potential into reality with subsequent performance.
Joining him at Valencia this season is Argentine Pablo Piatti after manager Unai Emery raided his old club UD Almeria to sign the attacking midfielder for a fee believed to be in the region of £5 million.
When Emery initially brought Piatti to the south coast back in the summer of 2008, it sent shockwaves through his native homeland. In the same way as Canales was, Piatti was very much seen as one of the brighter prospects of Argentine football and was lusted for by numerous 'big clubs' all over Europe.
His decision to join a struggling La Liga team seemed strange to say the least.
In hindsight however, it could have been his smartest move to date. At Almeria Piatti got the time to both develop his game but also to adapt to the La Liga – something that he couldn't have done if sitting on the bench of a Real Madrid for example.
In total Piatti made over 100 appearances for the Andalucían outfit scoring 20 goals in the process.
While both players have ultimately ended up playing for the same team this season, the route in which they have taken to reach Valencia is dramatically different, and it just goes to show that moving to the elite may not always be the best option for a young footballer.
Fortunately for Canales the tale of his rise to prominence in the Spanish game looks like it is finally getting back on track after taking a detour via the capital.
First team football is key for any player and Canales should be thankful that Valencia has given him the opportunity to play before he slowly stagnated on the bench.
More goals like the ones against Granada and he will pay them back ten-fold.
Follow @icentrocampista