Brilliant Isco allows Malaga fans to believe once more
Updated: 19 October, 2012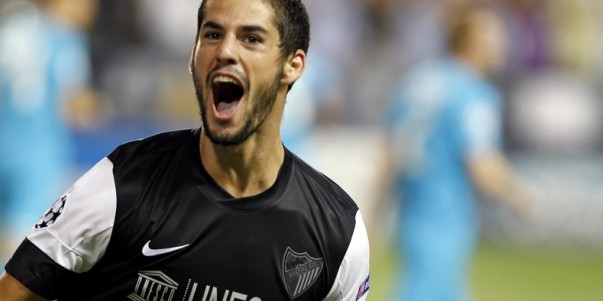 A lot can be deciphered from a football player's celebration, some strike a messianic pose displaying a great deal of arrogance, some perform a trademark routine primarily to entertain the crowd, some shout and run in a release of passion, and some simply couldn't care less and head straight to the team mate who provided the assist.
After evading two challenges and showing fantastic balance, Isco Alarcon curled a perfectly finished shot round Bruno Alves and Vyacheslav Malafeev of Zenit St.Petersburg which glanced off the post and into the corner of the net becoming Malaga's first Champions League goal in their history. The 20-year-old sensation jogged away with a beaming smile and looked up to the crowd in a simple but poignant display of relief and happiness that's rarely seen in football.
The Andalusia native had just created history in La Rosaelda amongst his people, for his club he grew up supporting. Despite all that had conspired against Malaga this summer there was an increasing feeling at the final whistle that things might just be alright. In facing Zenit, there could hardly have been two teams further apart playing against each other.
Malaga, a team who spent nothing and sold €29.3 million worth of talent faced the Russian club, who had sold just under a million and spent €94.2 million. The dominant 3-0 victory was far from a flash in the pan after a start to La Liga that has Malaga sat in third place behind Barcelona and Atletico Madrid.
The picture makes even better reading for Malaga fans in Europe with the club sitting top of Group C. The win over Zenit was followed most recently by another 3-0, this time away to Anderlecht with the Portuguese Eliseu scoring two wonder goals either side of a Joaquin penalty. The result means Malaga have the best goal difference in the competition and are one of only two teams yet to concede with a significantly ageing back line Manuel Pellegrini is once again producing miracles.
The clubs record signing, Santi Cazorla, is now the clubs record departure just a year after his purchase. Rondon, Apono and van Nistelrooy have also all left but with the free signings of Onyewu, Saviola and Santa Cruz, it wouldn't be ridiculous to say Pellegrino's side has improved this season. If not on paper Malaga have more importantly improved in practice; a side that was carried on occasion by Cazorla now plays with a fluidity and team ethic that has seen them score 19 and concede only four in all competitive fixtures this season.
Holding onto the likes of Caballero, Monreal, Demichelis, Camacho, Joaquin and of course Isco, will have helped but the most important stay looks to be that of coach Manuel Pellegrini, once again crafting a winning team out of very little much like he did during his time at Villarreal reaching the heights of second place finish and a Champions League semi-final. The Chilean manager continues to increase his credentials as the best pound-for-pound coach currently in the game.
It's difficult to judge where Malaga go from here, in the short team there's every chance of a prolonged stay in the top quarter of the table but in the long-term it remains to be seen what increasingly distant owner Abdullah Al Thani's intentions really are. Malaga will have to be smart both on and off the pitch; trying to match the intelligence they displayed in bringing a €6 million Isco to the club after his development at Valencia.
It's one of the greatest personal feelings for a football supporter seeing a local player score for their team, but there really was something special for Malaga fans in Isco's European double, after the toughest time in their history there was no one better than a 20-year-old from Benalmadena to remind fans why they should always stick with their club through thick and thin.
Follow @icentrocampista