TO THE ENDS OF THE EARTH? – The lack of travelling support in Spain
Updated: 14 October, 2011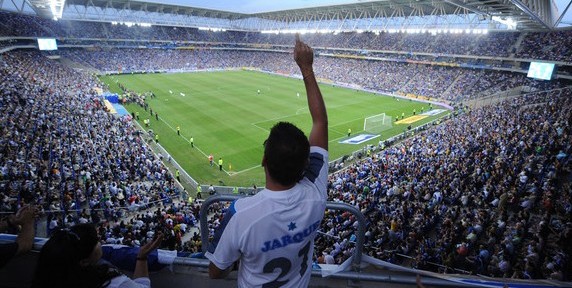 By Richard Thorburn
Tuesday's invasion of the 'Tartan Army' into Alicante was a sight that natives of the Andalucían city will not be forgetting for a while.
It is estimated that up to 15,000 Scottish descended into the Jose Rico Perez stadium, and while ultimately the night ended in defeat and failure to qualify, the kilt wearing Scots certainly caused some bemusement on the southern Spanish coast.
And you can certainly understand why, especially to a footballing nation that hasn't quite grasped the concept of 'away travel'.
Sure the aforementioned kilts, combined with traditional bag pipes and the stereotypical ginger wigs, would have had many European countries rubbing their eyes with disbelief, it was perhaps the sheer volume of Scottish support that raised the most eyebrows.
Any ideas of mid-afternoon siestas quickly dampened.
When Spain lifted the World Cup in South Africa it was widely regarded that they were the least supported team from Europe.
Even Slovenia, with an estimated population of two million, saw more travel agents scrambling about looking for those last minute flights to Cape Town.
So why is it then that the fourth most populated country in Europe, isn't replicating the dominance that their country is currently showing, in the stands.
Perhaps a lot stems from the difficulties of travel in domestic competitions. While it may be highly populated, Spain is also a vast country.
Racing Santander enthusiasts, for example face a 487 mile trek if they wish to go and watch their heroes face Malaga, and it is a similar story for a lot of other team's fanatics for whom away travel in these circumstances is almost impossible.
And that's not even mentioning the two island based teams of Mallorca and Tenerife.
While Norwich City and Newcastle United fans may approach the 201 mile drive to each other's grounds with dread, it is fair to say that nothing in England can match it, January snow or not.
Even the two powerhouses of Real Madrid and Barcelona, two of the best supported teams in the world, usually only have a travelling contingent for domestic games that is in the hundreds rather than thousands.
It is also worth considering that Spain has historically not had a public transport system of any worthy note since the 1980's.
And although that has improved beyond recognition today, the notion of going to watch your team away from the luxury of home is something that probably hasn't been considered possible by many Spanish fans.
Combine this with the fact that kick-off times aren't confirmed until ten days before the match and that they usually finish so late, and you begin to get a sense of the difficulties of making any concrete plans.
A couple of years ago, Barcelona and Sevilla kicked off at five past twelve at night after a dispute with television companies. With the game not finishing until nearly two o'clock, it certainly isn't an environment that lends itself to a visiting fan.
Although there have been a few rare occasions recently where the fans loyalty and dedication to the team has shone through.
Unfortunately however it is the exception to the rule, rather than the rule itself.
Last year Sporting Gijon took 8,000 fans the short distance to Deportivo, while when Espanyol were striving to stay up in 2009 they regularly took thousands to away matches come the business end of the season.
Ask any fan, home or away, who was at those games and I'm sure that they would all agree that the 'match day experience' was a  better one and one that needs to be encouraged on a more regular basis.
And while it may be impossible to change the size of Spain, and it might be impossible to set up 1000km trains linking every stadium in the country, more initiative ideas are needed to promote away travel.
While in my previous article I argued how Spanish football was in a league of its own, that was purely on the pitch matters.
If the Spanish Football Federation wants to make La Liga the undoubted king of the European leagues they need to promote, instead of presenting obstacles for travelling fans.
There is every chance that an even a small change in logistics could see away fans flocking back, and who knows? Maybe in a few years Spain will have its own 'Tartan army'.
Follow @icentrocampista