MISTRUST IN MALAGA – Manuel Pellegrini faces murmurs of discontent
Updated: 2 November, 2011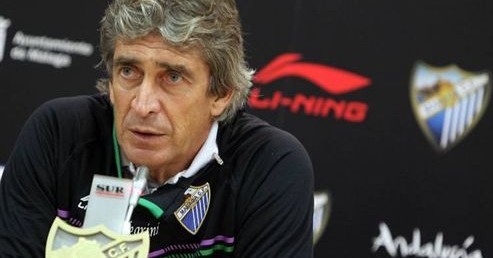 By Olly Dawes
Having become possibly the richest club in La Liga, many expected Malaga to be the team to challenge the entrenched duopoly of Barcelona and Real Madrid this season.
Following the takeover by Sheikh Al-Thani, Malaga came into a huge amount of money – matched by incredibly ambitious plans for the future of the Andalusian club.
A summer of upheaval took place as established stars like Joaquin, Santi Cazorla, Jeremy Toulalan and Ruud van Nistelrooy climbed aboard Manuel Pellegrini's ship, whilst they also managed to attract Sergio Sanchez, Joris Mathijsen, Natxo Monreal, Diego Buonanotte and Isco also signed up to 'The Malaga Project'.
And with an experienced La Liga head in charge like Pellegrini, it seemed like all the right ingredients were in place at La Rosaleda.
But as we head into November, there's something missing for Los Boquerones.
You may be reading this thinking that is incredibly harsh on a side that almost got relegated last year, who currently sit in sixth place in La Liga with a very good 16 points from 10 games.
It could have been so much more however.
The season started with a disappointing 2-1 defeat away at local rivals Sevilla, then another derby game against Granada ended in a 4-0 win, with Santi Cazorla starring in both games.
Two 1-0 wins followed and all looked quite rosy for Pellegrini's side.
The following five games are where the troubles started to appear for Malaga. Just one win in that time, and that victory almost didn't happen.
2-1 down with two minutes of normal time to play, Enzo Maresca grabbed a late equaliser against 10-man Getafe. Then, in the dying seconds of injury time, Julio Baptista flew through the air to execute an impeccable bicycle kick which rocketed into the top corner.
'The Beast' had come to the rescue.
It's true that Malaga are a poorer side without Baptista. He's struggled with injuries of late, seeing Malaga slump to three consecutive defeats – away to Levante (3-0), Real Madrid (4-0) and a shock 2-0 defeat away to newly promoted Rayo Vallecano.
He was also missing for last weekend's 2-1 win over notoriously poor travellers Espanyol – and they got lucky in that one as Apono's penalty came in controversial circumstances – Romaric was penalised for 'handling' the ball, even though he showed proof to the referee that the ball had in fact struck him in the eye, and the black eye showed that clearly.
It's Pellegrini's selection process that has raised many eyebrows from onlookers.
He neglected the option to sign another goalkeeper in the summer so when first choice Willy Caballero got suspended, Ruben was called upon. He had only played six times before for Malaga, and it was a catastrophic disaster.
He continues to play left winger Eliseu at left back, despite having signed Natxo Monreal in the summer, a Spanish international and natural left back who impressed for many years at Osasuna.
Eliseu has been a major weak link in the Malaga side, yet Pellegrini continues to start him and Monreal has already complained about a lack of opportunities.
There has been a public bust up with Apono which seems to have been rectified, whilst the fans have been calling out for Isco to play in midfield to little evail.
But the biggest issue is the continual favouritism towards Ruud van Nistelrooy.
Van Nistelrooy is no stranger to La Liga. He spent four years with Real Madrid, scoring a total of 64 goals in 96 games before moving over to Germany with Hamburg.
Now van Nistelrooy is back in Spain, it was seen that he was the marquee signing for Pellegrini's side and would fire plenty of goals as he had done before.
The problem is that he's now 35-years-old. He's not the same player that starred for Manchester United and Real Madrid.
One goal in nine appearances tells it's own story.
Starting the Dutchman makes Malaga a different side. There's a lack of pace, they look ponderous and somewhat one dimensional, and the fans have wasted no time in making their feelings heard.
They want last season's top scorer Jose Salomon Rondon to start up front as he offers a dynamic edge to the front line. Rondon is an athletic player, very strong and quick and has plenty of potential.
When Rondon started against Espanyol at weekend – he scored.
It's already been rumoured that they have a shortlist of players to target in January – the main positions appear to be goalkeeper, centre-back, central-midfield and attacking-midfield.
Names mentioned so far have been Carlos Kameni, Nicolas Otamendi, Raul Albiol, Esteban Granero, Jorge Valdivia, Jefferson Farfan and Andre Ayew.
All of these players would offer something another dimension to the Malaga team – especially Farfan, whose explosive pace would prove to be a great asset and possibly help van Nistelrooy score more goals.
It will be interesting to see how Pellegrini now reacts to the murmurs of discontent on the Costa-del-Sol, and there is a feeling his team have yet to reach anywhere near the level that pre-season hype warranted.
________________________________________


Follow @icentrocampista