A NEW DAWN COMETH – The Bielsa revolution at San Mamés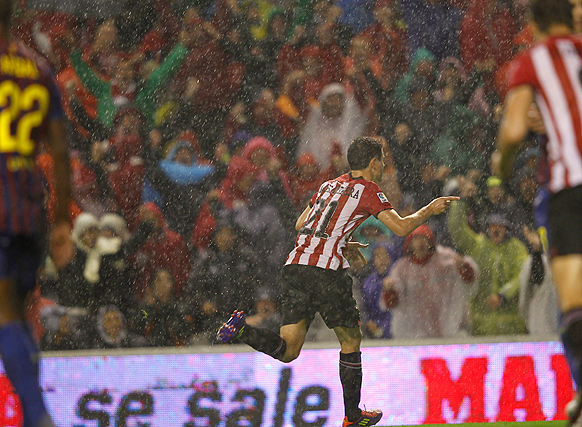 By Jamie Milligan
These are exciting times at San Mames. There is a distinct buzz of optimism around Basque country at the moment which has been unseen since Atheltic Club's champagne days of the early 80s.
Newly elected President Josu Urrutia's announcement that ex-Argentina boss Marcelo Bielsa was set to take over at the club was greeted with delight by the Athletic Club legions.
Urrutia is seen to have pulled off something of a coup in luring the Argentine tactician to San Mames given that Bielsa reportedly rejected the chance to coach Inter Milan in favour of the Basque side.
Bielsa, or "El Loco" as he's known in his native Argentina, will now take over from the pragmatic Joaquin Caparros, who steered Athletic Club to an impressive 6th place finish, ending the season a mere four points of Champions League qualification.
Caparros, though successful, proved to be an unpopular manager with the Los Leones fans.
The Spaniard favoured a direct, physical style-of-play which aimed to get the best out of target-man Fernando Llorente.  And although it proved to be an effective tactic, the Athletic Club fans vocalised their desire for a more attractive approach to the game.
It seems that Urrutia, whilst campaigning for fan support, latched on to these demands for a more aesthetically pleasing style of play fairly quickly and made Bielsa his number one target to replace Caparros.
If attacking football is what the Athletic fans were looking for then it seems that all their prayers have been answered by Bielsa's appointment.
The Argentine is known by some as "the most attacking coach in the world" such is his positive, attack-minded approach to the game.
Bielsa's vibrant young Chile side lit up last year's World Cup in South Africa- all be it briefly- where they played with a cavalier style of football that put some of the defensive approaches deployed by bigger nations to shame.
Almost immediately after being appointed Chilean national coach, Bielsa began to enforce his principles of play on the Chilean national side and moulded Las Rojas in his own image.
He also fast-tracked various talented but raw youth players and gave them experience of playing in the senior side.
The results were some-what mixed. Bielsa's fresh approach initially looked destined to fail after poor early results but eventually, in time, began to resemble a master-stroke as results improved and Chile qualified for the 2010 World Cup,-their first in 12 years.
Though they were knocked out by eventual winners Spain, Bielsa's side which included the likes of Alexis Sanchez and Aturo Vidal, became the darlings of neutral fans.
Having helped turn the likes of Sanchez and Vidal into household names, it is likely that one of the things which attracted Bielsa to San Mames was the presence of young and vibrant footballers.
The likes of Iker Munain, Javi Martinez and Ander Herrera, who all recently starred for Spain's victorious Under-21 side, will be seen by Bielsa as three players who he can help blossom.
Another key attraction for Bielsa would have been Athletic Club's doggedness to retain their star-player Fernando Llorente.
Despite courting interest from Real Madrid and Tottenham Hotspur, Athletic Club have insisted on hanging onto their talented target-man for the time being.
And Llorente could fit perfectly into the Argentine's favoured 3-3-3-1 formation as the spearhead in attack.
Bielsa's first competitive game in charge will be against Real Madrid on August 21st .The delight which currently surrounds San Mames will quickly be replaced by dejection and frustration if results are not positive from the off.
Bielsa's style of play should appease the San Mames masses for the time-being but history has shown that imposing a completely new philosophy on a team requires time and patience.
Unfortunately for Bielsa, these two virtues scarcely exist in club football anymore.
Follow @icentrocampista