AN ENGLISHMAN IN THE MESTALLA – Richard Thorburn and his Valencia adventure
Updated: 5 November, 2011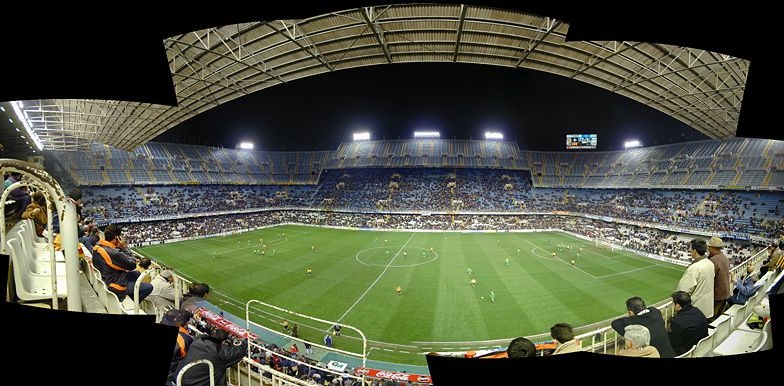 By Richard Thorburn
Truth be told, with its steep terraces and close proximity to the playing surface, the Mestalla is a stadium that has always fascinated me.
In an era where newly-built football grounds look practically identical due to their affinity for a perfect 'bowl' design, the amount of traditional stadiums which posses heaps of personality are quickly declining onto the scrap metal heap.
And while the demand for 'new builds' has not yet reached the same level as may be found in England, the desire for modern stadiums is starting to sweep into Spain.
As it stands there are no less than five football teams in La Liga who, if construction goes to plan, will be calling a new stadium 'home' by 2016 : Valencia CF, Atletico Madrid, Athletic Bilbao, Real Zaragoza and RCD Mallorca.
Traditional grounds are sadly becoming the exception rather than the rule, and we may not have long left to saviour the historic and spectacular grounds that once provided a focus point for many a town and city.
With more existing ground being handed a 'death warrant' we must cherish the ones that survive for as long as we possibly can.
My trip to the Spanish City of Castellon – some 60km north of Valencia – to cover Manchester City's match against Villarreal provided a perfect opportunity to make my debut bow at the Mestalla.
Situated in virtually the heart of Valencia (think St James' Park in Newcastle), the Mestalla cuts a commanding presence from afar. Built in 1923, it has been home to the City's football club ever since.
With tickets readily available for the evening game in the Champions League against Bayer Leverkusen, a must-win match if Unai Emery's troops had any thought of progressing into the knockout stages, it was simply too good of an opportunity to miss.
After getting hopelessly lost in Valencia and miserable failing to decipher an electronic ticketing machines, destination Mestalla was finally reached.
Did the home of los che look safe?
Not particularly.
Is it going to win scores of art prizes for its aesthetic qualities?
Well, no – not unless you have a fetish for tonnes of concrete.
But despite this, and for what it lacks in decorative quality, it certainly makes up for with an abundance of character and charm which any football fan would struggle to fail to fall in love with.
Actor James Cordon was recently quote in an interview as saying that he 'had to be funny and charming to get girls to like me' and although I may be contextualising it somewhat, the Mestalla is very much like that obese kid at school who despite carrying excess pounds, still had flocks of girls around him.
There is the old romantic adage thats claims it's what's on the inside counts and if that it is truly the case, there is no wonder the Mestalla is one of Europe's most loved stadiums.
With tickets costing as little as 19 Euros – compare and contrast to the 60 Euros at Villarreal the following evening – it may be somewhat of a surprise that they don't sell out for Champions League games, but with our tickets in hand we were certainly glad that they didn't.
After a stroll around Valencia itself in the 24c heat, not bad for November, the game was quickly upon us and my first visit to the Mestalla was quickly in sight.
Having bought tickets in the Valencia end we were somewhat surprised to the level of security and search procedures that followed our entrance into the stadium. I naturally assumed that this was merely another of UEFA's stringent policies in which they seem to have great fondness in employing.
Nonetheless we were given the green light and after puffing our way up the countless blocks of stairs, the reason as to why the searches took so long was quickly evident.
We were in the Leverkusen end.
A quick glance down at our ticket and it was soon apparent that our allocated seat was in actual fact over the netting segregating the two sets of fans at with the Valencia faithful.
.
Despite this however, we soon found or way into the right section and our designated seat.
Finally we were able to take in the Mestalla at its finest. For me football grounds are at their finest when they are virtually empty. It's the calm before the storm that you know is going to happen in the coming hours and arriving in the ground an hour and fifteen minutes before kickoff, it's fair to say that we had time to take in the breathtaking surroundings that we found our self in.
To put it simply – The Mestalla is stunning.
Whereas many a football ground may focus on corporate boxes or padded seats, the Mestalla is primarily a place in which people watch football.
It doesn't offer the services of a five star hotel and yes – some of the seats look like they may break with even the slightest of movement – but it is this that is so refreshing.
It doesn't pretend to be something that it isn't.
And sure, I may have had to stand up to see the goal nearest to us and I may have nearly had a heart attack reaching my seat, but it is a throwback to the days in which football was a working man's game.
It certainly isn't as hard to imagine thousands of Valencia natives cramming into the ground at the weekend after a hard week's manual labour as it would be say at Old Trafford.
The dramatic start to the game reflected the dramatic surroundings perfectly.
A poor goal kick from Bayer Leverkusen goalkeeper Bernd Leno saw the ball fall straight to Jonas and his curled shot put Valencia one nil up after just ten seconds. It was the second quickest Champions League goal in history.
Kiessling gave the 400 travelling contingent something to cheer as he equalised just after the half-hour mark, but goals in the second half from Soldado and Rami sealed a three one win for the home side.
In truth the score line flattered Valencia, but nonetheless it was a must win game in which they did just that.
And with that my first, but hopefully not last, visit to the Mestalla was over.
I have been fortunate to go to many a stadium around Europe, but the Mestalla will always have a special place in my heart.
The Camp Nou at Barcelona may be more impressive but nothing can rival the Mestalla in terms of character and history – 21 league wins or not.
The sad thing however is that like a lot of football grounds built in the early 20th century; there expiry date is coming every nearer.
Ask anyone in charge of Valencia's move to the Nou Mestalla, and they would openly admit that if things had gone to plan, the Mestalla as we still know it would not be in use today.
The new 75,000 capacity stadium was initially planned to be completed for the start of the 2009/2010 season. Three years on, it is still remains a long way from being finally finished.
Plagued with financial problems from the onset, construction has been halted several times and to date no expected completed date has been issued by the club.
Rather than becoming a platform from which they can challenge Barcelona and Real Madrid, it appears that the new ground has become somewhat of a burden.
And with the sales of key stars such as David Villa and David Silva to fund the construction, even the most enthuastic supporter of the 'Nou Mestalla' would have to admit that the financial implications have only seen Valencia CF drift further away from La Liga's dominant pair.
While I am sure that when the stadium is finally built it will be greeted with open arms by many, it will be tinged with a great deal of sadness about leaving the Mestalla.
The old stalwart has got much time left. I would certainly go and visit it while you have a chance.
_________________________________
Follow @icentrocampista