CHAMPIONS ELECT – Are Real Madrid on course for glory?
Updated: 19 November, 2011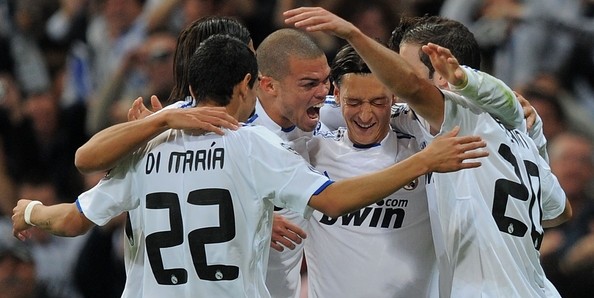 By Jamie Milligan
There was a time when suggesting it could get you locked up in a padded cell. Scarce few believed it, and those who did, whispered it, for fear of ridicule.
Now however, it is becoming a more widely held opinion.
Zinidine Zidane's comments that Real Madrid are currently a better team than Barcelona have sparked much thought and debate among football circles.
Initially, my reaction was that of many other people's; I scoffed and turned my nose up at Zizou's words.
Barcelona, after all, are arguably the greatest side of all time.
However, the more I thought about it, the more I found myself agreeing with the great man's opinion.
For the first time in three and a half years, I feel momentum is slowly but surely swinging in Real Madrid's favour.
The gap has been closing since Jose Mourinho arrived at the Bernabeu and I feel that the Portuguese may finally be succeeding at football's mission impossible.
Real Madrid have been quite brilliant so far this season.
Early season blips against Levante and Racing have been quickly forgotten and Los Blancos have smashed all obstacles put in front of them.
In Karim Benzema and Gonzalo Higuain, Mourinho has two forwards at the absolute top of their game.
Add to that a better than ever Cristiano Ronaldo and a reborn Kaka, and it is easy to see why more and more people are beginning to believe that this is the year when Madrid can finally halt the Barcelona juggernaut.
Barça, despite having recorded some wonderful home performances, have looked unconvincing on the road.
Draw against Real Sociedad, Valencia and Athletic Club have left some commentators questioning Guardiola's side for the first time.
No doubt this is partly due to the sky-high standards the Catalans have set since 2008, but it is also due to Barca's inability to kill sides off and an over-reliance on Leonel Messi.
In writing this article I am echoing views I expressed a couple of weeks ago, in that Barcelona are relying too much on the little magician and that they must address their away form.
After watching Messi save Barça with a late equaliser against Athletic Club last time out, my opinion has only been cemented further.
If Barcelona's over-reliance on Messi is the first reason why I feel Real Madrid are in a good position to reclaim La Liga, then Real's ability to not overly rely on their own superstar, Cristiano Ronaldo, is the second.
As I have stated, Jose Mourinho currently has a squad of players firing on all cylinders.
Benzema and Higuain have 17 league goals between them and Kaka is playing the best football he has played since he was crowned World Player of the Year in 2007.
Ronaldo too has been in stunning form, but he has been helped out by a team of players who seem to truly believe that this is their year.
In saying all of that, Real's title credentials can only be truly measured when they face Barcelona in the first el clásico of the season.
The date is the 10th of December. Then all the talk will end and the world will find out if Jose Mourinho's side are finally in a position to end Barcelona's reign of supremacy.
Until then, the debate will continue.
__________________________
Follow @icentrocampista