STORM CLOUDS IN GRANADA – Trouble brewing for La Liga new boys
Updated: 8 November, 2011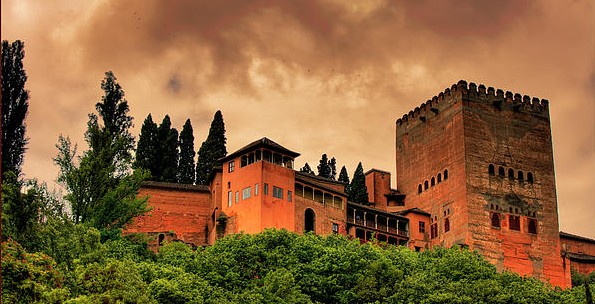 By Heath Chesters
The autumn storms are beginning to appear throughout the provinces of Andalucia with the first heavy snow falling on the Sierra Nevada, the mountains which provide a beautiful backdrop to the city of Granada.
It wasn't just the weather that was unpredictable here this last week or so however.
On the last day of October, Granada travelled to Sevilla for an encounter few expected them to come away from with any points. A goal down in less than a minute of play, things looked to be heading the same way all their previous away games have gone… no goals and no points.
Against all expectations, in the last 13 minutes of the game Granada staged an amazing comeback, greatly influenced by the introduction of their talismanic striker Odion Ighalo,on to replace fellow Nigerian Ike Uche.
He immediately proved a thorn in the side of the Sevilla defence, proving the spark of inspiration that would lead to him assisting the goals by Geijo and Mikel Rico.
Having only managed a pitiful two goals in their previous nine matches, they'd just doubled their tally for the season in their tenth game of the season. Was luck finally on their side? Was this the turning point?
Fast forward to Sunday 6th November and a basement battle with Racing Santander came with high expectations from the home fans. This was a must win game that could lift the team out of the bottom three and shuffling close to mid-table teams such as Athletic Bilbao, Atlético Madrid and even level on points with Villareal.
So with high hopes, fans roared their team on, but although defensively solid, once again their failings in the final third were most evident. Was this really the same team that had just beaten Sevilla? Was that just a sticking plaster over something that's been ailing the team all season?
The game itself was probably one of the poorest displays by two teams I've seen in La Liga this season. Ike Uche failed to make any impact once again.
His poor display perhaps wasn't aided by the crowd calling for "Iga… Ighalo!" every time Uche fluffed a pass or lacked pace to get the ball. Eventually the calls of the fans was answered and off he trudged a dejected figure, to be replaced by Ighalo.
Unfortunately he couldn't make the same impact in this game, but in reality, so poor was the play from both teams, it would have taken a Messi or Ronaldo to create some magic, which neither team enjoy the luxury of having.
Ighalo did look much more lively than Uche though, who's confidence must be rock bottom. The game finished a predictable 0-0.
During the post match interview, Granada manager Fabri concentrated on a reaction aimed at home fans. He was highly critical, claiming the atmosphere they created was an "embarrassment" by criticising or jeering one of their own players, that such would never happen "in my region"(Galicia), that he feels "pain for his players".
This has caused an explosion of feeling and blown wide into the open, the feelings of discontent towards the manager, which have been simmering for many weeks now.
Fans forums and supporter websites were angrily flooded with comments about the manager. Every doubt, concern and dissatisfaction with tactics and selections declared loudly, when previously they had been muttered relatively quietly, accepting they must be patient.
Why does he stick with direct football? Why doesn't he rotate the squad more? Why aren't players like Mollo, Jara and Ighalo featuring, when those who have are clearly lacking form?
Why are we paying up to €1,000 for a season ticket to watch him pick a second division team? When are we going to see some real football, instead his negative tactics? Why does he keep picking Uche, when it's obvious he's out of form or doesn't suit the tactics? Etc…
Via one press conference, Fabri Gonzalez has possibly lost any remaining patience of the fans and their support. In truth, the Granada fans are no different to those of any other teams throughout the country. They want to win and watch good football. Sadly, they've been offered little of that so far.
My own thoughts?
In truth I don't think the manager has really helped himself or the players with his comments. Whilst I very much understand being supportive and defensive of the players, it's fair to say that the fans are doubting his ability to manage the team at this level, more so than venting at a particular player.
The loud vocal support and encouragement of the Granada fans in the stadium, is amongst the best I've experienced. This coming from someone who's enjoyed being at some of the most vocal and animated matches in English and European football.
Granada fans can only be patient for so long though. Fans who travelled to away matches in the Segunda, even accepted the more defensive, negative approach Fabri often employed, if it meant nicking some vital points. When used both home and away, regardless of the opposition, the fans are far from impressed.
The younger fans clamour for more attractive attacking football, whilst those old enough to remember the 60's and 70's "Giant Killers", would prefer the "Bravura y Corazon" (Bravery & Heart) of yesteryear, rather than the siege mentality of today.
I must say I feel sorry for Ike Uche in the midst of all this. He's simply not suited to the style of football Fabri wants to employ, neither physically or technically. Unfortunately this is painfully apparent to all but the manager. He was a last minute desperation signing on loan (in the final hour of the summer window), to fill a striker slot that several more prominent and suitable players had rejected.
The best thing that could happen for Uche, is for his loan to be terminated in the next window, where he'll rejoin a Villareal side currently short on strikers, who play a more attractive style he'd be better suited to. Unfortunately at Granada, he's doing little else than highlight the deficiencies fans are finding with the selections and tactical choices of the manager.
When a manager is as critical of the fans, perhaps unreasonably I'd venture in this case, then it's often a sign he's on that slippery slope towards the managerial trapdoor. Soon after his post match comments though, he received the backing of club president Quique Pina, who himself has faced much scrutiny from supporters.
Unless Pina has some aces up his sleeve for the transfer window, or is simply keeping his cards close to his chest, backing the manager until other options are available, is another matter.
For the time being though, it's hard to say what will happen. Many fans want a change now, whilst there's an international break, so a new manager has a little time to evaluate his squad. I doubt anything will happen before the transfer window, though I have predicted before, that if Granada are in the bottom three by Christmas, it's likely there will be someone else at the helm by New Year.
___________________________
Follow @icentrocampista