THE BATTLE FOR MADRID
Updated: 24 November, 2011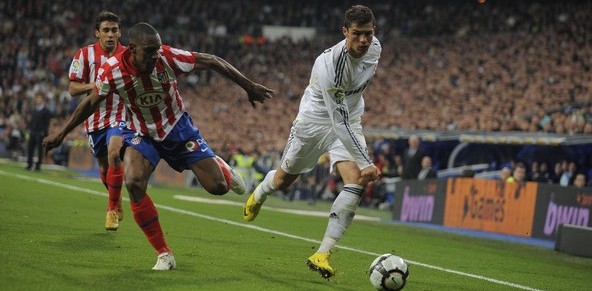 By Olly Dawes
All eyes will be fixed on the Spanish capital this weekend as Madrid's two powerhouses lock horns at the Estadio Santiago Bernabéu.
Saturday night's clash between Real Madrid and Atletico is more than just a cross city rivalry. The fierce nature of this game stems from the Franco regime, when Real were generally seen as the 'preferred team of the regime'.
Atleti were seen as the 'upstarts' – not to dissimilar from the burgeoning Manchester rivalry in England.
The dictatorship's perceived favouritism towards Real led to the rise of the Atleti 'ultra' group Frente Atletico Madrid who, although one of the most right-wing in Spain, used the situation to bolster their hatred for their city-rivals.
The working class nature of Atletico is well known in Spanish footballing culture, whilst the affluent members of the Madrid society tend to support their foremost club, Real.
It could be said that the rivalry means more to Atletico than it does to Real, who have their eternal rivalry with Barcelona, which again draws comparisons with Manchester United's games with Liverpool (seen as the bigger occasion in the past) and Manchester City (who were, until recently the underdogs).
Politics aside, this rivalry has unfortunately gained a reputation of being hugely one-sided – Atletico haven't beaten their city rivals since the 1999-2000 season – ironically the season Atleti lost their battle against relegation and dropped into the second tier of Spanish Football.
But can under-fire Gregorio Manzano's side change the trend this weekend?
Well, it would be unlikely. Real are in blistering form right now.
Tuesday 6-2 demolition of Dinamo Zagreb in the Champions League means that Real have won 12 games on the bounce after an inconspicuous start to the season. The reason is that competition for places is so strong in the Madrid camp that every time a player gets a chance – they take it.
Gonzalo Higuain and Karim Benzema – often compared and contrasted in order to find out who should be Madrid's first choice goal getter – have begun playing in the same team, and are scoring goals for fun. Throw the ever mercurial Cristiano Ronaldo in, and you can see why Real Madrid have started steamrolling teams, brushing them aside with ease as they look to dislodge Barcelona from the La Liga summit.
A hard-fought win at Valencia last weekend proved that Mourinho's side can get results with their backs against the wall, something which some people had questioned in the past.
The 3-2 win in  the Mestalla may not have been a classic performance but it could be a crucial come the business end of the season when the title is decided.
They then enjoyed an easy Champions League victory on Tuesday night, meaning attention can now turn back to domestic action and el derbi madrileño.
In contrast to Real dominating start to the season, opponents Atletico Madrid are the absolute definition of a 'Jekyll and Hyde' team. You quite literally do not know which Atleti will turn up.
Gregorio Manzano is currently feeling the heat after a poor run of results and a lack of goals – although Sunday's 3-2 win over faultering Levante has given him a stay of execution some may say, as it is still widely anticipated that he will be sacked in the near future.
As noted earlier – history does not favour Atletico in this clash. The last time they beat los blancos, the hero of the day was Jimmy-Floyd Hasselbaink, whilst Fernando Morientes scored for Real.
That season ended in relegation and a two year stint in la segunda before returning back to the top flight. They haven't beaten their illustrious neighbours since.
Last year's encounters were edged 2-0 and 2-1 by Real, whilst the head to head record stands at 80 Real wins, 31 draws and 35 Atletico wins.
It is sure to be a fiesty encounter between these two as Atletico look to provide their fans with something to cheer after a disappoint couple of months, but it looks like they will have to do so without star striker Radamel Falcao after the Colombian damaged a muscle in his leg – although the player himself says he is fighting to be fit.
A defeat in this game for Manzano and the pressure will increase on him – the fans will not want to see them lose to their city rivals. Atletico should be achieving more with their squad and ultimately, the blame must rest with the manager.
Manzano is a very reserved man and sometimes struggles to motivate his players. If this is the case on Saturday, Atletico will be in for a difficult night as they look to turn their season around.
And remember, history is certainly not on their side.
_______________________
Follow @icentrocampista