CAN THE YELLOW SUBMARINE BAIL OUT MANCINI AND CO?
Updated: 6 December, 2011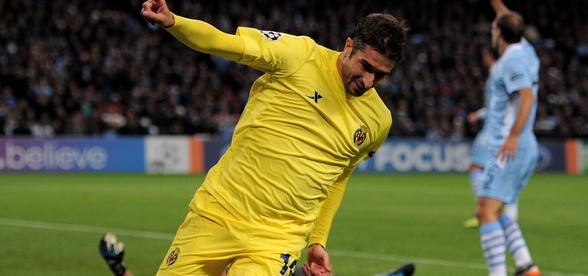 Manchester City are in serious danger of seeing their UEFA Champions League dream coming to an abrupt end tomorrow night.
All eyes will be focused on proceedings at the Etihad Stadium although Roberto Mancini's men know that even a win against an 'already qualified' Bayern Munich team may not be enough to extend their debut season amongst Europe's elite.
City need a helping hand, a hand that they hope will be mercifully granted to them by Spanish side Villarreal.
Simply put, the 'Yellow Submarine' must avoid defeat against an impressive Napoli side at El Madrigal if Manchester City are to have any chance of progression.
But with Juan Carlos Garrido's men sitting bottom of the group with zero points from five games, it is fair to say that even the most optimistic City fan must already be pencilling in plans for Thursday nights in the Europa League after Christmas.
With an injury list which shows no signs of retreating and crucially includes key players such as Senna, Rossi, Zapata and Camunas it is perhaps not a surprise that Villarreal are struggling on both the European and domestic front this season.
Having lost 1-0 to bottom club Racing Santander at the weekend and enduring a run that has seen them only average a 'point a game' since October, they don't exactly go into the game with Napoli in sparkling form.
Doubts must also be raised about the side in which Juan Garrido is going to field. With his side only having pride to play for, the temptation must surely be there to rest key players to protect them from joining the injury list.
The following Sunday they also have a key game at home against fellow strugglers Real Sociedad which must surely be viewed as 'must win' for the already under-pressure manager.
With Villarreal sitting just two points above the relegation trap door, a loss would provide a very uncomfortable Christmas period for everyone connected to the club.
While the hope of European qualification for next season is diminishing by the week, relegation to the Segunda is the nightmare scenario.
Speaking after the Napoli game, it appears that Mancini is also unsure as to what Villarreal's intentions are on Wednesday.
"I would give a 70% chance to Napoli and a 30% chance for us. It doesn't depend just on us anymore. If Villarreal play a normal game they may still get a result. If they play a serious game we can still get to the second stage."
With all of the above considered then, it is perhaps understandable that many a Manchester City fan is less than optimistic about their sides chances of making the knockout stages.
But let's be clear about something, Villarreal certainly don't owe Manchester City any favours.
As much as Manchester City fans may be praying otherwise; it isn't their duty to bail out Mancini and co – especially after the bad blood caused by Sergio Aguero following his late winner in October.
In fact many Villarreal fan will be hoping big-spening City get what they believe is coming to them.
First and foremost however, Villareal's focus must be instead on doing what is right for them.
And despite all the adversity facing Villarreal, journalists shouldn't be so quick to write their Champions League obituary just yet.
Based on current form, it might be some time before the Champions League theme tune is sounded out around El Madrigal again.
Having covered the game between the two sides last month, one thing is for sure – they are a proud club and one whom will want to go out on a high.
The crucial question however, is can the Villarreal dream that has become reality for the past decade be extended for just one more night?
So while many will be focused on events in Manchester, many an ear inside the stadium will be tuned into on goings from El Madrigal.
For all their investment, City's fate now lies in the hands of a team from a small town just 30 miles north of Valencia…
Follow @icentrocampista