LA LIGA'S TOP TEN PLAYERS
Updated: 2 December, 2011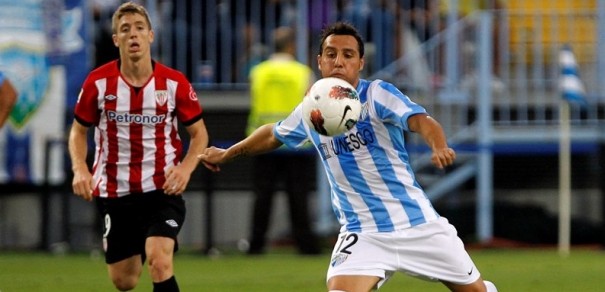 Spanish football has been up and running for 13 weeks now, and with a third of a season already gone, several players have consistently produced star performances for their teams.
La Liga, often known in Spanish as La Liga de las estrellas (the league of the stars) is obviously not short on big names.  Cristiano Ronaldo, Lionel Messi, Gonzalo Higuaín, Xavi Hernández, Andrés Iniesta, Santi Cazorla, Fernando Llorente and many more are renowned around the world.
However, there have been other key-men in this 2011/12 season that have stood out beyond the rest and have helped their teams incredibly this season. Players like Raúl García, Ángel Di María, Juanlu and Roberto Soldado have all had a season that earns them the title of MVP.
Considering their relevance and value in their teams,  here is a list of the top 10 key-men for the first third of the season. Although some names may be quite a surprise, a deeper look at their stats will remove any doubts of their worthy position on this list.
1.       Mourinho's guardian Angel
In a squad that can boast two stars for every position, it's hard to pick a Most Valuable Player, however Angel Di Maria has been a key-man in Real Madrid's success so far this season.  The Argentinean leads La Liga with 10 assists and has made 28.6% of Madrid's total assists this season (the ninth best in La Liga).
Di Maria has also scored two goals this season, and between goals and assists has participated in 26% of Real Madrid's goals. However, the most striking thing about Di Maria, and the main reason for this MVP 'award', is how much he has improved from last year. In the 2010/11 season Di Maria made 11 assists (during the whole campaign) and scored six goals.
At bare minimum,  'el fideo' will at least tie his goal stat from last year, and may establish a season record of assists. Considering that last season Madrid couldn't beat Barcelona, and this time around they have a three-point lead, the difference between both Di Maria's assists and goals totals from the previous year may be considered the key factor for their success.
2.       Raúl García: The Prodigal Son
The only reason Raúl García doesn't top this list is because not putting a Real Madrid player at the top, with their incredible season, probably goes beyond logic.
However, without any doubt, no one player has been more important for his team than Raúl García for Osasuna. The Prodigal Son who came back to his home soil this year is currently leading his club in goals with four and in the  assists category with five. Raúl García also leads La Liga in 'participation in goals' having played a role in 56.3% of Osasuna goals this season.
Osasuna have played only 298 minutes without Raúl on the pitch, averaging a goal every 149 minutes, whilst with him on the pitch they average a goal every 62 minutes. Startling
3.       Cristiano and Higuaín: Scoring machines
Cristiano Ronaldo and Gonzalo Higuaín share this third place on the list because having three players of the same team in a list of ten most valuable players moves towards  contradicting the point of a 'most valuable' award.
Between Ronaldo and Higuaín they have scored 28 out of 46 Real Madrid goals this season. Cristiano even added six assists to his resume.
Pipita's value relies on his accuracy, Higuaín has so far scored 12 goals in 17 shots on target (on average a goal every 1.4 shot on target), the best in the league amongst all strikers with more than 10 shots on target.
4.       Messi just being Messi
Messi has been great (as always) during the first third of the season, he leads La Liga in goals, tying with Cristiano, with 16, and has also delivered 6 assists. Messi has participated in 52.4% of Barcelona's goals (the second best in La Liga).
There is hardly anything we can say about Messi to highlight how important la pulga is for his team. Even with an always reliable Xavi and a great season by Cesc, who already has five goals and five assists, Messi always marks the difference for this team.
5.       Javi Varas: The best goalkeeper so far in La Liga
Javi Varas, Sevilla's goalkeeper, has been the best goalie so far this season and the main reason why Sevilla remains undefeated as visitors (despite the fact that they have only scored three away goals this season).
Apart from that incredible performance against Barcelona, Varas has five clean sheets away from home. The goalkeeper from Sevilla has made five or more saves in five games this season, including eight against Osasuna and Barcelona.
Varas has 50 saves this season whilst conceding only 58 shots on target. His percentage of 86.21% is the best in La Liga. Varas makes the unstoppable, stoppable.
6.       Walter Pandiani: A killer from the bench
An unexpected inclusion on this list, there is one big reason why Pandiani is on it: he just makes his team better. Even though the 'rifle' has played only 151 minutes, Espanyol have scored half of their goals with the Uruguayan on the pitch (he has netted 2 and assisted 1 of the Catalans' 10 goals this season).
With the 'rifle' Espanyol average a goal every 30 minutes, without him on the pitch the minutes rise to 204. Clear cut.
7.       The commander of Euro-Málaga
Santi Cazorla is currently leading Málaga on their way to play in Europe next year. The former Villarreal man has played and started all 13 games for Málaga this season, he also leads his team in assists and goals having participated in 35.3% of the Andalucian's goals.
No one else in the squad averages above 12%.
8.       Soldado: A one man army
Soldado has been brilliant during the 2011 year going back to last season, and is Valencia true star. The Spaniard has scored eight goals in La Liga in 13 weeks (the best by any Spanish player).
No one else in Valencia has more than two league goals this season. Roberto Soldado has scored 38.10% of his team's goals, and only Agirretxe (41.67%), Barral (41.67%), and Falcao (38.89%)have a bigger percentage.
9.       Atlético's new leader
Domínguez has become Atlético's captain and leader this season with the departures of stars like Agüero, Forlán or DeGea. A lot of people can argue that the MVP of Atlético is Falcao, and they probably have a good point.
However, the reason Domínguez is the only defender on this list is because of just how bad Atlético have been on defending went he wasn't on the pitch.  Domínguez has missed three games for Atlético, and in those three matches the 'Colchoneros' have lost twice and drawn the other, conceding nine goals.
On the other hand, in the 900 minutes that Domínguez has played, Atleti have conceded 11 goals. The skipper has been important in front of goal as well, and is the leading goalscorer amongst La Liga defender with three goals.
10.   Levante's 'Pichichi'
It was impossible to finish this list without a Levante player. JIM's team have been great in the first third of this season, even winning seven straight games.
However, their greatness has been as an all round team, and so it's really hard to highlight one player beyond the rest. Nevertheless, Juanlu's  six goals put him in a special position.
The winger has only scored  one goal in a game that Levante didn't go on to win, and that was in the first week of the season to secure a 1-1 draw. Moreover, with only two exceptions, his goals have been the opener for his team, (even then, both goals secured a 2-0 lead). Juanlu has scored 26.1% of Levante's goals, the second best for any midfielder in La Liga.
Other key-men worth mention
Falcao having the third best percentage of goals for any team in La Liga says it all. Jonathan Pereira? Well, let's just say that without him on the pitch Betis have scored only one goal in 696 minutes.
Ballesteros is clearly Levante's leader, his value is hard to measure with stats and comes in the form of pure passion and drive. Michu leads Rayo in the goal category and has been a key-man in Sandoval's eleven.
Agirretxe and Barral lead La Liga in the percentage of their teams' goals. Navarro, Victor Ruíz, Raitala, Raúl Rodríguez  have all been great in defence, and their teams have suffered a lot went they didn't play. Barça duo Xavi and Fabregas, as well as Borja Valero, all deserve to be mentioned.
__________________________
Follow me on twitter at @javierjotah
Follow @icentrocampista