WHAT THE PAPERS SAY: Carles Puyol meets orangutans, Marca has a gift idea, and more!
Updated: 5 December, 2011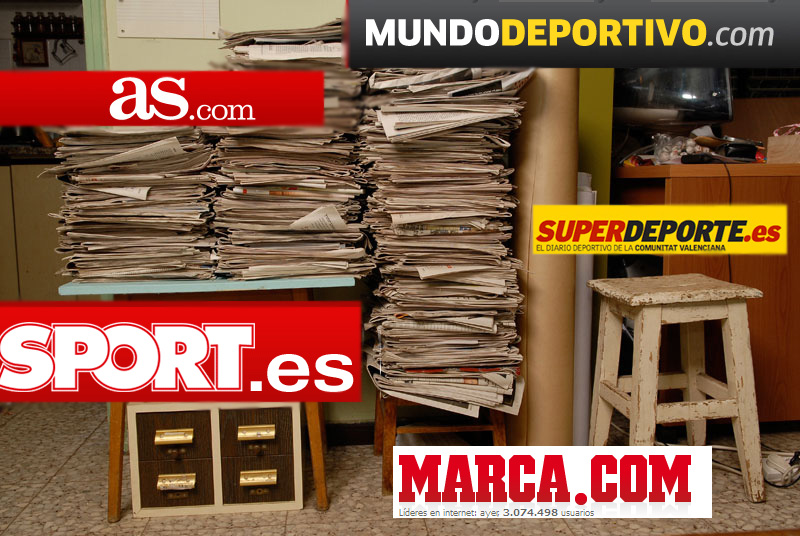 Are you counting down the days yet? It's 21 days until Christmas, but no one cares, because it's five days until the true big event of the season.
Yes, the Clásico is nearly upon us, and if you've been following our paper review this week (and if you haven't why not?!) you'll know that the Madrid and Barcelona press have commenced their festive tradition of insult trading and generally bad journalism whenever possible.
If you aren't familiar with this family tradition, it usually starts with either Sport or Marca sourcing a ludicrous piece of minutia, then somehow manipulating it in a way to suggest that the opposite party is doing something wrong.
Soon after, El Mundo Deportivo and AS get involved, and Valencia daily Superdeporte just stands and watches like the smart kid observing a bully deathmatch. It's fun for all the family, and here at elcentrocampista.com, we wouldn't let you miss it for the world.
First off the mark is, well, Marca, who turned their attention to newly found fan of red cards and former Barcelona man, Bojan Krkic.
Bojan, despite being about five years old, is back in Spain to promote his life story, a tome sure to be full of wisdom and witty anecdotes.
Marca were so fond of the book, they even managed to have a cheeky little dig at Barcelona by suggesting Bojan give a copy of it to Pep Guardiola as a Christmas present!
Turns out, Bojan hadn't thought of it, though he insists that Guardiola wouldn't be offended in any case. You can find the offending story itself, here.
You may also note that cunning old Marca trick of changing the original headline from their homepage, which read "Bojan: I haven't thought of giving the book as a present to Guardiola", to the rather more conservative "Bojan hasn't forgotten about Barcelona, and has wrote 'My Barca'".
Oh Marca, your slight of hand dazzles us!
Over in Catalunya, El Mundo Deportivo and the rest of the Catalan media were causing a stir this morning, after they noted that the official Real Madrid website had made a tiny omission in its piece announcing Cristiano Ronaldo placing in the top three of the Ballon D'or shortlist.
EMD claimed that the official Real Madrid site didn't mention  Xavi Hernandez or Lionel Messi in their piece on the Ballon D'Or, and even "forgot" Pep Guardiola and Sir Alex Ferguson, when looking at Jose Mourinho's nomination for best manager.
Real Madrid, getting wind of this, soon rectified the piece and updated it to include all of the finalists, thus defusing the situation and, rather annoyingly for EMD, ruining one of their front page pieces, leaving them to make do with cries of  "it was there, we promise, but they changed it!".
The evidence is now destroyed, but I can personally confirm that the Real site did indeed omit the names in question and then went on to change it. I can also personally confirm that I couldn't care less, and I would guess, neither do you.
With all of that nonsense out of the way, let's end on a happy note.
Sport, probably for the last time this week, don't feature in our roundup today for putting the sword to Real Madrid. Rather, the Catalan red top ran a story about Carles Puyol, who it turns out, loves orangutans!
Sport reports that Puyol has joined an initiative to raise awareness on the rapidly decreasing number of orangutans in the world. The Barcelona captain will feature in promotional items for the campaign, with the slogan "It's really important for me, what about you?".
Sport also reports that Puyol was specifically chosen for the campaign due to the trust invested in him by the animals, who it turns out, often mistake him for their old friend Tarzan.
OK, we made that last part up.
That's all for today, but keep checking back throughout the week to find out what the papers say.
Follow @icentrocampista