MADRID MARCH ON, BARÇA BLOW IT AND THE RABBIT RETURNS…
Updated: 12 January, 2012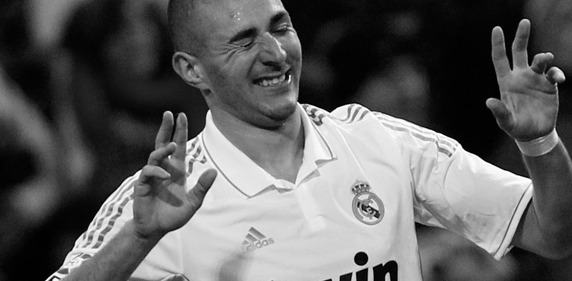 Real Madrid thumped five past Malaga, Barcelona were held by neighbours Espanyol and a diminutive Argentinian was linked with a shock move to Andalucia – life it seems, is never dull in La Liga…
This was the round of the new managers as three new gaffers attempted to turn the fortunes around of their respective clubs, but were underwhelming to say the least.
Simeone at Atleti led out his charges away to Malaga in the last game on Saturday. Spanish Football gave a quick recap of the game.  Derek at Atleticofans.com was happy with a clean sheet and a point away from home for Atleti.  Big game against Villarreal next week at the Calderon.
Earlier in the day, Jimenez traveled with Zaragoza to Racing for a true six pointer and fell by a single goal. I cut them adrift awhile ago and I don't think a new manager is going to change anything.
Speaking of Los Merengues, Kaushik (@_kaushik7) at Real Madrid Football Blog examined a slightly weakened Real team who dismantled poor Granada.  Twitter was abuzz with praise for Varane after the match and Kaushik joined in.  With Carvalho on the way out, it looks like Varane will provide long term cover for Pepe and Sergio Ramos.  I guess Lass has become the new right back of the Evil Empire.  He does well there when I've seen him but will he be up to scratch against top flight Champions League competition?  Real are now five points up and assuming they don't get too fatigued during their cup run, I can see them pulling away by late March.
On Sunday, former Spanish goalkeeper Molina took charge at the Madrigal. The Yellow Submarine could only manage a draw after throwing away a 2-0 lead, and the result leaves them in the relegation places. Villarreal did well with their opportunities in the first half, but Valencia actually tried to win the game so fair play to them. Molina's Job #1: Avoid Relegation.
For a Villarreal perspective I visited VillarrealUSA.com where Siempre_riquelme looked back at the Valencian Derby, and took positives from Molina's first game, but I can't really agree with his statement: A decent result on paper, but blowing a two-goal lead at home is painful. Particularly against your bitter rivals, whom you outclassed on the day.   Valencia were on top for long stretches and Villarreal rarely threatened, Borja's fierce shot being the exception.
Speaking of throwing away a lead, Espanyol pegged back FCB in the final match of Sunday's action. I was not able to watch the game but followed proceedings on the twitter and on the soccernet gamecast during church and gasped when I read Espanyol equalized. The Blaugrana were not able to score again and now Real have a five point advantage. The momentum of the Clasico is gone and the engraver may be able to start working on the La Liga trophy.
Kari at Barcelona Football Blog recapped the Catalan Derby with passion and analysis and love and hope as FCB dropped points against their rivals.  I really enjoyed this post as she praised Espanyol for dictating the game instead of letting the Blaugrana just passing them into submission.  She is optimistic that Los Merengues can still be caught.  I'm not.