LET BATTLE COMMENCE! – The Derby Sevillano is finally back with us
Updated: 21 January, 2012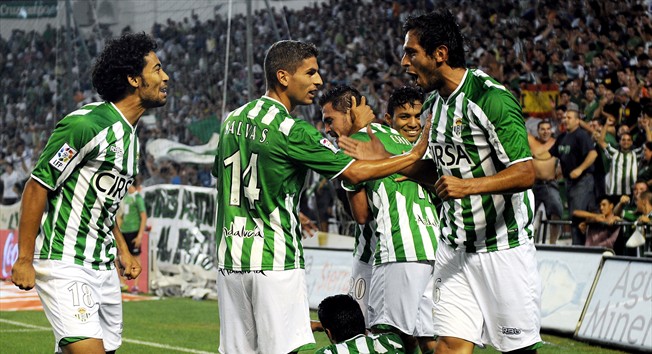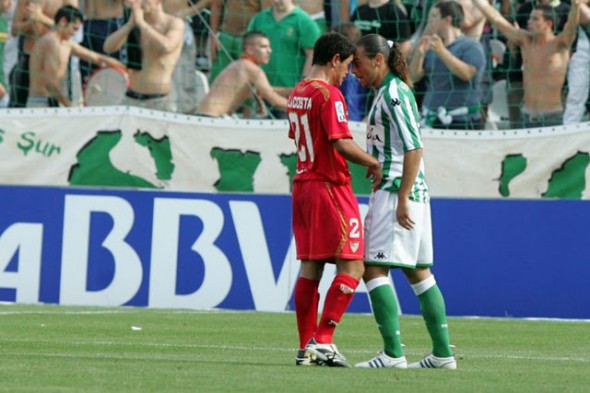 The city of Seville will grind to a standstill tonight as Real Betis host their bitter cross-town rivals Sevilla at the Estadio Benito Villamarínin.
One of the hottest games in La Liga, the 'derby Sevillano' is back after a two year, 11 month and 14 day absence.
That's 1078 days too many for the fans of two teams that share one city and an equal amount of animosity towards each other.
This encounter is considered by many to be the best game in Spain, yes even better than el clásico.
History has shown that every 'derby Sevillano' is a hard fought battle, intense and full of excitement, and tonight's game should be no different.
And as with many other derbies around the world, this one may be decided by one of the unsung heroes (the name Eric Abidal suddenly springs to mind….).
Taking a look at both teams stats, two names appear as possible candidates on this one; Jorge Andújar Moreno or 'Coke' for Sevilla, and Jonathan Pereira for Betis.
Coke, Sevilla's right back, has played almost half his club's minutes this season (769/1620), most of them in the last few games after Martin Cáceres has been linked to Juventus.
Despite playing in 13 games so far, with Coke on the pitch Sevilla have conceded only six goals.  In the other 851 the team from Nervión have shipped 13.
Coke has played in seven of the nine clean sheets of Sevilla this season. His percentage of 63,64% clean sheets per games played (7 CS in 13 games) is the best on the team.
On average, Sevilla concedes a goal every 128 with Coke on the pitch and only every 65 minutes without him.
However, perhaps the biggest factor regarding Coke for this match is that no one in La Liga attacks more down the left side (right side for the defensive team) than Betis, with a percentage of 42% of their attacks going through that area.
Betis coach Pepe Mel may start another possible unsung hero on the side of the pitch, Jonathan Pereira, although the 'little mouse' can play on either wing.
Pereira leads Betis on assists with four, despite starting only eight games so far this season.
In a team with playmakers such as Rubén Castro, Salva Sevilla and Pozuelo, and an in-form striker like Roque Santa Cruz, the name of Jonathan Pereira goes largely unnoticed.
However, only Castro with a percentage 38,1% has participated in more goals than Jonathan (28,6%) this season, even though the Galician has played only 728 minutes in La Liga.
In the 892 minutes that Betis have played without Pereira the Andalucian's have scored only seven goals. With Pereira on the pitch the goal tally is multiplied by two (14) even though they have played 164 more minutes without him.
Pereira was also the top scorer of Real Betis during pre-season and is such a key factor in Mel's eleven that the coach didn't played him against Barcelona as he is only yellow card away of missing the next match.
If these unlikely heroes make the different in this match or whether the 'regular' stars like Ruben Castro, Varas or Negredo will be the ones who rise above the rest, we will have to wait until this evening to find out.
Luckily, after 1078 days, over 93 million seconds, 1.5 million minutes and 25 thousand hours waiting already,  just a few more hours doesn't seem like such a big deal…
__________________________
Follow me on twitter at @javierjotah
Follow @icentrocampista