VILLARREAL LOOK ONWARDS AND UPWARDS
Updated: 27 January, 2012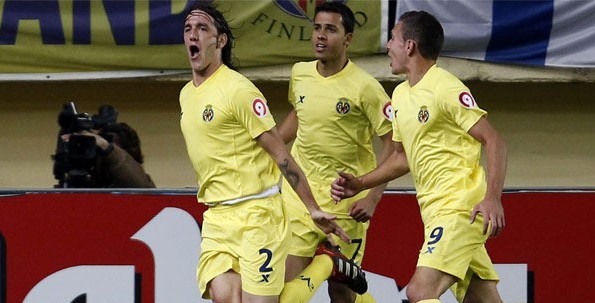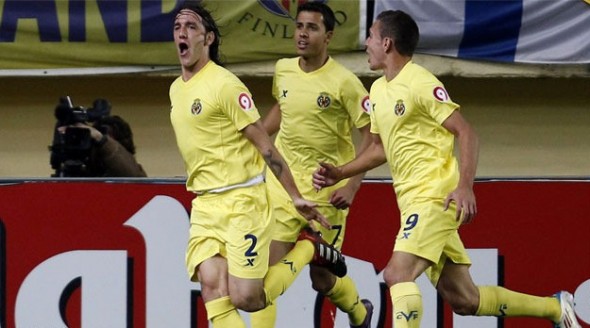 AFP Photos/Alberto Saiz
On Monday night Villarreal faced fellow stragglers Sporting Gijón in a huge match at El Madrigal, and the Yellow Submarine came away with a comfortable 3-0 win.
Sporting lined up in a 4-1-4-1 with Eguren as a sweeper in front of the back four. This worked for a while, but Sporting wasn't able to press Villarreal for an entire half. The Asturians were fortunate to go into the break on level terms, as Joselu, Ruben, Cani, and Borja Valero all came close to scoring—while at the other end Diego Lopez could've tucked into a paella meal between the sticks undisturbed.
Marco Ruben gave Villarreal the lead just before the hour mark, running onto a pass at the top of the box, fighting through defenders and slotting a low skimmer inside Juan Pablo's right post.
And two minutes later Villarreal had a second, Borja Valero lashing the ball across Juan Pablo inside the far post.
In injury time Bruno Soriano added Villarreal's third with another fine shot from outside the box—his second goal of the season (and of his La Liga career). So Villarreal is now 17th (above Granada on goal difference), and depending on which Villarreal game you see, it's either a joke that they're so low in the table, or completely merited.
It's great to get the wins at home, and the team needs those, but confidence and fighting spirit needs to travel as well.
The game was noteworthy for who didn't play for Villarreal—Cristián Zapata, dropped from the team by Molina after recent poor performances (and perhaps poor practices?) and, more significantly, Nilmar.
Vice-President Llaneza traveled to Brazil in midweek to discuss a deal with Sao Paolo, and it seemed pretty clear that something was up.
The official reason given for holding him out of the game was that Molina and Nilmar thought it would be best given the player's preoccupation with the possible move, but fear of injury had to come into it.
Villarreal and Sao Paolo have since agreed on a cash sale, €10m which could rise to €12m with incentives.
That's not bad given that Villarreal paid about €14m for him and he's had two knee operations in the last fourteen months.
A side story to all this is the behavior of Nilmar's agent, Sr. de Hora, who claimed that Nilmar hadn't been paid in three months, Villarreal hadn't told him they were talking to Sao Paolo, the club had unilaterally decided to hold him out of the match, etc.
In the end Nilmar asked Sr. de Hora to apologize to Villarreal for those remarks.
It did emerge, though, that cash has been tight in Vila-real, with players apparently asked to defer one month's salary until the following month.
Whether because of the lack of matches over the winter break, a desire to have cash available for new signings, or tight cash-flow isn't clear.
Of course, it could also be that the club is still waiting on Malaga to pay the remaining portion of the Santi Cazorla fee, too. No one around the club seems concerned about it, but it is surprising given the club's reputation for financial probity.
Nilmar's departure, assuming it occurs, would leave Villarreal with only two healthy strikers, Marco Ruben and Joselu, so additions are planned; perhaps Gio Dos Santos from Tottenham, perhaps Jackson Martinez from Jaguares de Chiapas, perhaps someone else. Watch this space.
___________________________________
For news, updates, opinions, podcast, everything in English about the yellow Submarine, visit Allen and colleagues at VillarrealUSA.com.
Follow @icentrocampista