HAPPY HUNTING FOR EL SUBMARINO – Villarreal find some away day joy at last
Updated: 9 February, 2012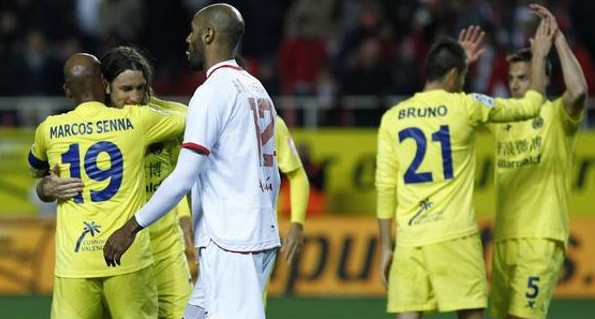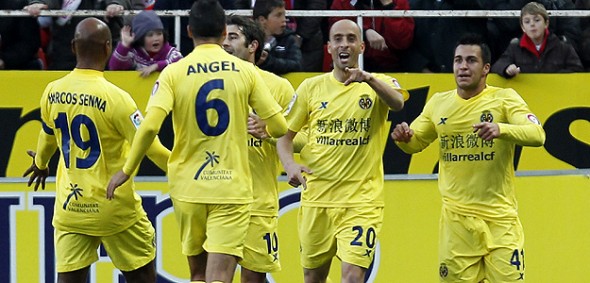 Getty Images
Finally. It had only been 11 months since Villarreal last won away from home in the league (at San Mamés in March) but the duck was finally broken last weekend, but were Villarreal was that good, or Sevilla that poor?
Some truth to both sides of that argument, I suppose—certainly the Sevilla board believed the latter, relieving coach Marcelino of his job after this loss.
Villarreal controlled play pretty much from the start, and were unlucky to go in at halftime on level terms, Borja Valero's goal having been canceled out when Bruno deflected a Jesus Navas cross into his own net.
Villarreal played with confidence, pace and flair, delightful to see. Cani played his best game in months, Borja Valero was outstanding, and the defense, marshaled by Gonzalo, looked almost comfortable ahead of the excellent Diego López.
Marcelino must have agreed Sevilla were clearly second-best, and clearly felt a draw wasn't going to save his job. He rolled the dice at halftime, bringing in Reyes and Trochowski for Medel (who had been lucky not to concede a penalty for handball in the area) and Coke, leaving only three defenders at the back.
Whatever the coach hoped to get from this, the result was Villarreal attacked down the open wing at will, and should have been a couple of goals up within 20 minutes of the restart but for a poor decision from Borja in the box and a Musacchio shot beating Varas but hitting the post.
Often when a team spurns chances like that they regret it later, and certainly Submarine fans can recall plenty of times this year when that's happened, but something was different this time because Villarreal continued to take the game to Sevilla.
In the 81st minute Camuñas made no mistake after being set up by Cani at the top of the box, and gave the Submarine a 2-1 lead.
Of course, Villarreal never do things easily, and the last five minutes or so were made more interesting by the referee, who allowed himself to be influenced by the home crowd and Jesus Navas's diving antics, first booking, then sending off Joan Oriol.
The away fans weren't safe to celebrate until Negredo's header had thumped wide of the goal. Many thought it had gone in at first, and perhaps Diego López did as well, but he sank to his knees in thanksgiving as Negredo put his hands to his head in disbelief.
The win takes Villarreal out of the relegation places (barely) but at this stage it hardly makes sense for Villarreal supporters to focus on anything other than playing and hopefully winning one game at a time.
Recent results have helped, of course; among the teams in the bottom half, only Racing and Rayo can match or better our run of 8 points in the last 5 games.
A win against Granada would keep the ball rolling, but it won't be easy. The Andalucians have won two in a row under  new coach Abel Resino, and pose some matchup problems for Villarreal. They don't score much, but they defend very well. Add the fact that Jose Molina has three players suspended—Gonzalo, Bruno and Oriol—and adding another three points is a tougher ask than one might suppose.
Will we see Nilmar in this one? Doubtful, although the Brazilian is still Villarreal property. All the Brazilian reports say Sao Paolo has given up on signing him, Villarreal say discussions are still ongoing, and there are other clubs interested in him as well, especially in Russia.
I expect he may sit out this Sunday, especially with Marco Ruben expected to return from his shoulder injury, but I would not be surprised to see him in the squad. He did play a half on Thursday in a friendly against Shanghai Shenhua, which the Submarine won comfortably.
As for new signing Alejandro Martinuccio, he came on as a time-wasting substitution for the last twenty seconds against Sevilla, with no chance to do anything. An alert Villarreal supporter noted Santi Cazorla made a similar debut for the team years ago, so here's hoping that parallel continues!
For all things Villarreal, visit Allen and the gang groguet at VillarrealUSA.com!!
Follow @icentrocampista