YELLOW SUBMARINE CONTINUE TO RISE FROM THE DEPTHS
Updated: 16 February, 2012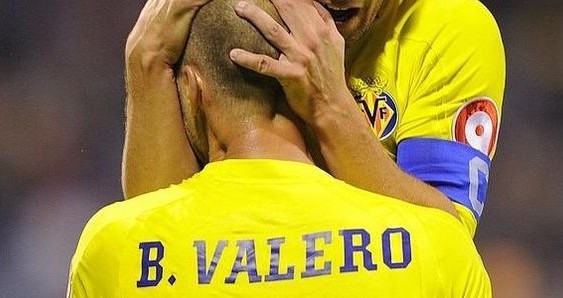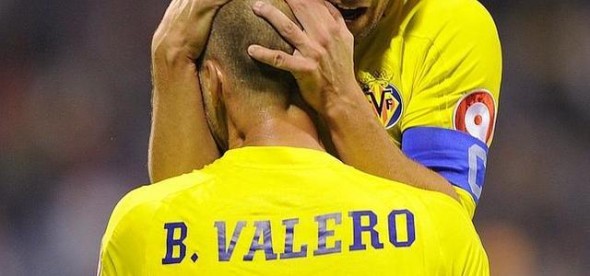 Getty Images
It was a strange game at El Madrigal last weekend. It was always going to be difficult for the Submarine with both Bruno and Gonzalo suspended and Musacchio a late scratch through illness. At least Joan Oriol's red card was rescinded and he was able to play.
Villarreal had Zapata and Marchena in the middle of defense and Borja Valero taking over in the doble pivote, Camuñas on the right, and up front Ruben and Nilmar, returning to the fray now that his move to Brazil fell through. It was clearly a cobbled-together lineup, and never looked comfortable. Having to use Marchena in back meant we really had no logical replacement for Bruno, so Granada were able to move the ball quickly upfield once they broke up an attack. And Borja playing more inside meant that he was able to contribute less to the offense, too.
Nonetheless, Villarreal took the lead, Marco Ruben scored an astonishing goal from a tight angle 16 minutes into the first half (Cani assisting with a fine pass) and Nilmar nearly added a goal shortly afterward as well. Granada had one great chance that went begging, but that had been about it. Still, the 1-0 lead at the break was slightly flattering, and you knew it wouldn't last that long.
Nor did it, for five minutes of the restart Granada were level. Fittingly enough given their poor finishing from open play, it came from a corner, with an unmarked Iñigo López heading a Carlos Martins header past our own López in goal. But, where last year the Submarine would have reeled and folded, we kept at it, though Diego López had to be alert to get back to his goal and palm away a Mikel Rico free kick from midfield.
Molina made a key substitution in the 63rd minute, replacing Nilmar (who not surprisingly was clearly tiring) with Gonzalo Castellani, allowing Borja Valero to play farther forward. And within a minute this reaped huge dividends, as Camuñas played a lovely through ball to Borja, who chested it down and then fired a screamer high into Julio Cesar's net.
The next few minutes were quite open, with Castellani firing a couple of shots over the net, but Villarreal scored again in a strange fashion in the 73rd minute. Keeper César tried to punch a Joan Oriol cross—why, I have no idea. He only succeeded in knocking the ball over his head, and the backspin took it into the net. A strange goal, and it pretty much killed the game off. Hernán Pérez and Alejandro Martinuccio came on late and both had chances to score a fourth, but that would have been a brutally unfair scoreline!
Villarreal players and fans were pretty philosophical afterward—we've certainly lost or tied our share of games we could've won this year, so maybe we were due a game like this. Molina said as much, and it was clear to everyone that most of our problems came from the absence of Bruno, especially, while two moments of brilliance from Ruben and Borja were the keys to the win.
Nilmar at least looked more committed to the cause than he has in a long time, and there were flashes of the old Nilmar quickness and skill, but he's hardly played this season, and the rust is clearly visible. The logjam in the bottom half of the table is still there, but the Submarine is now three points ahead of 18th-placed Racing and owns the tiebreaker over Sevilla, one of the clubs they're tied with.
Next up is a visit to the island of Mallorca, never a fun place for us to play. A win here would really carry Villarreal up the table and consolidate progress, but though the islanders are a point behind us they have put in some inspired performances at home this season, so coming away with three points will be difficult.
Their fans haven't forgotten how we progressed into the Europa League at their expense, so we should expect a hostile reception to say the least. Though, since Villarreal eventually paid them most of our winnings to get Jonathan de Guzmán, maybe Mallorca should feel less aggrieved?
For all the attention given to Diego Simeone's start at Atlético, Molina has done almost as well (11 points in 6 games compared to 12). Atletico Madrid visits El Madrigal the last weekend of the season; who knows what importance that game might have for both sides?
__________________________
For more news of the Yellow Submarine, follow Allen and his colleagues at VillarrealUSA.com.
Follow @icentrocampista