An Outsider Looking In: Challenging perceptions of Spanish football coaching – Week 1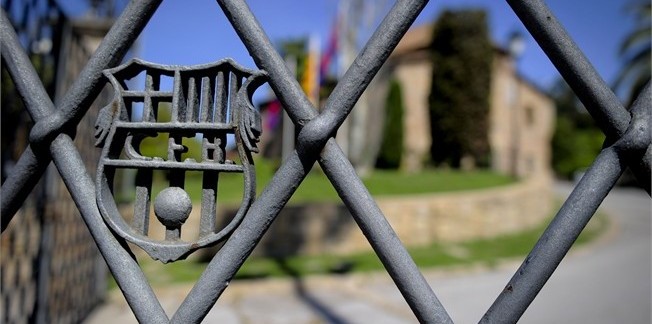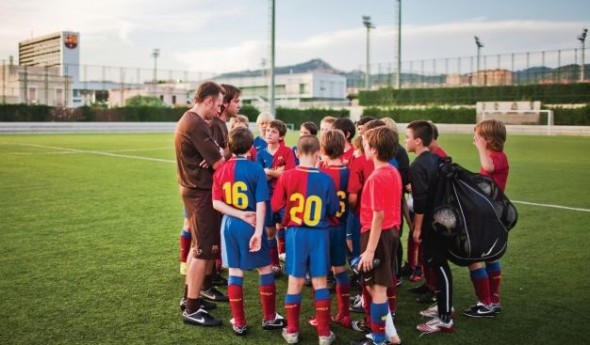 FCBarcelona.com
As admiration of the Spanish game grows, a hunger to know exactly how some of the world's biggest talents are developed grows with it.
La Masia has become a buzzword for the education of a core group of Spanish footballers, for example. Yet even the use of the term itself (La Masia is simply the name of the farmhouse where some FC Barcelona students used to lodge) is filled with assumptions. How much do we actually know about footballing education in Spain, compared to how much we think we know? Can FC Barcelona's youth system really be compared to that of a struggling third division side, or is that just ignorance on our behalf fed by a media brand?
To help us try to answer some of these questions, Jack Maddock, an English football coach, is working on a weekly column with El Centrocampista. Jack has recently made several visits to Spain and had a chance to observe coaching across the board, from the small to the large, and compare this with his own experiences back home. In his first piece for us, Jack provides some insight into what motivated him to write on coaching in Spain, and what he learned in his initial spell there.
FC Barcelona is receiving plaudits worldwide for its phenomenal success and the coaching policies that helped them achieve it. Barcelona didn't wait on the next billionaire to decide that he or she wanted to take over the club, but had a long-term plan that they would be loyal to, with the importance placed on futbol base or la cantera.
The 13 out of 16 competitions that Barcelona has been successful in under the reign of Pep Guardiola only validate the decision to stick to their youth policies even more. However, with this being closely linked to Spain's victory in the most recent World Cup, it has led to many journalists, TV presenters, coaches and people with an opinion on the game in general to use the word Spain or Barcelona in an extremely frivolous manner. They see a certain aspect of the way a certain Spanish team train, or hear of certain story and believe that this is the way it is for the whole of Spanish football.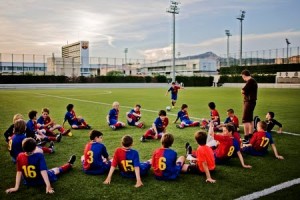 Many make sweeping statements and use words like 'In Spain, it is done like this' or 'Spainwouldn't do it this way'.  This left me wondering whether someone, such as a coach for example, was using this to add substance to his method or had he or she actually seen this first hand?
As a result, I was eager to see for myself what coaching and base level football was really like in Spain, so that I could have a true perspective on the nation of the reigning World Champions. I not only wanted to see whether
it was true of the top Spanish clubs but if this was something that was embraced by a nation as a whole.
In a series of articles, I will discuss what I experienced and how that differs from what I expected, or what I was led to believe, and indeed the differences between my experiences and English ideas on coaching in general. These will be analysed within a number of areas from player development to facilities.
The teams that were observed closest are CE Europa and UE Sant Andreu, as well as speaking to a number of individuals involved in football in Spain on a wider level. These clubs may not be well-known to most foreigners at first glance, but these are teams that I believed would give me a valuable perspective on Spanish football, as they do not have the financial power of the likes of FC Barcelona and Real Madrid which has helped to create a false perception of Spanish coaching as a whole.
CE Europa ply their trade in group 5 of the third division of Spanish football, and UE Sant Andreu in the Segunda Divison B (comparable to England's league 1). They have both had success in the past but have struggled to sustain this, and CE Europa especially are finding it difficult to relive the days when former Birmingham City outside right, Ralph Kirby, managed them to Campionat de Catalunya success against FC Barcelona in early 20th Century.
Spain's Facilities & Playing Surfaces.
A question that has been raised by many coaches and journalists is that although they have a desire to see their team play football in a style similar to that of Spain's elite, they have problems endorsing this method.
Players find themselves playing on uneven and poor surfaces that seem to more closely resemble that of No Man's Land of the Somme rather than that of an adequate playing field for football.  Many English coaches explain how their players find it hard to place the emphasis on playing an almost 'Rondo' style of football when the quality of the pitch will play a large part in whether this is successful or not.
CE Europa Youth Football Co-ordinator, Jordi Vella, sympathises. Both UE Sant Andreu and CE Europa play on astro turf pitches and he explains that a lot of youth football in Spain is played on artificial surfaces. Vella knows that this means that players can have faith that when their technique and decision-making is correct, the outcome will be successful. This sentiment cannot be shared by many players playing football in England right now.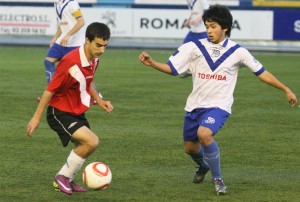 Academies in England have many weekends, often in the run up to the competitive season, where they allow their youth teams to play other community youth teams in the area. The feedback that is given after the youth teams have played at these academies is typically that they wish their players could pass the ball, dribble and shoot like that every week.
This is not unusual to hear and not a comment that is unique to academies. This is something that is stated when players play on AstroTurf pitches in England during training
sessions and other flat, even surfaces. Maybe, just maybe, at times it isn't the players that have altered the way they are playing, but the surfaces themselves provide a platform for quality execution to bring about a successful result.
Equally, there are many that believe the surface that the football is played cannot be used as an excuse for not attempting to play aesthetically pleasing football. Often, English coaches believe that this can be used as a reason to reinforce their idea that playing a direct, long ball game is the way. 'It's no wonder the southern European players are more technically gifted than our players when they have the nice warm weather and good pitches to play on' is one opinion I received.
Xavi Hernandez, a man who clearly knows his way around a football pitch, disagrees. He's a romantic who thinks that the long-ball is an easy way out for English football, not an excuse. Yet despite this, it's not unrealistic to think that Xavi and someone like Brian Clough would have agreed on certain things. After all, Clough, a man often considered the epitome of the English game, famously said that "if God had wanted us to play football in the sky,  he'd have put grass up there".
English football enthusiasts have a tendency to suggest that any team from a country that can win a national tournament possess local football on a god-like level. There is a perception that every Spanish player plays on Camp Nou-style pitches and this is one of the factors that make them so technically gifted; this is not true.  From experience: most of Spain's pitches aren't even green!
A lot of Spanish weekend matches will be played on the likes of tarmac or even concrete! This is certainly not the way English players would like to go but it looks like Spain has made the best out of a bad situation. One thing that may help is that for the most part, Spanish surfaces are flat, and players are actually playing on them; recreationally and competitively.
Seeing a young person playing football on the street in England is hard to come by nowadays, when kids believe they can play it on a sofa indoors instead. In Spain, the impact of the couch-potato generation seems lesser, and kids can be found outside playing football un abundance.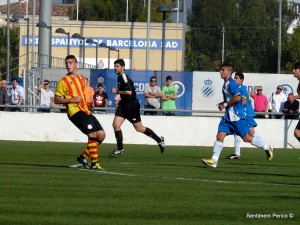 If a coach informs his team that there is no way that football should be played on a less than aesthetically pleasing pitch then he or she is allowing the players to suffer from learned helplessness. Players will be going it to matches with the excuse they need if they lose or play poorly because no matter how hard they try, there is no chance they can win or play well on this pitch.
Why not allow your players to have faith in their technical ability and analyse more closely as coaches? If you see a ball hit a bump in the ground on its way to a player; don't criticise him or her for attempting to pass it on the ground, but rather, praise his technique and encourage him to keep trying.  As Spain know better than ever, it's the development of players rather than the results of the team that is key at youth level.
This is currently a much talked about subject in England's lower leagues. The return of artificial pitches could come to fruition in the coming years in England for the first time since Preston North End's artificial Deepdale pitch was ripped up in 1994.
After three hours of watching training in the Nou Sardenya, home of CE Europa, over 100 players had used their field in the knowledge that it would be in perfect condition for the match on the following Saturday without maintenance. This means that their stadium can also be their training ground and community pitch.
They informed me that this makes the club vastly more efficient financially, with the pitch only being relayed every 8-10 years. This could be positive news for the likes of Accrington Stanley and Wycombe who are in support of the consultation currently being conducted by the Football League. As for another bone of contention on the surface issue: for Europa, the idea of whether an artificial turf increased injuries wasn't even considered, as this is the only surface they play on so they cannot compare it to another.
The surfaces Spain are using and the way they are using the space and facilities they have may not be the perfect solution for Wycombe, Accrington Stanley or grassroots football, but I am sure we could do a lot worse.
The way forward for English football? I am not sure. I'll simply say that on my trip I also learned that CE Europa are providing over a thousand  football players a professional stadium and a perfect pitch every week, giving them more and more contact time, and allowing football on a whole in the area to reap the rewards.
Next week, Jack looks at the funding behind Spanish football, and in the process provides a few surprising answers for those that may feel Spain pumps money into football development. To find out more, check out El Centrocampista on Wednesday, April 4.
You can follow Jack on Twitter at @soccerblogger7
Follow @icentrocampista