HONOURS EVEN AS MOLINA'S MEN CONTINUE THE RECOVERY – Villarreal CF Latest News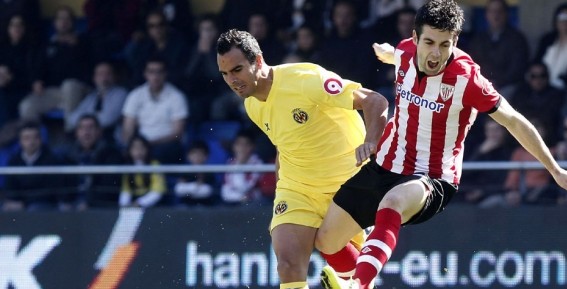 GETTY IMAGES
Given how poor many of the early games have been on Sundays, it was a pleasure to see Villarreal and Athletic Club engage in a spirited 2-2 draw at El Madrigal.
As an astute reader pointed out last week, Villarreal finds it hard to escape the bottom reaches of the table because of defensive frailities, and those were on view, but so too was an exciting offensive pairing—Martinuccio and Nilmar—who ultimately produced a tying goal.
Athletic has been looking really good of late, and even though Bielsa's men were coming off a tough Europa League match on Thursday and were missing De Marcos and Muinain to suspension (and started with Llorente on the bench) their quality and commitment was evident. Los Leones are still tough tacklers, but their counterattacking skill and intelligent passing was a treat to watch.
Nonetheless, Villarreal dominated most of the first half, and even though a tenth-minute goal form Marcos Senna provided a lead, the Submarine was unable to add to that tally. Every ball in midfield was being contested, Cani and Borja Valero were unable to make much impression on the game, while Javi Martinez and Marco Ruben were having an enjoyable battle up front.
Unfortunately, Ruben came off with a leg injury, but Nilmar was able to link up well with Martinuccio in the attacking zone. At the restart Bielsa introduced Llorente, who needed a bit of time to get his radar calibrated, flashing a free header wide of the mark, before converting to tie things up. Athletic took the lead on a fast break, Susaeta's near-post shot getting under Diego Lopez.
But Villarreal were quickly level when a Martinuccio shot was spilled right into the path of Nilmar, and though both keepers were called upon to make saves the game looked like petering out to a draw. Then, with Villarreal having used its substitutes, Gonzalo came up lame and Diego Lopez was called upon to make two key saves to preserve the point.
I don't like to focus on referees, but Iglesias Villanueva was horrible throughout. Athletic fans claim he missed a penalty when Senna hauled Llorente down going for a header in the box, and they may be right, but the real problem was his inability to penalize players for continued fouling, Ander especially.
Overall, a draw was a fair result. Villarreal paid the price for failing to extend the advantage when they were on top in the first half, but Athletic also had to feel giving up a tying goal just minutes after taking the lead wasn't great either. Submarine fans had to be happy the team played better than they had against Mallorca and Grenada.
Next up is a match against Zaragoza, the worst team in the league at home hosting the worst team on the road. At least it's another Sunday early kickoff, because after the physical game last week against the Basques, players like Borja and Hernán Pérez need time to recover from the unpunished illegal challenges they endured late in that match.
A win here could move Villarreal past a couple of more teams in the table, which would be nice indeed. Endavant!
_________________________________________________________________
For more news of the Yellow Submarine, follow Allen and colleagues at VillarrealUSA.com
Follow @icentrocampista