Madrid close in on La Liga crown after night of high drama in Sevilla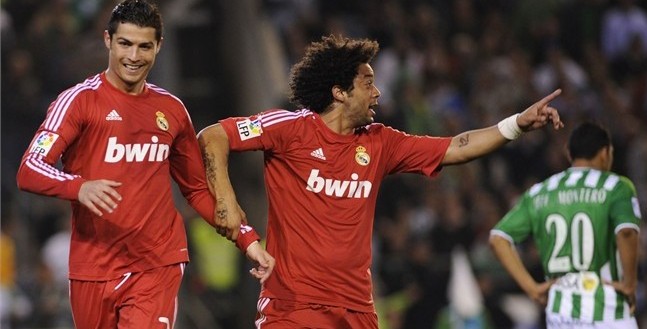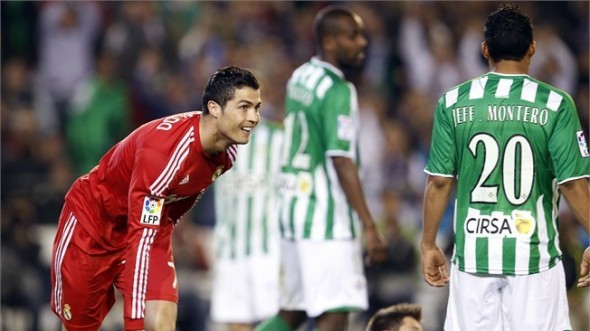 EFE/Eduardo Abad
Love them or loath them, it is hard not to admire Real Madrid and their ability to get the job done this season. Last night over 50,000 fans packed into the Benito Villamarin to roar on their heroes, and Real Betis responded with what must surely have been their best performance of the campaign.
However just as they had a fortnight ago in Vallecas in similar circumstances, 'los merengue' found a way to emerge with the three points, and once again it was Cristiano Ronaldo who proved to be the match winner in spite of another relatively subdued performance by his own high standards.
Unfortunately it was also a night when the conspiracy theorists who continue to believe that the big two are repeatedly favoured by referees were presented with more evidence to add to their prosecutor's file. There is little doubt in anyone's mind that Xabi Alonso did handle the ball in the area midway through the second half, but there is certainly an argument to be had as to whether it was voluntary or involuntary.
Equally numerous television replays failed to prove beyond any doubt that Sergio Ramos had blocked a goal bound effort seconds before the final whistle, although of course there were plenty who were instantly willing to offer their opinion on the incident. Radio Marca's Andujar Oliver, Spain's equivalent of Dermot Gallagher, felt that the ball clearly hit Ramos's thigh, whilst by contrast former team mate Guti praised him for being a good' defender and goalkeeper' on Twitter.
Gerard Pique, who will soon receive his punishment for questioning a referee's integrity last weekend, decided to leave three full stops on his feed, whilst Jose Mourinho offered the Wenger defence, claiming that he was too far away to see either incident.
What should be made clear to all in this era in which referee bashing has become weekly entertainment is that Sagues Oscoz, the unfortunate soul who was called on to officiate the second half after experienced referee Iturralde Gonzalez pulled up lame at half time, was entitled to have enough doubt about both situations for him not to award a penalty for either.
The man making his debut as a Primera Liga referee did not have a great view of either incident, through no fault of his own, and the guidelines are clear in such instances in every league in the world – if you are not sure, do not give it. It is a shame that a thrilling game will now be remembered by many for these two moments more than anything else.
The home side set out with a game plan to attack as the best form of defence, and other sides who have been more timid in their approach this season would do well to note how close they came to causing a major upset. Jorge Molina's ninth minute opener was a wonderful finish at the end of an exquisite move, and even after Higuain and Ronaldo had once again added their names to the scoresheet to put their side in front, the outstanding Jefferson Montero made it 2-2 after Arbeloa had made a hash of clearing a corner.
It was then left to Ronaldo to provide the decisive moment for the umpteenth time in his Real Madrid career, reacting quickest in the area after a Ramos header from a corner had been brilliantly saved by Fabricio. He now has 32 goals in 27 La Liga games, and this one was enough to earn his team a tenth consecutive league success on their travels, a landmark which no other team has ever achieved.
The arguments and conspiracy theories will continue to occupy many inches of newspapers and countless threads of internet forums over the next few days, but the fact remains that this is an outstanding group of players, who will surely have wrapped up the title even before the second league 'clásico' of the season in the Camp Nou on April 22nd.
Follow @icentrocampista