Below par Barça do just enough: Tactical Analysis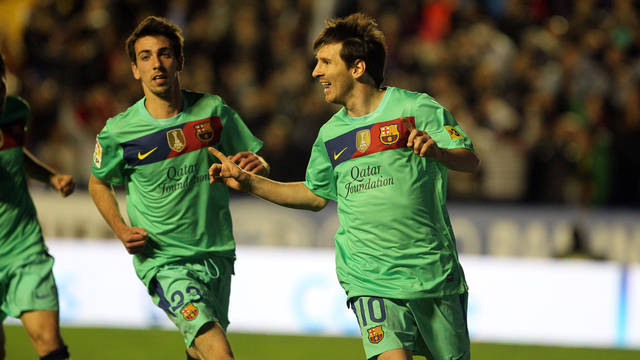 GETTY IMAGES
A banner at the Estadi Ciutat de Valencia reads, "We are poor, ugly and play no football." However, the self-deprecating fans of Levante fail to mention that their side, full of football misfits and castoffs, can scrap for a result and fight for 90 minutes.
The home side started with a 4-2-3-1 formation but played more like 4-5-1. Juan Ignacio Martinez kept ten men behind the ball when Barça were in possession and his two lines of defense dropped off very deep into their own half. This deep lying defense offered Barcelona very little space to probe the ball. Also, Levante's shape was never stretched as the midfield and defensive lines were close together.
With only Arouna Koné to mark, the Blaugrana left Mascherano and Puyol back. Adriano was the third defender in their 3-4-3 setup but he often ventured forward, forcing Munúa to save twice from long distance strikes.
In the first half, Pedro and Alexis kept the width standing by opposite touchlines. Messi was in the middle, but tended to drop into midfield especially when Barça went behind a goal. He dropped deep to pick up the ball more out of desperation to create play and grab the equalizer rather than a tactical ploy by Guardiola. The midfield four of Xavi, Thiago, Fabregas and Busquets was narrow, with Sergio playing behind the three.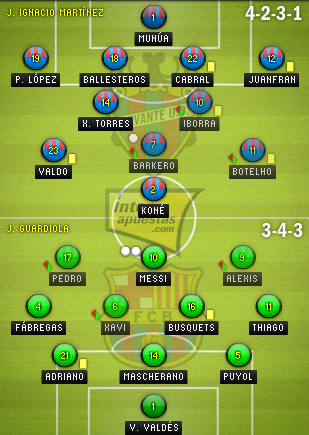 Levante was careful in deciphering when to push players forward. They never gave the ball away cheaply when attackers were committed forward which would have meant a counter attack or just more space for Barcelona. Their main route to goal was a long ball to Koné. This strategy was rarely successful as Puyol and especially Mascherano usually won the ball back. This tactic did offer temporary relief to the pressure of Barca.
The second route to goal for Levante was a counter through Valdo or Barkero. In a couple of instances Valdo was able to streak down the right catching Adriano upfield and get in a cross. Barkero operated centrally and was most effective when he was close enough to Koné to provide a two man attack. However, these counters were few and far between.
First Half Chances
Barcelona started the game looking for a quick goal. Surprisingly, the Catalans looked dangerous from set pieces, Thiago should have scored with a header but he directed it straight at Munúa. Pedro had the best early chance from the left after a precise diagonal ball but was denied by the Uruguayan keeper.
Against the run of play, the home side took the lead in the 23rd minute. Valdes spilled a corner kick to Koné who headed it off the hand of Busquets. Sergio's arm was slightly extended but the replay showed he was trying to tuck it into his body. It was a harsh decision. Barkero buried the penalty for the shock lead.
Second Half
Needing a spark to break through the defense, Pep brought on Cuenca on for Xavi (possibly saving his legs for Tuesday). Alexis moved up top with Cuenca on the right and Pedro (which was later Iniesta on the left). It was more of a 3-3-1-3, with Messi playing behind Alexis in a playmaker type role. The move added more pace to the attack. Cuenca saw a lot of the ball and was keen to get a cross in. Alexis' movement in the center was something Barca missed in the first half. This new threat meant the defense was always shifting and moving in repeated attempts to track runners.
Other than opening up space in the center, the width for Barca did not trouble Levante. The home side wanted to funnel the attacks wide because the Barça crosses were poor and Levante controlled the aerial duels on the box. Although, Koné and Barkero nearly doubled the lead via counter attack. Mascherano and Thiago made a meal out of a Levante punt up field which sent Levante through but a cross that evaded Valdes was cleared by Puyol.
Messi leveled the match in the 64th minute. He played a one-two with Sanchez and fired his shot off the gloves of Munùa and in. Levante had a crowd around Leo but none of the players closed him down. It just shows how hard it is to defend for 90 minutes v Barcelona; switching off for five seconds can result in a goal.
With the lead gone, Levante began to tire. Eight minutes later Barcelona had the lead. Botelho muscled Cuenca off the ball but was whistled for a foul. Some might classify the challenge as physical defending but the ref deemed it a foul. Obviously, Messi buried the spot kick. The decision felt harsh on Levante who put in a solid 70 minute tactical shift but the goal was inevitable.
The final 20 minutes were quite open. Levante were looking for a diagonal ball in behind, but it is such a difficult pass to get inch perfect. Mascherano, who won several crucial challenges on the night, was excellent alongside Puyol in stamping out any threats. Strangely, Barcelona did not kill the game off through keeping the ball like we typically see. However, Levante struggled to truly threaten for a second, despite bringing on attackers Juanlu and Ghezzal.
It was a valiant effort by Levante, similar to Inter Milan's performance in the Camp Nou in the Champions League semifinal in 2010. Barcelona looked a little lackluster and Chelsea just might think they can get a result on Wednesday. It is possible that the Blaugrana were conserving energy for the big week ahead that also includes el clásico next Saturday.
As an aside, I thoroughly enjoyed Ballesteros' confrontations against Messi. It was infamous v famous and the Levante captain was able to win the ball off Messi a few times.
__________________________________
For more tactical analysis follow John on Twitter @kpngacleansheet
Follow @icentrocampista