Madrid masterclass proves too much for toothless Barça – Tactical Analysis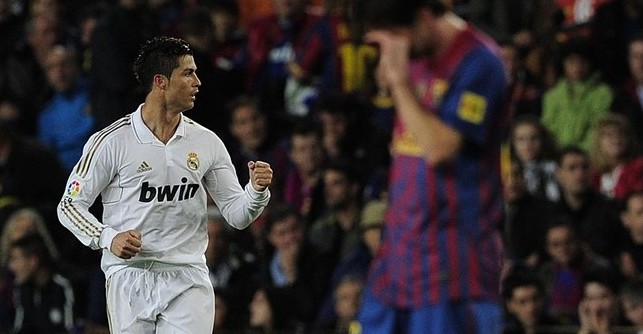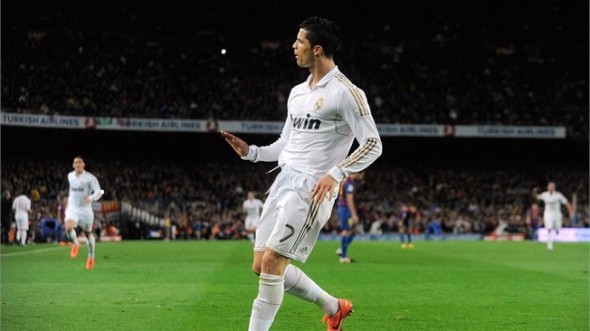 Photo by Denis Doyle/Getty Images
Team Setup
Surprisingly, Jose Mourinho selected the exact same eleven that lost in Munich on Tuesday instead of preserving some players for the return leg. It was widely expected that Pep Guardiola would change his side but nobody expected him to hand Cristian Tello and Thiago Alcantara starting spots. In the end, Barca lined up in a 3-4-3 (or a 3-7-0 if you classify Tello and Alves as wide midfielders and Messi as a false nine). Lionel Messi dropped deep like he did v Chelsea.
However, Messi did not have the support he needed; Cesc Fabregas was left out and Xavi and Thiago are naturally deeper midfielders while Andres Iniesta drifted to the left. With Dani Alves playing forward, Carles Puyol operated on the right of defense to try and mark Cristiano Ronaldo.
Real Madrid Battles
The Merengues looked like a confident outfit from the opening whistle. Leading up to their 17th minute goal, Madrid looked dangerous. Karim Benzema, Ronaldo and Angel Di Maria pressured the Barça back line early and made passing out of the back a chore.
Benzema held the ball up well and worked hard to run with Mesut Ozil and Ronaldo to threaten on the counter attack. Furthermore, Ozil put in a dedicated tactical shift in the middle of the park, providing great support to Xabi Alonso and Sami Khedira.
After being publicly castigated for his poor performance v Bayern Munich midweek, Fabio Coentrao had a great match. He did not have to deal with an overlapping fullback threat and held down Dani Alves on the night.
Utilizing a cohesive six man defense, Madrid's positioning enabled them to have support for the man covering the ball within a few feet. However, this closing down strategy almost back fired when Sergio Ramos was eager to step up and challenge Messi at the top of the eighteen in the 27th minute. With three white shirts around him, Messi slipped in Xavi but a poor strike enabled Casillas to deflect it wide. But good news for Real, this sort of defensive breakdown was few and far between.
Barcelona Cannot Create
The Blaugranas' pressure nearly produced a goal when Dani Alves picked off a Sergio Ramos pass in the early stages of the match but Iker was quick off the line. After nearly gift wrapping Barca the early lead, the Madrid back four was very hesitant in playing the ball on the ground and almost always went long.
With Dani Alves hushed by Coentrao, the width of the Barcelona attack had to come through Tello. The youngster was able to use his pace to evade Arbeloa a couple times, but his finishing was woeful. Additionally, Arbeloa used his veteran strength to muscle Tello off the ball on a few occasions.
Centrally, Barcelona was overcrowded and lacked the necessary movement to confuse the Madrid defense. Sergio Busquets played his typical deep lying role, but too often Thiago was just as deep and rarely got forward besides playing through Tello early in the second half. Thus, it was up to Iniesta and Xavi to get close to Messi and to provide runs in behind. This role is not new for Iniesta as he was nearly found on a few occasions. Xavi, on the other hand, looked out of place. In 69 minutes, he only completed 53 passes and ran over six miles.
@Zonal_Marking Halftime Tweet "Barcelona's shape not quite working. Not enough support to Messi. Alves remains better bombing forward, not starting forward."
Finally, Pep made a change, bringing off Xavi for Alexis Sanchez. The Chilean slotted in as the number nine and his movement opened up Messi to run at the Real midfield setting up the first goal. Alonso and Khedira dove in errantly and the ball fell for Iniesta to back heel to Tello who was denied by Iker. The rebound shot by Adriano was blocked but it fell to Sanchez who leveled the match after being denied once by Casillas. This switch temporarily livened the Barcelona attack and added a new element.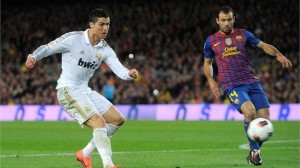 Ronaldo Restores the Lead
Three minutes later and the visitors snatched the momentum back. Ozil moved out to the right after Di Maria came off and played a precise pass from the touch line in behind the back four. Ronaldo touched it to the right and slotted it home. The goal seemed to take the life out of the Camp Nou and Real Madrid killed of the match without extensive difficulty.
Conclusions
Many will blame Pep for the loss due to his curious team selection. In his defense, he lacked a striker or just a finisher to latch on to a Messi pass. With Alexis unfit to play 90 minutes and David Villa injured, Guardiola should have brought on Pedro at halftime.  Madrid put in a similar shift as Chelsea in crowding out Messi, not allowing him close to goal.
Although Barça had the majority of possession, they only had three shots on target and Real Madrid had six. I alluded to Barcelona looking poor in the final third last weekend v Levante and it continued. Crowding Messi seems to be working and Barça need to find a secondary goal scorer before Tuesday night in order to save their Champions League campaign. For Guardiola, he has a huge task of determining his best eleven to break through Chelsea.
Real Madrid were impressive; they conceded fewer chances than Chelsea did and were more dangerous from the counter. Brimming with confidence, I would expect Jose Mourinho to recycle the same eleven on Wednesday to try and reverse Bayern Munich (even though Di Maria looked quite poor).
Follow @icentrocampista