Real Madrid, potty-mouthed Basques and the unlucky number 19 – Spanish Football around the Web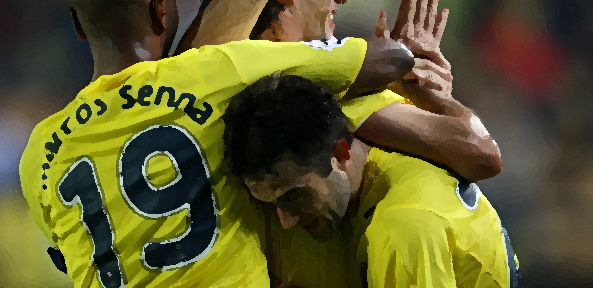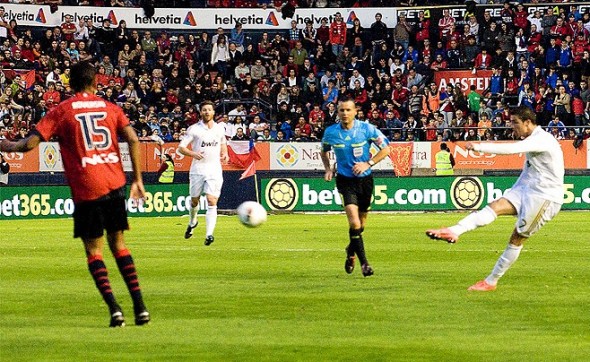 GETTY IMAGES

Over the last couple of years La Liga has been compared to Scotland, with the crutch of two big teams and the rest of the league easy to use, but this season, the tale of the campaign seems to be mirroring England.  Both leagues have had two leaders, with one faltering, although Real Madrid have not choked completely as Manchester City seem to have done, and one maintaining the pressure after a dip in form. 
Another comparison is a third place team (Valencia and Tottenham), almost assured of their place, being caught from behind and possibly losing a coveted Champions League place.  Then there is the similarity of Arsenal and Malaga, with both teams getting off to poor starts but surging up the table, even matching results this weekend with shock loses to take the edge of the momentum.  At the bottom, clubs have found a doppelganger as Wigan and Zaragoza were nailed on relegation candidates, but recent points have been grabbed, giving each team a glimmer of survival hope.  (Although Zaragoza are four points behind Villarreal and six behind Granada).
Further comparisons could be made between Newcastle and Levante and Liverpool and Athletic Bilbao or maybe Atletico Madrid I suppose.  Anyway, another round has come and gone, with both of the Big Two surviving tough tests, while Valencia, Malaga and Gijon failed theirs in their respective matches.
Kaushik at Real Madrid Football Blog feels that Madrid are peaking just in time for the run in as the Trident produced more goals with Ozil pulling the strings.  In addition, Di Maria is coming back, plus Mourinho is getting everyone ready for combat, drafting in Albiol and Granero for the weeks ahead.
Tactics expert, Chalk on the Boots, did a guest post on el Centrocampista about the Real Madrid game and examined the game plans of each squad.  Focus was given to Roversio's role right back, which failed as he was caught out time and time again putting pressure on the rest of the team.  Also Lekic could have started instead of coming in and occupying the center backs after the game was lost.  As for Los Merengues, their pressure, composure and finishing turned a tricky fixture into another rout.  Really enjoyed the insights into this match.
Tim Stannard (aka La Liga Loca) tempered the praise of fans and the Madrid media, reminding readers at Football365.com that Los Blancos still have several tough matches ahead of them: Valencia at home this weekend and Atleti away during the week, plus away to Bilbao later with probable games against Bayern looming the Champions League.  Based on the form of Los Che, Los Colchoneros and Los Leones, I'm not sure Mourinho's men will break a sweat, but games against Die Roten might just take the wind out of the sails enough to let Barcelona back in before the weekend of 4/20.
Real Madrid seem to be over their momentarily blip.  If you take away the FCB game in December, they have been dominant in the League except for two two game stumbles: Levante (L) and Racing (D) in the fall and Malaga (D) and Villarreal (D) a couple of weeks ago.  Removing those five matches they have everything single one of the 25 on offer.  Color me impressed.  No more blips and they are campeones.
FCB v Athletic was the only game I got to see over the weekend and what a game it was.  The game at San Mames was rainy, sloppy and intense as the Blaugrana had to give everything to get a draw.  The return match was a spectacle—again intense, crisp and razor sharp.  I tweeted afterwards: if there is anything like a moral victory then #athletic earned it tonight v #FCB. what a game. copa final should be fantastic.
Los Leones, who had essentially booked themselves a Europa League semi-final spot less than 48 hours earlier, came and played their hearts out, giving some of their lesser players a chance, bringing on the stars in the second half to try to rescue something. Irazioz was outstanding in goal and gave the visitors every chance to win.  As for Barca, they gave a good showing and ran out worthy winners, even though they must have had one eye on the Milan game.
Twelve Point Courier reviewed the tactics of the game for Total Barca, emphasizing how the hosts were able to use their spare center back to start attacks, thereby disrupting Bilbao's man to man strategy.  He also broke down the opening goal, showing how Barca's movement and quickness created the opportunity for Iniesta.
Jack for the Athletic Bilbao Offside page summed up the match up with his post title: Respectable result given the circumstances and his concluding statement: With the lack of rest and priorities elsewhere, it was a respectable scoreline and the players deserve credit for not giving up. Gorka did little wrong in goal and Ekiza has surely staked a claim for a regular first team place.
—-
Articles
Javier at El Centrocampista used his statistical wizardry to reveal some very illuminating facts about some of the teams and players in La Liga.  For instance Reyes (Sevilla) and Dani Benítez (Granada) should stop shooting.  Each have over fifty shots without scoring.  He goes on to look at the impact players have in goal scoring opportunities and even how certain players affect wins and loses.  Interesting reading, especially for any Fantasy Futbol players out there.
Sid Lowe looked at the current captain of the sinking ship known as Sporting Gijon—Javier Clemente.  Doesn't look like he is going to save the club for relegation, as they are now rock bottom, and Clemente is making enemies on and off the pitch after a foul-mouthed attack from the Basque coach on a stunned journalist.
Graham Hunter looked at unlucky #19 worn by Senna at Villarreal (I seem to remember Messi wearing the number after starting with #30) as the veteran midfielder tries to lead the Yellow Submarine away from relegation.  He also touched on Mourinho's dealings with the players and the press and what impact that may have on Madrid's pursuit of La Liga and the Champions League.  Finally, Hunter gave readers a heads up on Dongou, the latest and greatest young prospect at FC Barcelona, who scored his first goal for the B team.  Let's let Tello and Cuenca develop first, shall we?
David Redshaw at A Different Liga wrote a quick piece on the cost of watching La Liga games, both live and on PPV.  Based on his information, Spanish broadcasters are reducing game fees to less than €1 per game while matchday ticket prices are some of the highest in Europe.  Yet another issue that needs to be addressed as the league seems to be heading towards some sort of breaking point.
Finally, El Centrocampista got a snippet from Scott Oliver's Blizzard article on the rivalry between Athletic Bilbao and FCB during the 80's.  A fantastic read and convinced me I really need to start buying the Blizzard.
Follow @icentrocampista