The downs and ups of Villarreal – A week of contrasts for Lotina's men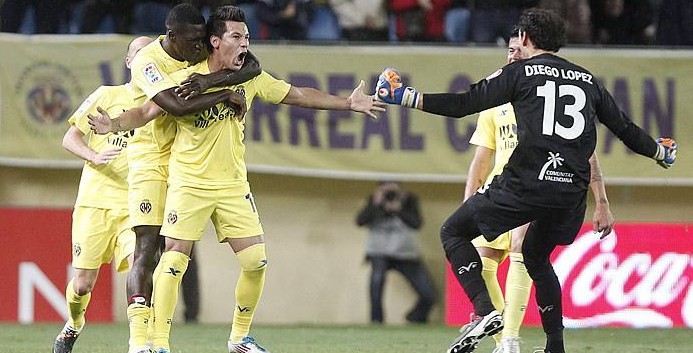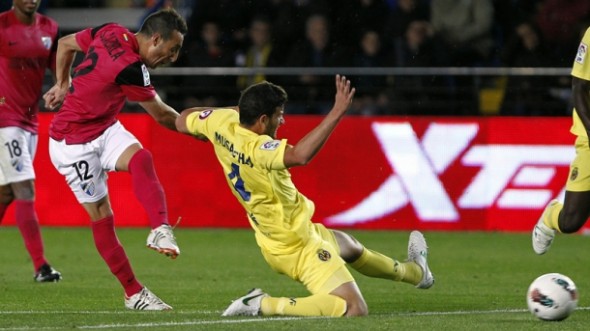 MalagaCF.com

It's been a roller-coaster ride for Villarreal fans this week as the yellow submarine went from the bad, a lacklustre 3-1 defeat at Betis, to the sublime of a 2-1 victory over high flying Malaga on Thursday night.
Miguel Angel Lotina reintroduced the midfield trivote for trip to Sevilla on Saturday, as Ángel returned to midfield along with Senna and Bruno, Cani and Borja and a lone Marco Ruben. For the first half-hour Villarreal controlled possession prettily but produced nothing of any real consequence, and then two defensive errors in quick succession gifted Betis two goals.
Any chance Villarreal had of coming back from that disappeared in a successful Betis counterattack and a second yellow card to Ángel for a nonexistent handball. Marco Ruben did convert a penalty right at the end of the game to at least break the shutout, but it was a tepid performance all round. Lotina's choices of players and formation seemed ill-suited to stop the Betis danger on the flanks, and a lone Ruben had little impact on the game.
Interestingly enough, some of the same was also true during Thursday evening's game at el Madrigal. With Ángel suspended and Mario Gaspar injured, Lotina had to field a new back four, and he chose to play Catalá, in his first game back after a knee injury, at left back, Zapata at right back, with Gonzalo and Musacchio in the middle. In front of this group was Borja and Bruno, with Martinuccio, Senna and Camunas farther forward and Ruben alone up top again.
If the plan was to clog midfield so that Isco and Cazorla couldn't provide a lot of passes to players like Eliseu and Rondon, this mostly worked. The back four really wasn't too troubled in the first half. But while Malaga couldn't put a lot together, neither could Villarreal. On balance the home side looked more dangerous the first half-hour, Malaga looked much better the fifteen minutes after that.
Unlike the Espanyol match, where the "safety first" approach of both teams led to a good deal of overly conservative play, here the two teams wanted to attack, but were essentially canceling each other out. Yet, it did seem there could be a goal or two in this match. And in the 66th minute there was; sadly for Villarreal, it was Santi Cazorla, now wearing the fuchsia away jersey of Malaga, who scored it.
Villarreal had actually won a corner, but it was easily cleared and Malaga found some space to play with in midfield. Isco, who looked the boquerones' most dangerous player throughout, anticipated Santi's clever run past Gonzalo and played a pass into his path, and Santi did the rest, hitting a perfect first-time low strike across Diego Lopez and just inside the far post.
As he had promised, Santi didn't celebrate the goal, and even looked annoyed at the hugs he got from some of his teammates afterward. Lotina already had Hernán Perez waiting to come in before the goal was scored, and now he came on for Camunas, who did little on the day. Marchena had to come on for Gonzalo, who pulled a muscle and couldn't continue, and Nilmar replaced Martinuccio so we at least had someone officially up front with Ruben, and Borja moved forward so that he and Perez were the attacking midfielders. Villarreal had com close, with a free header over the bar from a Borja corner, and then Marco Ruben somehow missed an open goal from a foot after Borja had placed a perfect cross into his path.
Would that be the miss that condemned us to the Segunda?
Well, fortunately, no. Malaga had made changes as well, and as the game entered the final ten minutes Pellegrini was about to make his final one. But Villarreal broke forward again, and Hernan Perez burst into the box to receive a cross from the left side. The ball came in, Perez got one touch, and what he would have done after that we'll never know because goalkeeper Kameni upended him.
The referee pointed straight to the spot and issued a red card to Kameni, who protested, then walked slowly off to be replaced by third-string keeper Rubén, since Willy Caballero is out with a broken hand. Villarreal hasn't done too well with penalties lately—scoring them, I mean—but this time Marcos Senna stepped up and put the ball down the left middle of the goal, the keeper going the wrong way.
Clearly Rubén was uncertain in the nets, and Villarreal tested him with shots from Marchena and Nilmar. Nilmar had a shot just cleared for a corner as the game entered the last minute of play. Villarreal had eight men in the box, Senna in the corner taking the kick, Diego Lopez presumably standing around in his area, and one other player—Hernán Pérez, standing in the middle of the pitch in case the ball came out quickly and Malaga could break forward.
Senna's cross was a good one, punched clear by Ruben at the edge of the box, but straight at Pérez. The ball bounced once and the Paraguayan met it with his left foot, and his volley from 25 yards found the net. Unbelievable.
After so much heartbreak and so many points thrown away this season, El Madrigal was joy unconstrained. Cazorla went over and gave his shirt to fans holding a "Santi we love you always" banner. Not even the rain could dampen things, fans waving umbrellas wildly as they celebrated the improbable result.
Many times before this season it's seemed Villarreal were just about to get to safety. Now if they can defeat Racing at home on Sunday, safety might be just about be in sight.
_________________________
For more news and views on Villarreal, visit Allen and his colleagues at VillarrealUSA
Follow @icentrocampista