Yes We Can! – Zaragoza continue the fight despite accusations of wrong-doing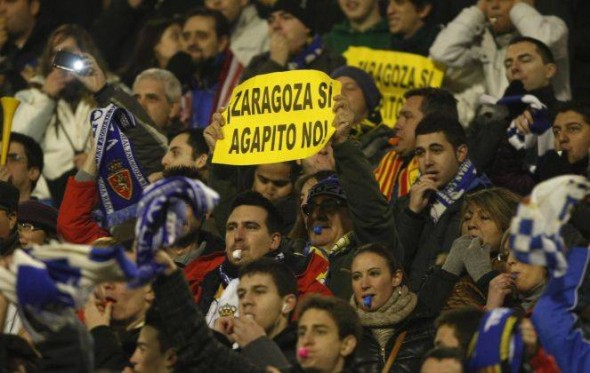 ANGEL DE CASTRO

'Sí se puede'. ('Yes, we can') is a chant which has reverberated repeatedly around Zaragoza's La Romareda home in recent weeks. However after a tumultuous week even by the standards of a club for whom turmoil has become second nature in recent seasons, what was once no more than a distant dream has suddenly become a very real possibility. The equation is a simple one – a win at Getafe next weekend will keep Manolo Jimenez's men in the Primera Liga, after a third successive home victory last night against Racing de Santander.
However sadly when you have an owner as shady as Agapito Iglesias, there will always be a suspicion that there may be some skulduggery going on behind the scenes, with both Granada president Quique Pina and his vice president Juan Carlos Cordero suggesting in recent days that there is something decidedly fishy about the 'maños' startlingly good recent form (they have accrued more points in the last thirteen games than they managed in the first twenty four). This thinly veiled accusation stems from rumours currently circulating that Iglesias allegedly said that he would 'take care of the last six weeks', a clear implication that some match fixing was being arranged to benefit his team.
Those well used to the modus operandi of the Zaragoza owner would probably not be surprised if he was indeed prepared to consider such an approach to the problem. However it would be a gross disservice to Jimenez and his players to suggest that they are on the brink of salvation for any reason other than the new coach, and in particular a Herculean physical and mental effort which they have put into the last three home victories.
This is a team who clearly were not properly prepared in July and August for the rigours of a Primera Liga season by previous coach Javier Aguirre, and prior to this week the truth had been laid bare on various occasions, with players having to be substituted long before the final whistle with muscle cramps. Yet anyone who has witnessed consecutive successes against a Europa League finalist, a side pushing for a Champions League place and a team seemingly freed from their shackles by confirmation of their relegation will have been left scratching their heads in disbelief at the Zaragoza players' relentless drive and determination.
Roared on by capacity crowds, they have at times ridden their luck, never more so than in the last few frantic minutes of the 1-0 goal win against Levante, and who knows what might have transpired had Racing managed to hold on to their lead for more than sixty seconds yesterday. However they have kept their nerve under the most extraordinary pressure, knowing that nothing less than three wins out of three would be enough to give them a chance of escaping relegation, and now the prize looms large in their sights.
The biggest question mark which remains for Jimenez, who has done an outstanding job in incredibly difficult circumstances, is whether his team will be able to rise to the occasion one more time when it matters most. Last May the Zaragoza fans outnumbered their Levante counterparts in their own stadium as relegation was averted on the final Saturday of the season, and a similar scenario will unfold next weekend in the Coliseum Alfonso Perez, on the outskirts of Madrid. Unfortunately their heroes have at times been decidedly unconvincing in recent weeks on the road, with deserved defeats in Mallorca, Seville, San Sebastian and Malaga only partially offset by successes in Gijon and Valencia. Which team will turn up next Sunday?
Regardless of whether Primera Liga survival is confirmed, it seems that events over which Jimenez has no control are destined to overshadow the transformation which he has overseen of a team which looked a disinterested shambles when he took over. The decision to appoint Zaragoza born Clos Gomez to officiate last night's clash between relegation rivals Granada and Real Madrid was an extraordinarily naïve move by Spanish football's governing body, and the events which subsequently unfolded simply added fuel to the fire, with Pina suggesting that 'they should make a monument for him in Zaragoza' after he awarded the champions what was in truth a blatant penalty late on.
Iglesias will be interviewed on national radio tonight, and will no doubt be asked to react to the recent insinuations that he has arranged to buy his team out of trouble. There is little doubt that his club's fans will renew their efforts to oust him as soon as the season is over, but in the meantime all that matters right now is that their team lives to fight another year in the top flight. If they can pull it off, it will be a truly memorable achievement against all the odds.
Follow @icentrocampista