Can Del Bosque and Spain deliver? – EURO2012 Tactical Preview: Part Two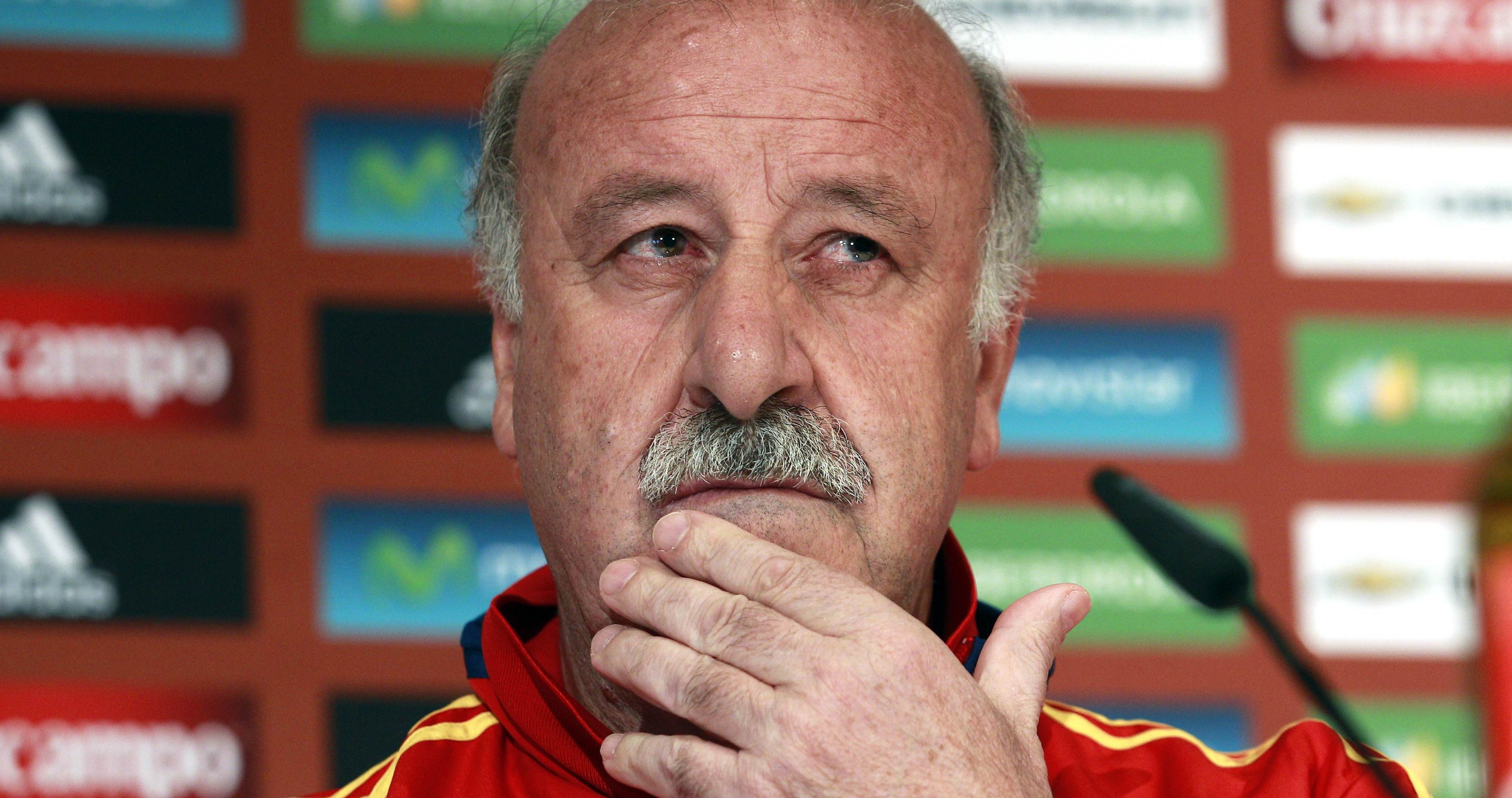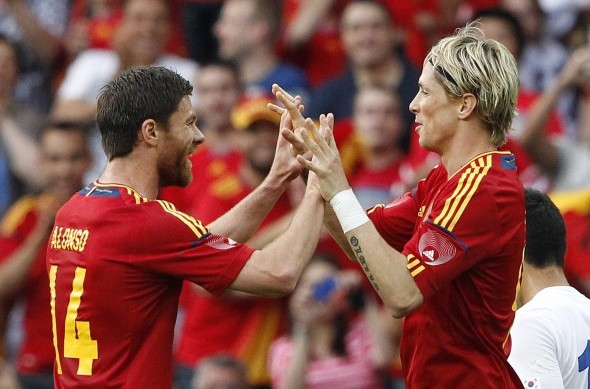 REUTERS/Ruben Sprich
The Spanish squad is arguably the most talented in world football presently. Del Bosque has a plethora of players available who would probably make other international squads yet cannot break into la seleccion. Mikel Arteta of Arsenal is a prime example of this. A fine midfield who can play in a variety of positions, he is destined to remain with only U21 caps.
Should Spain play with a false 9 and if so, who is the best option?
If you assume that Iniesta plays wide left and Silva is a false 9, what transpires is a glut of players converging on the centre, in the same area that Xavi is, wrongly in my view, occupying. Graham Hunter referred to Xavi as the inverted sheepdog, sending his players out away from him and picking them out with passes. As the play becomes congested, the ball circulation begins to lose efficiency, the play narrows and the opponent, although deeply positioned within their own half and working extremely hard, has temporarily halted the Spanish advance.
The false 9 needs to be both creative and provide a penetrative cutting edge. Silva only fulfills one part of the bargain. He lacks the cutting edge to operate as the primary striker for Spain.
If Silva is to play for Spain, he needs to be stationed out wide, most probably on the right, but this again contributes to the central congestion and Silva will operate as an inverted winger always seeking out the opportunity to move infield and onto his favoured left foot.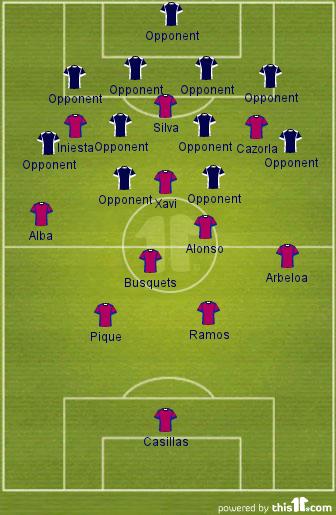 The Lack of Width
The problem with having so many central midfielders, is they all want to move into the centre of the pitch irrespective of where you initially station them. And so with Spain, we see the central area of the pitch clogged by Spanish players and opponents. If the flirtation with the Barcelona model continues, we could see Spain fielding four defenders and six, predominately, central midfielders.
What we will then witness is Spain securing plentiful possession but the majority of which will be horizontal passing about 35 yards from goal as the opponent regains shape and structure.
Where is the space? Spain must use the full width of the pitch to overcome obstinate opponents
On the flanks
This is a genuine issue which del Bosque must address if Spain are to be successful.
How can Spain introduce more width into their game when there is a glut of creative, technical, creative central midfielders at his disposal and only one true winger, Jesus Navas, in the squad.
Spain need to find a balance and probably adopt an asymmetrical attacking formation. This is particularly true if Iniesta is used on the left, which seems highly likely, Spain cannot select a similar player on the right and have two inverted wingers. If Cazorla or even Juan Mata was stationed on the right, Spain would become far too narrow. This cannot happen. The solution on the right would be the selection of Navas or Pedro. Both offer pace and a direct approach, especially Navas, which is lacking in others.
If del Bosque was truly radical, he could utilise both Alba and Juanfran to push forward as attacking full backs. Both are converted wingers themselves and could play with inverted wingers ahead of them, overlapping to provide options and stretch the opponent defensively. This seems a step too far unless Arbeloa is struggling for form, injured or Spain are trailing and need to push on. Juanfran is inexperienced at this level and suspect defensively.
Alba will go on the outside of Iniesta and if Navas or Pedro play on the right and stay wide, there will be space between the opponents full back, pulling wide, and his centre back which the likes of Xavi, Silva, Cazorla etc can exploit.
If further evidence of the need for width was needed, Fifa's technical report on the 2010 World Cup  said: "In modern football, it is very difficult to get behind the opposition defence as teams are often very compact with eight or nine players behind the ball"
"That is why teams now need outstanding individual players who can make their mark one-on-one, particularly down the wings where they can create space that often does not exist down the centre."
Combating Defensive Opponents
If the inclusion of more width is one method of overcoming opponents, what other methods can Spain employ?
With their belief in tiki taka, the short, sharp passing and constant movement, Spain will enjoy more possession than their opponents in their games. With the similarities to Barcelona, it will not be unusual for opponents to utilise increasingly defensive formations against them.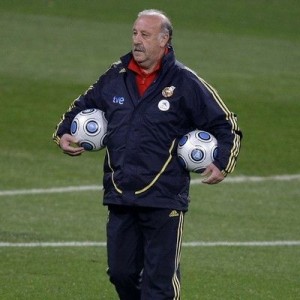 It is well known that del Bosque prefers to play two midfielders in defensive positions. Alonso's lack of mobility means he is poorly equipped to singularly perform a defensive midfield position. Indeed, he is more of a deep lying regista, knitting play together with his short and long range passing technique. A change in this aspect of the system is unlikely.
Perhaps Spain need to consider the beliefs of Andre Villa Boas when teams use a low defensive block against them.  The provocation of the opponent utilising the ball as bait to bring them out. Typically with continuous circulation of the ball.
The superb Ajax team of the 1990's under Louis Van Gaal recycled the ball at increasing speed, pulling opponents from side to side waiting for the right moment when the opening appeared in the opponents defence which could be exploited. Van Gaal also instructed his players, even the most technically gifted, to seek the pass rather than commit an opponent to help retain possession. For an ultra low block, this will not work and the provocation needs to be the mixture of ball circulation combined with penetration via driving runs etc to create the space for exploitation.
It was the failure of Barcelona to address this key point which contributed to their failure against Chelsea. Too many Barcelona players adopted very high starting positions and, as a result, there was no explosive movement, no driving runs from deep to overlap the full back. All the play took place in front of the Chelsea block with horizontal recycling of possession. Retaining possession but Chelsea controlled the space and controlled the game.
There are already articles asking if Spain can be overcome the Chelsea way.
Spain need to learn from this.
If Croatia or the Republic of Ireland set out defensive formations, Spain cannot simply push forward and camp in the opponents half of the pitch. There needs to be space for the driving run, for that explosive moment.
Follow @icentrocampista