Did Del Bosque get it wrong against the Italians?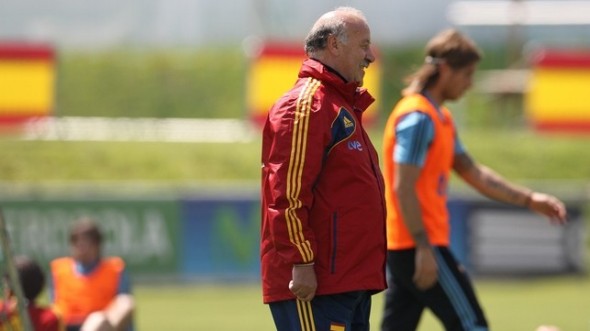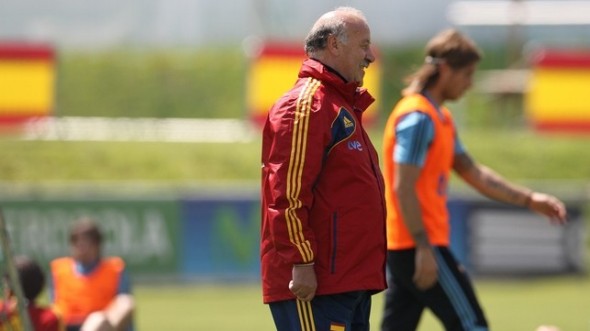 GETTY IMAGES
In their opening game of the 2010 World Cup Spain were beaten one-nil by a disciplined and well-organised Switzerland side. It was one of the shocks of the tournament and all the more so did it seem when Spain went on defeat Holland in the final to become world champions.
Fast forward two years and Spain repeated the mistakes they committed in South Africa. Once again they were all too predictable in their build up play and lacked any real width. This time, however, they were also lacking a third element; a recognised striker, or focal point.
Vicente Del Bosque took three strikers with him to the finals, Alvaro Negredo, Fernando Torres and Fernando Llorente. Yet, on Sunday night against Italy he decided not to field any of them, instead opting to employ a 'false' nine in a six man midfield. Effectively, he was trying to replicate the Barcelona system. But, it was not anywhere near as effective as it has been for the Catalan club.
Without wings
There were a two main reasons for this. One reason was on the wings. With Silva and Iniesta taking up more central positions throughout the match, it was left to Spain's' full backs, Alvaro Arbeloa and Jordi Alba, to push forward and create the width. But, they failed to do so sufficiently.
The reason being was that with Silva and Iniesta playing more centrally, out on the wings it was a simple 1 v 1 situation; Arbeloa against Emmanuele Giaccherini and Alba against Christian Maggio. But, with Italy's two wingbacks free to remain high while their back three took care of Spain's attacking trident, Arbeloa and Alba were reluctant to push forward. This starved Spain of any real lateral presence. Consequently, Spain played predominantly through a packed centre of the park.
Jesus Navas was introduced for David Silva immediately after the City midfielder had set up Fabregas' equaliser. The Sevilla man did provide some much needed width going forward and a pitched in with a couple of dangerous crosses from the right.
But, it could have been very different from the start. Had Silva and Iniesta played more wide, Spain could have dominated the wings as they would have created 2 v 1 situations. By themselves, Maggio and Giaccherini would have had little chance.
In addition, in order to help Maggio and Giaccerhini, one of Italy's full backs would have had to go wide and this, in turn, would have created space through centre. However, whether this space would have been exploited is questionable given Cesc Fabregas' tendency to drop deep and the defensive nature of Spain's back three, which leads nicely to the next point.
'False' nine, false start
Del Bosque's decision to play without a recognised striker and, instead, with a 'false' nine, smacked of an approach to have Spain play like Barcelona. Former Argentina coach, Sergio Batista, tried doing this at last year's Copa America. But, just like it failed for him due to the absence of Lionel Messi's usual supporting cast, it too failed for Del Bosque due to the absence of the one main protagonist; Messi himself, of course.
As talented a player as he is Cesc Fabregas was just not nearly as effective as his club-mate is in this role. As the 'false' nine, it was his duty to hold the ball up, turn and beat defenders and open up space for his team mates to run into. However, all too often Fabregas drifted deep, robbing Spain of any focal point in attack.
If Fabregas was not dropping deep, then either Silva or Iniesta were and this made it a 4 v 3 battle in midfield which left Italy's back three with one man extra. Most of the time, this man was Daniele De Rossi, who was perhaps the best man on the pitch.
In an attempt to steal a victory, Del Bosque recognised as much and duly brought on real number nine; Fernando Torres. As inconsistent as the Chelsea striker may have been for the last two years, his introduction made Spain a much more threatening outfit almost immediately.
His finishing, typically, may have been poor but his bursts through the centre finally allowed Spain to test Italy's offside trap – after nearly 75 minutes. Given the problems Italy had in successfully executing the offside trap, one suspects that had Torres seen more playing time – or indeed was played from the outset – then it could have been a very different story, and result.
Del Bosque succumbed to the romantic temptation of trying to have his side play like Barcelona. But, just as the Catalans fell short against Chelsea, who like the Italians were highly organised and disciplined, so too did Spain against Italy.
Now for Croatia
Expect Del Bosque to do some tinkering ahead of Spain's next match against the Republic of Ireland. A draw against Italy is by no means a major disappointed. But, Spain were far from their best – partly due to the Italy's inspired performance – and they will look to make improvements. The 'false' nine experiment, having clearly failed, Spain will most likely put it to rest and one of the Fernandos – Torres or Llorente – will should spearhead the Spanish attack against the Irish.
Follow @icentrocampista