Glasgow Divide – The Spaniard who split Rangers and Celtic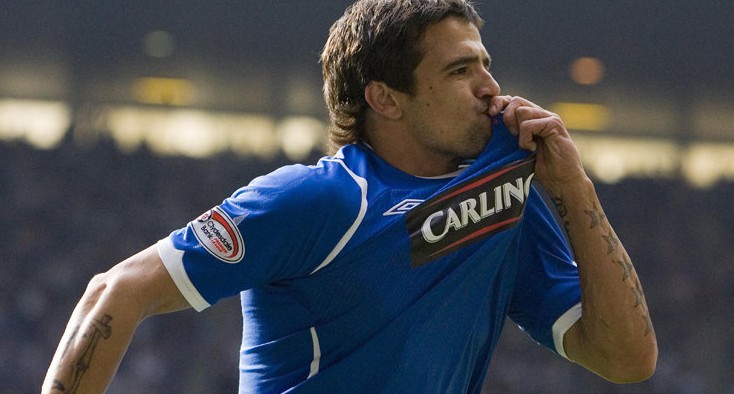 The Scottish city of Glasgow is home to one of the fiercest rivalries in world football with the countries two biggest clubs, Rangers and Celtic, having battled for dominance for almost 125 years.
Rangers currently have the edge over their neighbours with 159 victories compared to Celtic's 144, and have also won the league title 11 more times than current champions Celtic, however it is fair to say there is only one club in the city that are are currently celebrating as they head towards a new season.
Years of financial mismanagement have left the Gers on the brink of the abyss as they prepare to go into liquidation, hoping the remaining 11 Scottish Premier League clubs will vote in favour of allowing the 'newco' Rangers back in to SPL.
While supporters of the Bhoys will no doubt be rejoicing in the demise of their bitter rivals, there will be many who will be secretly fearful of how the situation will affect their own club.
After all, beyond the annual Old Firm games, there are precious few other domestic encounters that challenge either Celtic or Rangers – in fact it is a staggering 28 years since a team outside the Glasgow duopoly won the league.
The rivalry is far more than a sporting battle for local bragging rights and has, at its heart, an undercurrent of sectarian tension that is seldom far from the surface. However the rivalry has also manifested itself in many other  ways over the years and a number of players from both sides of the divide have become targets of abuse.
The story of one such player is perhaps more befitting a Hollywood script than that of a Spanish player who finished last season playing in the Polish first division.
Galician-born Nacho Novo left his homeland in 2001 to joined Scottish First Division side Raith Rovers in a deal said to net him the modest sum of £250-per-week. Few players would have swapped their homeland for the harsh winters of Kirkcaldy, but Novo's decision to move to Stark's Park was one that paid dividend and some star performances soon attracted admirers in Scotland's top division.
Dundee finally brought Novo into the Premier League when they paid £100,00 for his services in July 2002 and he went on to score 26 goals in 71 games for the east-coast club.
It was at Glasgow Rangers where Nacho Novo found his calling however – choosing to join Alex McLeish's side after reported overtures from Martin O'Neil at Parkhead. While this decision proved a minor inconvenience to Celtic fans, Novo went on to enrage them after a number of controversial incidents involving the two sides – unsurprisingly becoming ever more popular with those on the blue half of the city.
With that in mind, it is also little surprise that Nacho's recent autobiography was a bestseller last Christmas. Paying specific reference to that decision to turn down Celtic, the book entitled 'I said no thanks' casts an intriguing insight into the life of the man who is said to have split Glasgow like no one else before him.
Despite any controversies, Novo proved a huge success at Ibrox and played 179 for the club – winning three league titles, one cup and two league cups in the process. With the perceived technical flair of Spanish footballers currently in high demand across Europe, Novo could well prove to be the inspiration for many young footballers who seek to move in order to get regular first team football.
While the only thing that the Spanish and Scottish leagues have in common is the duopoly at the top of them, it is hard to argue that Scotland wouldn't benefit from an influx of young Spanish talent. In fact, and as reported on El Centrocampista last year, Kilmarnock have recently established a link with Osasuna. More deals of the same type could well emerge in the next coming months.
Novo ended his seven year exile in Scotland when he returned to Sporting Gijon at the beginning of last season, however the player was shipped out by new coach Javier Clemente  in January after a war of words with the notoriously-prickly Basque tactician.
The 33-year-old found himself in the Polish capital of Warsaw where he played 11 games for Legia as they finished third in the Ekstraklasa, however it proved a disappointing cameo for Novo as he failed to add to the three goals he had scored while still playing for Sporting.
Fans of Rangers remember Novo with a passion reserved for few foreigners, and the adoration appears mutual. Recently asked about his time in Glasgow, Novo responded by  saying it was 'the best period' of his live before he added: "There was no better feeling than hearing your name sung by the crowd at Ibrox – especially after we had beaten Celtic."
Nacho Novo, it seems, will continue to divide opinion on the streets of Glasgow.
Follow @icentrocampista