Marcelo Bielsa's Basque revolution reaches a crossroads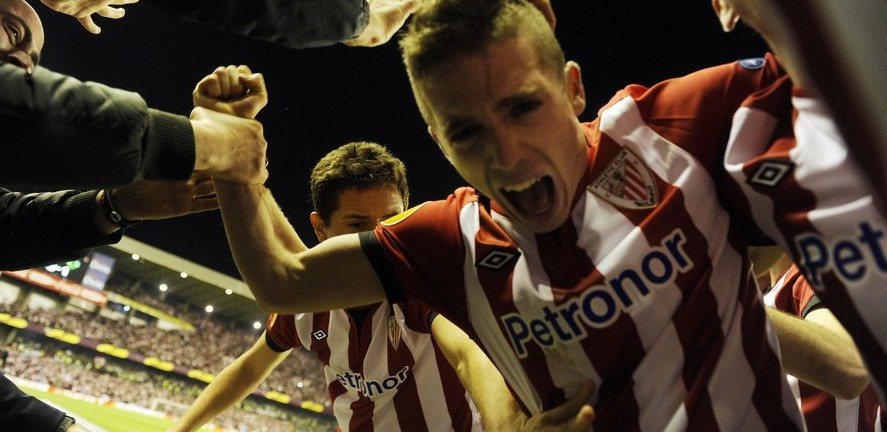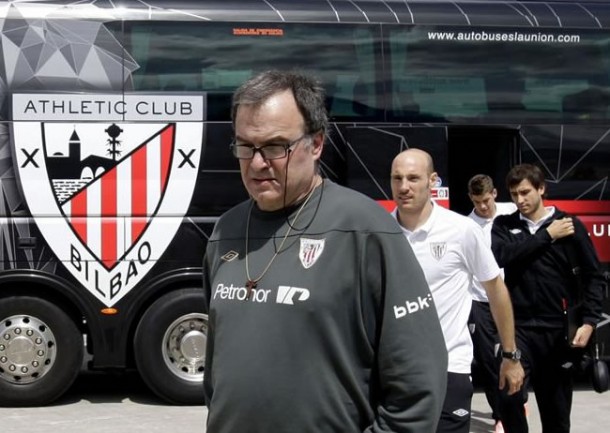 Nagusi eroa baino, gogorra hobe. A harsh boss is better than a crazy one. The Basques are renowned for their wisdom, however there are probably many who would suggest the current boss of the region's most famous football club is both harsh AND crazy.
With an almost monomaniacal approach to the game, there can be little doubt Marcelo Bielsa has had a huge impact at Athletic Club since walking through the doors at San Mames last summer.
The Basque side were a revelation to many not particularly au-fait with the Spanish game last season and certainly educated more than a few, who believed Barcelona were the be-all and end-all of beautiful football in la liga.
The way they dismantled Manchester United over two Europa League legs in March was one of the highlights of the entire campaign, leaving Sir Alex Ferguson almost lost for words in his post-match press conference at Old Trafford.
Bielsa has worked wonders after what has to be said was a slightly underwhelming beginning. Two points from their first five league games wasn't exactly earth-shattering, however for those who knew Bielsa, it was almost expected.
It would take time for the players to comprehend what the man they call el loco wanted from them – not least because his predecessor Joaquin Caparros favoured a direct approach, using 6′ 4″ Fernando Llorente at the hub.
While Bielsa still asked for directness, the ball was returned to the floor and the route to goal was made a whole lot more aesthetically pleasing. By October, there were signs his players were slowly buying into his philosophy – the 3-0 romp over Atleti and a 2-2 draw with reigning champions Barcelona, were highly impressive for those who witnessed them.
It was their European exploits that made the headlines however, the assured defeat of Manchester United obviously stands out, but Athletic also dispatched Schalke, Sporting Lisbon and Lokomotiv Moscow, as well as topping a group that included big-spending French outfit, PSG.
It could be argued their league form dipped as their progression across the continent expanded, but it should also be pointed out that, although within touching distance of the top four for much of the campaign – a place in the Champions League was probably unrealistic for a team that were already stretched to its limits.
Lezama is a fantastic academy but there are only so many Fernando Llorentes, Iker Muniains and Javi Martinezs one region can produce at any given time. The Basque-only policy leaves a highly restrictive talent pool that severely hinders the ability to compete at the highest level.
None the less, when you also consider the youth of the squad, it is apparent Bielsa is heading the most exciting Athletic squad since the title-winning side of 1984.
They may have spectacularly underwhelmed in both the Europa League and Copa del Rey finals, however there is a sense that last season was simply a precursor to what glories could be achieved should the team stay together beyond the summer.
Therein lies the issue. With the impressive displays comes the expected transfer interest as rumours grow by the day, however Athletic president Josu Urrutia and his board must remain resolute.
The Basque giants are one of the few financially sound clubs in Spain, and although their accounts manager may not agree, the club do not particularly need the £30 or £35 million currently being suggested would be enough to lift the likes of Llorente or Martinez away from San Mames.
Ultimately money talks of course and the club are at something of a crossroads, but if a player such as Llorente were allowed to leave, who would fill the void? Aritz Aduriz may have rejoined the club from Valencia this week but the man they call el Rey Leon is the type of player that comes along just once in a generation, even less so in a Basque generation.
In this sense, they face a huge disadvantage to their closest competitors. When Atletico Madrid sold the talismanic Sergio Aguero to Manchester City last summer, they immediately went out and bought Radamel Falcao – arguably the best striker currently in world football.
There is no such luxury for Athletic. Players such as Martinez, Muniain and Markel Susaeta are irreplaceable for a club with the constraints Athletic function under.
The rumours will persist of course, but the news that Bielsa has committed to another season in Bilbao is of huge significance. His decision to stay will not have been taken lightly and is one that will have only been made after careful consideration to the future.
The determining factor for the Argentine tactician is growth and development, and in Athletic Club the potential is huge. However first the club must ensure they keep this gifted squad of players together.
Follow @icentrocampista