Why Del Bosque must adapt to keep Spanish hopes alive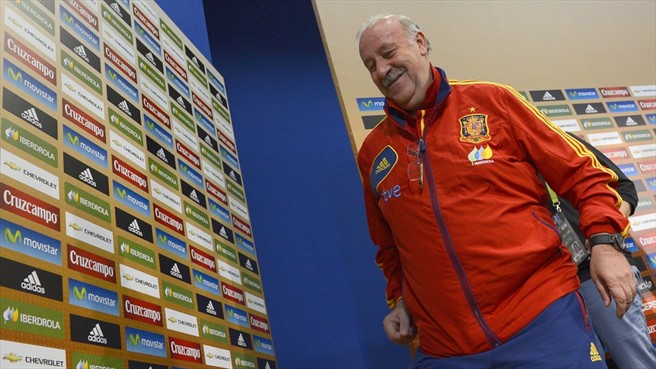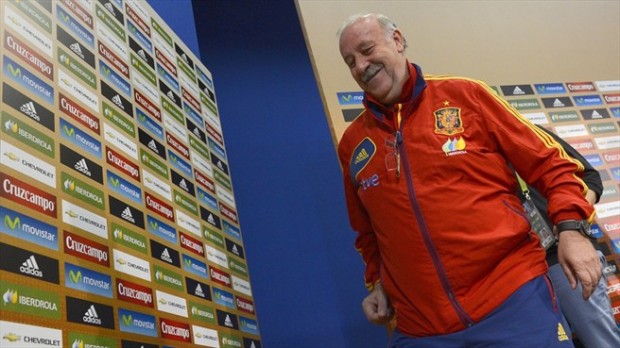 With two wins and one draw, Spain eventually finished top of Group C to book a place in the quarterfinals where they will face Laurent Blanc's France.
Monday's 1-0 victory against Croatia was far from convincing however and it seems the talk of tiredness and complacency that dominated discussions prior to the start of the tournament may actually carry some significance – Spain have yet to replicate the stunning form of the summers of 2008 and 2010.
There are still a number of areas that will concern Vicente del Bosque and the coach will hope to address these ahead of the clash with the French on Saturday, where victory will take them one step closer to an unprecedented third successive tournament triumph.
Fullbacks
Neither Valencia's Jordi Alba or Real Madrid's Alvaro Arbeloa has had a real impact from an attacking standpoint so far in the competition, which is absolutely crucial with a squad playing with Spain's narrow approach (more on this later).
Width is needed in order to help circulate ball distribution, but the two full-backs are simply not offering the extra dimension that is associated with other top level players in that position. Andoni Iraola of Athletic Bilbao, known for his crossing and stamina working up and down the right flank, would arguably have been the first-choice right back if not for a slew of injuries.
Striking Solutions
Spain began its first group stage match against Italy with Cesc Fabregas playing a "false nine" role in lieu of an actual out-and-out striker. The idea of a false nine is that the player can not only receive the ball earlier than a traditional striker, but also make runs into the channels that can exploit gaps left by defenders.
Midfielders would then theoretically fill the gaps and create chances. The Italy game was lacking in midfield runs and del Bosque eventually put Fernando Torres on the field. Despite missing two simple chances, Torres epitomized what Spain needed; a legitimate striker who could link up with midfielders and wingers and finish chances. Although Fabregas scored Spain's only goal against Italy, the false nine role has since been dropped, and Torres has started the next two games.
However despite Torres scoring two goals in the thumping of the Republic of Ireland, there is still more to be desired in terms of output from a team that greatly outpossesses its opponents.
Fernando Llorente is the quintessential target man that represents a "Plan B" of sorts for Spain and is capable of converting crosses and being a physical threat to all oncoming defenders. Although smaller than Llorente, Alvaro Negredo is another prolific striker who has a good goalscoring record with La Furia Roja (six goals in 11 matches); however, neither he nor Llorente have seen playing time in the three games. More diversity is needed among Spain's forwards.
Depth
With Spain having dominated world football for four years, there is bound to be a staggering amount of depth in a 23-man squad. On the bench are players who have shown incredible club form, however del Bosque has just not utilised the weapons on his bench in the best possible way. The problem with being so successful on an international level is that Spain has become subject to millions of football supporters, analysts, and pundits (in addition to rival nations and squads) breaking down every single game in terms of actions and tactics.
With this analysis, Spain has become predictable, and the concept of substitutes offering different strengths has been overlooked a bit. Jesus Navas is perhaps the greatest example of this mismanagement. With the ability to outpace and stretch defenses, Navas is a prized commodity in football. His crossing ability makes him basically a "throwback" or vintage winger, one who is capable of beating defenders to the touchline and deliver balls into the penalty area.
Instead of starting games and offering a bit of entropy to Spain's lineup, Navas is relegated to substitute appearances, playing less than 10 to 15 minutes a game. He and the aforementioned Llorente and Negredo would add an complementary side dish to Spain's repetitive buffet of central midfielders congesting the pitch, yet see little to no time on the field.
Juan Mata, fresh off a Champions League conquest for Chelsea, has not seen the field this summer for Spain; he is plenty capable of launching crosses and promoting width on the left flank, yet sits sedentary for no evident reason. This is not a petition for Vicente del Bosque to completely mix up the starting lineups in future games, but substitutions should be done earlier and with more purpose.
Overall Team Tactics
This may already cause a bit of ennui among supporters, but Spain's tendency to pack five to six central midfielders onto the pitch at the same time can prove counter-productive. The three-man midfield of Sergio Busquets (also able to drop back as a third center-back), Xabi Alonso, and Xavi Hernandez is extraordinarily astute in regards to keeping possession and distributing balls all over the field. But the idea of putting left-footed David Silva on the right wing and right-footed Andres Iniesta on the left wing not only clogs up the midfield, it also slows down play and limits the number of driving runs the players can make.
There is an astounding difference from the squad that won EURO 2008 four years ago, players were more aggressive to play an incisive killer ball and go for goals. Even the World Cup-winning squad played at an extremely pedestrian pace; the winning goal against Croatia (on a counter attack) was an amazing surprise.
Spain have garnered both critics and admirers with its tiki-taka. Is it beautiful football? Is it efficient football? These questions are answered with a plethora of differing opinions, and while it does preach the fundamentals of football, it is easy to criticize the style. This is because of La Furia Roja's inclincation to play horizontally; that is, to slow things down, minimize the amount of time the ball isn't controlled by a player, and subsequently create chances.
Despite Spain's record-breaking passing statistics in these group stage games, there simply are not enough scoring chances that one would correlate with the squad's possession and passing percentages.
Mental toughness
There is a certain degree of resilience that is required to become a champion in any sport or competition; to repeat as champions of that same competition necessitates an even stronger sturdiness. Despite having a world-class squad and two of the greatest players of this footballing generation in Xavi and Iniesta, Spain simply has not performed at the level its supporters have expected.
For a spectacularly-talented squad, Spain have met expectations in topping their group, yet reveal weaknesses that may become exposed against stronger teams. A draw against Italy and late victory against Croatia have resulted in points, but do not give a proper forecast of how Spain will perform against in-form teams such as Germany, a nemesis from the last two tournaments.
To overcome complacency will require "running the table" so to speak; it will require del Bosque managing his squad to maximum efficiency and bringing home yet another trophy. Tactical awareness is required, and the players will have to turn a blind eye to the media criticism their flat play (this article included, perhaps). Given the genuinely-packed roster del Bosque has to tinker with, there is no reason for Spain to fail to reach the semifinal, if not the final.
Winning the entire tournament, however, will require a little more than 23 names on one team.
Follow @icentrocampista