Rumours of Llorente rift with Bielsa persist but Athletic focus on the football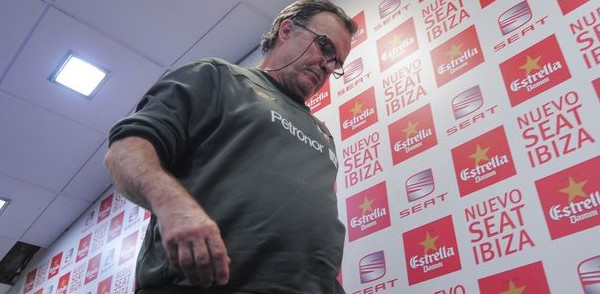 While recent press reports linking Fernando Llorente with a move away from San Mames maybe somewhat premature, there is growing speculation that all is not well up in the Basque Country.
English Premier League sides Arsenal and Liverpool were said to be monitoring the 27-year-old's situation last week, following news that contract talks between Llorente and Athletic had stalled over a discrepancy in how much both parties believe the player should be paid. Spanish media reports suggest the Basque club have put an offer on the table that would see Llorente receive around €60,000-per-week, however, that falls somewhat short of the €90,000 the player's agent and brother, Chus, believes he is worth.
While negotiation complexities such as these may be common place during contract talks, the rumour mill soon cranked into action – most notably in the capital, where talk soon began of a deteriorating relationship between Llorente and Athletic coach Marcelo Bielsa. Many in fact, went so far as to suggest the Spanish international has refused the offer from president Josu Urrutia as a direct result of his unhappiness with the Argentine tactician.
Talk of tension between the two has been rife for a number of months, and can be traced back to the end of last season when Athletic imploded in two cup finals and limped over the finish line in the league, after once seemingly well placed for a tilt at a top four finish.
Things are said to have come to a head in the aftermath of Athletic's dismal Europa League final capitulation to Atletico Madrid in Bucharest. Sources claim an incensed Bielsa confronted his most senior players, of with Llorente was one, over the level of commitment from a team that had previously blazed a trail across Europe – most notably in their two-game destruction of English champions Manchester United.
The Argentine is then said to have reacted furiously after hearing complaints of fatigue and what he perceived as criticism of his training methods. Controversy of Bielsa's high tempo and gruelling sessions are nothing new of course and suggestions of player unrest have dogged much of his time in charge at both club and international level.
It seems players were less than enamoured  with the lack of rest afforded during a season which saw Athletic play a record number of games, with concerns also raised over a noticeable increase in injuries sustained over the campaign.
Llorente himself suffered a number of niggling injuries last season, with many pointing to the intensity of Bielsa's training schedule and a congested fixture list as a key culprit. Interestingly, the Pamplona-born striker has again only just resumed training at Lezama after a slight hip strain which prevented him from taking part in Athletic's recent games against PSV Eindhoven and Zlask Wroclaw in Poland.
In Bielsa's defence, the team were spectacular on occasion last season and the former Chilean national team boss has certainly had a largely positive effect since breezing through the door at San Mames last summer. However, for all those who witnessed his young side run out of steam at the most critical point of the season last term, these current rumours may just carry some weight.
The speculation is something president Urrutia could do without, coming just four weeks after Bielsa's now-infamous confrontation with the Lezama building contractor, and less than a week before Athletic face Croatian outfit Slaven Belupo in the Europa League. However, and conversely, it is a situation that may just pull the team together ahead of the new campaign.
Athletic have a tendency to close ranks when seemingly under media attack and are arguably the strongest club in Spain when it comes to handling criticism of its internal affairs – after all, they are yet to spend any time out of the top division in 82 years of la liga football and have remained  loyal to their Basque-only policy for 113 years.
With little being said by the club, it is also highly likely the situation is far less significant than has been suggested by the Spanish press and doom-mongerers. It should be noted that Llorente still has 12 months to run on his current contract and nobody at the club will be losing any sleep over the current hiatus in getting him to pen a new deal.
Focus will now fall on getting the squad ready for Tuesday's Europa League qualifier at San Mames,  before which they have a final warm-up match against French side Lille on Friday night.  Victory in those games would then provide perfect preparation for the start of the new La Liga season and the visit of Real Betis in three weeks – with Fernando Llorente surely leading the line.
Follow @icentrocampista