David Villa should be applauded not punished for his show of gratitude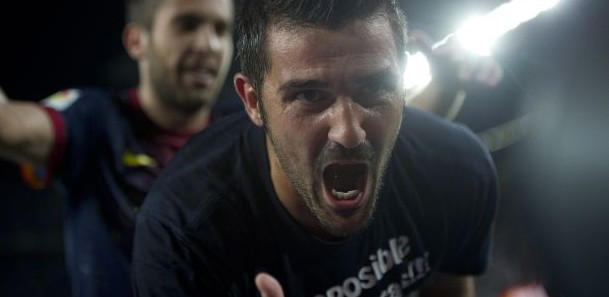 With the heroic and humble stories of many Olympians still fresh in the memory, the image of footballers is one that has been subject to much scrutiny in recent weeks.
The season is only a week old and yet we have already witnessed petty squabbles, attacks on linesmen, and some diving that wouldn't have looked out of place at the aquatics centre.
So when David Villa removed his Barcelona shirt to reveal an emotional thank you message to his family after scoring against Real Sociedad on Sunday evening, many PR men must have released one huge sigh of relief.
Having endured a frustrating eight months on the sidelines it is the perfect feel good story that showed that in actual fact, the majority of footballers do have a modicum of humility.
The Camp Nou erupted. Opposing coach Philippe Montanier gracefully shook his hand and even Real Madrid fans took to twitter to begrudgingly congratulate a man who has successfully come through a bad period in his career.  The following day his name was proclaimed on virtually every back page in Spain.
"It has been a difficult time and it is nice to be back," Villa said after the match.
"I am pleased to be able to say I can forget about the injury now. I have had five weeks training at the maximum level but my body still struggles to reach the levels required to play 90 minutes. I'll keep on working until I van eventually play a full game again.
"Because of me, I am sure it has been a difficult time for my family as well"
For David Villa, for Barcelona, and for football, it was the perfect pick me up. That was until the Spanish Football Federation (RFEF) this week decided to intervene and fine the striker a reported €3,000 for having the nerve to profess his love and appreciation to his family.
Rules are rules and while the RFEF clearly states that no sponsor or message may be revealed by a player, sometimes, just sometimes you feel that concessions should be made.
With a certain irony it is often footballers that get accused of being robotic in their nature, but this time it is the authorities, David Villa did not do a 'Nicholas Bendtner' and received financial gain by revealing a sponsors logo, he simply wanted to say a simple 'thank you'.
It harmed nobody and touched so many, and yet it was still frowned upon. By way of worrying contrast, in 2005 both Atletico Madrid and Malaga were fined just €5000 for racist chanting directed at then Espanyol goalkeeper Carlos Kameni, while this year in England, Walsall's Manny Smith was fined  a paltry £1600 for homophobic comments made on Twitter.
While, for David Villa the sum of €3000 is going to do little to dent his finances, the incident instead leaves a sour taste in the mouth for all those concerned. In a modern day where footballers often do wrong, his act of humility and gratitude should be applauded, not punished.
Follow @icentrocampista