Forget Neymar – Barcelona's most exciting star of the future is Isaac Cuenca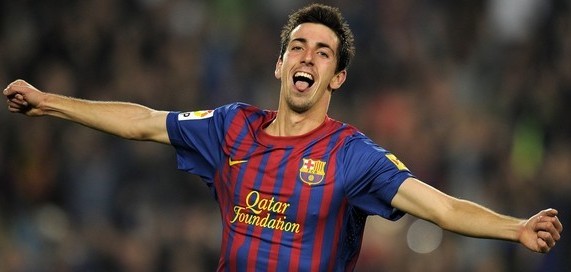 Speculation is rife that Barcelona are edging closer to signing Brazilian starlet Neymar, with some sources even claiming the deal was done months ago. It wouldn't be the first time such a notion was suggested – Sport and EMD both claimed that a pre-contract agreement was signed last winter, but the rumours seem to be picking up at the same time as, in a moment of pure coincidence I'm sure, Neymar's longest spell in Europe to date with Brazil's Olympic squad.
As exciting as the prospect of seeing the Santos man in a Barça shirt is, I would rather opt to talk about one talented young man Barcelona already have in their ranks. The girls may not like him much, as Pep Guardiola once said, but Isaac Cuenca is so good it makes you want to shit yourself, as Pep Guardiola also once said.
In a breakthrough season with the Barcelona first team which few except the former Blaugrana coach himself saw coming, Cuenca looked as if he'd been playing with his superiors for years. It's easy to forget that this was a kid that was loaned out to CE Sabadell, and then barely kicked a ball for Barça B before being dropped in at the deep end, so composed did he look in front of the packed Camp Nou crowd.
By the end of the year, Cuenca had grown in stature to become a player who quite clearly provided something different from any other for Barcelona. The forward is perhaps the most naturally 'wide' of all of Barcelona's front line, and can put a ball on a sixpence with his crossing, but he also contains that most quintessential of talents to play at Barcelona, a brilliant ability in dribbling. Cuenca is deceptively deadly with the ball at his feet.
If he continues to develop at the rate shown last year, Cuenca's second season with the first team could be something special. Don't just take my word for it. I once had a conversation with one of the most respected Spanish football journalists in the game (and I mean the best here, not just internet hacks like me), and he told me straight and clear that 'if you think Pedro's good, Cuenca's better'.
High praise indeed considering Pedro is a forward who broke records for fun in his breakthrough year with Barcelona, and has proven equally capable at World Cups and Champions League finals. Knowing how humble Isaac Cuenca is, if he could have even half of the Tenerife native's success, he'd be thrilled.
The most thrilling thing about Cuenca's potential is that I genuinely feel he's yet to play in what should prove to be his best position for the Barcelona first team. I said Cuenca is a natural in wide positions, and that's true, but many of his skills point to the ability to play in a much more central role.
The forward's stature often hides just how incredible his balance is, and with the drop of a shoulder or a flick of his foot he can leave a marker for dead in an instant. He has also shown brilliant passing at times, and can top it off with a goal when he sees fit. Those talents suggest that, if he can be honed in the right way, Cuenca could be even more dazzling in the middle of the park. It's in the middle that he started his education at Barcelona's futbol base, years ago.
To take an extreme example of a similar change of position no one saw coming, Lionel Messi was once considered a wide forward par excellence. Admittedly, it's likely that there isn't a player on the planet that can replicate Lionel Messi's trajectory, but until Pep Guardiola had the foresight to shift him into a role in the middle of the pitch where he could pull the strings, the old adage of 'if it isn't broken, don't fix it' applied. In the end it proved a masterstroke.
When proposing a similar idea of moving Cuenca into the middle, I'm often with a timid at best reaction. Perhaps it's because he offered so much to Barcelona last season on the wing, or perhaps it's because he was quickly succeeded in the popularity charts by Cristian Tello (for me, Cuenca is the far more complete and exciting player). In any case, I can understand such a reluctance to alter Cuenca's role on the pitch, so well has he performed in his current duties, but if you don't believe me then perhaps pay attention to something the young man said himself as a 12-year-old in 2003.
"I'm Isaac Cuenca, I play as an attacking midfielder. What I like to do is play killer passes and dribble past players from deep."
In such simple words Cuenca sums up what I expect he'll do in the coming years. The tools are there, only the change on the pitch remains to be made. Let's see if he's right.
Follow @icentrocampista