Pre-Season at La Manga with Granada CF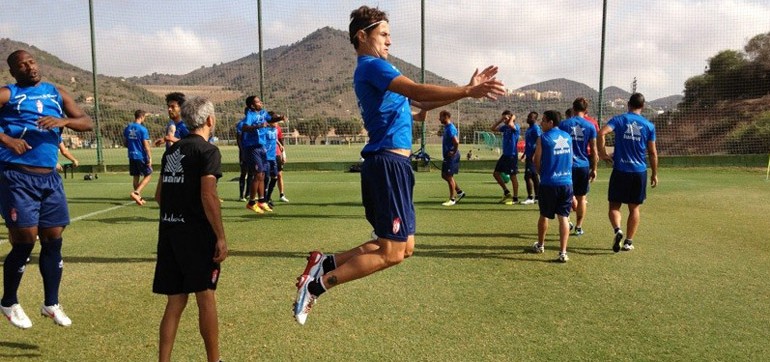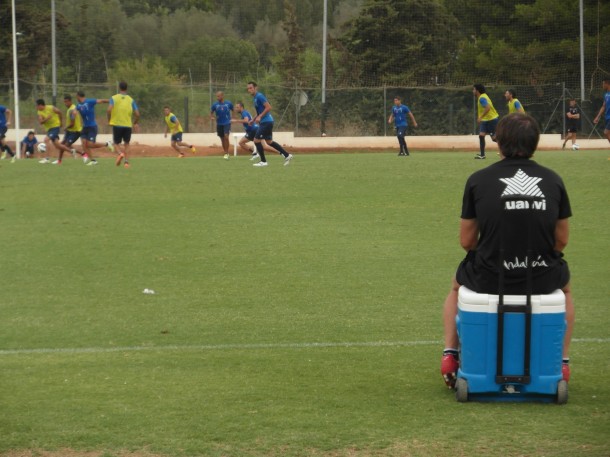 Thanks to ongoing and fantastic support from Granada CF Communications Director Javier Rufete, I was able to make the trip to La Manga Club near Cartagena, last week to observe the second-phase of pre-season preparations with the team.
Morning sessions started each day at 10am, lasting around three hours, with evening sessions starting at 6:30pm or 7pm and lasting for two hours. Each session would usually begin with some jogging and stretches to warm up, before moving on to some ball work and passing drills. This would then be followed by agility and movement, tactical and positional work, finishing with mini-games and warming down.
Of particular interest to me was the positional and tactical work. At this stage Anquela looks to have plenty of options available to him. With several players who can adopt multiple positions and roles, it's hard to pin a favoured formation on the team at this stage. That said, rather than being rigidly in favour of one shape or strategy, Anquela looks to be aiming at flexibility. 4-5-1, 4-3-3, 4-2-3-1 around what looks to line up initially as a 4-4-2, were all shapes I saw in action. Perhaps most impressively though, was whilst the back four remains a constant, the midfield and attack are always mobile and moving fluidly.
Although I'd had the opportunity to see most of the new signings in action during friendlies against Córdoba CF and Real Jaén, this would prove a great opportunity to observe how they trained and worked with the rest of the squad.
What struck me first of all, is how quickly the new players have settled into the existing group. Whilst players such as Floro Flores and Gabriel Torje know each other well from Udinese, the other new arrivals have also adapted quickly and been well received.
Not once did I observe any disagreements, arguments or differences of opinion. Everyone is pulling in the same direction and keen to impress. Undoubtedly a large part of this is due to the sense of unity amongst the players, the coaching staff and manager Anquela. Early signs of a very strong team spirit and it has already been mentioned to me by players, how comfortable they feel working with their new manager.
During the Thursday training sessions, it was pleasing to see midfielders Fran Rico and Hassan Yebda begin more intense running and a brief spell of ball work. A chat with physio Alberto Lara confirmed that Fran Rico was close to his return. Hassan Yebda is a good two months away from match action, but ahead of schedule, having expected to be out until late November, following his anterior cruciate ligament injury last February. Goalie Roberto also looks like he's now fully recovered from his back operation.
In attendance for the evening session on Thursday, were Club President Quique Pina and Sporting Director Juan Carlos Cordero. Keen to ensure things were progressing well, both spent time talking to players, coaching staff and manager Anquela. Afterwards, both even found the time to play a game themselves, with family, friends and staff.
Aside from the training sessions, there were more friendly matches arranged.
The first game on Friday was against Selección AFE, a squad of players currently without clubs, assembled and supported by the players association. The tie ended in a one-all draw and whilst Granada CF never really saw the game as more than an additional training session, the AFE team gave a very good account of themselves. Hopefully plenty of scouts were watching, with the match also televised on Marca TV, which will see as many of them as possible, offered opportunities at clubs.
On Saturday, Granada CF played Segunda side Hércules, who made the short trip from Alicante. I'd had the opportunity to watch Hércules play out a 1-1 draw with fellow Segunda side Real Murcia, a couple of days earlier. Hércules had looked a good footballing team, but they were no real match for Granada CF, who were now playing with much more intensity and focus.
The match ended in a comfortable 5-1 victory for Granada. Antonio Floro Flores scored a brace with two powerful strikes. Iriney scored from close range after the Hércules defence failed to deal with a deep cross. Darwin Machis deftly chipped over the Hércules keeper. Dani Benítez burst through the defence at speed and slotted the ball home. Quality assists lead to quality finishing, that was often lacking last season.
With the final squad for the season ahead yet to be decided, there's still places up for grabs. At this stage, it seems as though Granada CF have completed their transfer business early and quickly. A stark contrast to last summer, when they were fighting for signings right up until transfer deadline day. This allowed very little time for a much changed squad to gel. This season, the team is much better prepared.
Whilst it's impossible to rule out any further additions just yet, with plenty of days left in the transfer window, I suspect it will be players leaving that forms the most activity. Anquela has some tough choices to make, when he trims squad down to twenty-five players.
Whilst it's always difficult to pick individuals for specific praise, I do feel the need to draw attention to young Venezuelan striker Darwin Machis.
Only two years ago, he was playing futsal, before being spotted and given a chance with Venezuelan league side Mineros de Guayana. Having quickly impressed their coaches, he was given first team games and ended last season with 16 goals in 36 games. This promptly attracted interest elsewhere and several clubs from Europe made contact. Amongst those interested were Inter Milan, who made very strong approaches. Ultimately though, he and his agent felt a move to Granada CF was the best option.
As a player, Darwin Machis is still a rough diamond, to use the cliché. He's full of ability and has a great eye for goal, but after such a short time playing professional football, still has much to learn. This isn't lost on him though and not only is he fully appreciative of the opportunity ahead, but fully understands the hard work and effort required. Highly professional, focused and with both feet firmly on the ground at such a young age, he certainly has a bright future ahead of him.
Overall, this is a much stronger squad at Granada CF than last season. Though everyone at the club is keen to state "permanence" in La Liga as the priority, this is an ambitious club and a hungry group of players. There's every reason to believe the club can keep progressing and pushing higher.
Follow @icentrocampista