The Barca return of influential Villa continues to defy the odds AND the doubters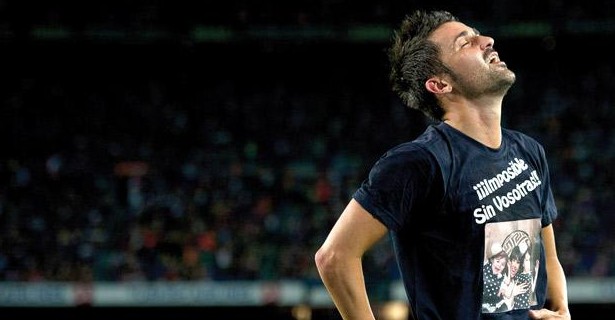 The dust is still settling on an unusually unpredictable weekend of Spanish football, and though the major talking points are of big teams struggling and even bigger mind games being played by one coach, a moment of note that's being overlooked amongst the storm is the second, small, but still significant step on the road to recovery by David Villa.
As Barcelona battled it out at 1-0 down against the ever-tricky Osasuna, there was a sense of inevitability about the changes that Tito Vilanova needed to make should his side hope to salvage something from the tie. The first, that Xavi Hernandez was needed on the pitch, and he was needed fast. The midfielder's calming influence was glaringly absent in two-thirds of the game, making it ever clearer to anyone who thought otherwise that Cesc Fabregas is not a direct replacement for the veteran. That's another point for another piece however, and it's in the second change, the introduction of David Villa, that this article's attentions lie.
The possibility of bringing in El Guaje to help save the day was a luxury Barcelona couldn't draw from in months, and it spoke volumes about what the striker's absence has meant for them. When Lionel Messi isn't firing on all cylinders, Barça continue to struggle to find a suitable danger-man to push them forward, and without Villa's threat on the pitch they look blunt when their number 10 isn't excelling. Villa's cameo couldn't have come any sooner for the Argentine.
Although the Asturian's role in Barcelona's winning goal isn't immediately clear, watch it closely and his influence is there to see. As many a team have been unfortunate enough to discover, Villa can score from anywhere on the pitch, so giving the striker space (even moreso, space in the box) is an absolute no-no. In the buildup to Messi's second against Osasuna, Villa receives the ball, spins, lays it off, then continues his run into the box, all the while grabbing the attention of at least three of the opposition players around him. As Jordi Alba sent off the cross from the left, suddenly, Lionel Messi finds himself in more space in the box than he's been given in the entire game.
That's no coincidence, as Villa's presence has indirectly lead to Messi's room to manoeuvre, with defenders now forced to do much more than just crowd the Argentine out then prevent the other forwards from winning one-on-ones, as had been the case prior. Job done for El Guaje, despite not scoring a goal, and it was his second-such influential moment this season for Barcelona, after netting on his official return against Real Sociedad.
The above is a great example of how Villa's role at Barcelona isn't just to score goals, but also to make scoring them possible for others. Though the Spaniard is one of the finest finishers around, and  though in his only full season at the club he contributed 23 goals, including big goals in big games that helped Barcelona to several trophies, it's not so much just scoring itself but the fact that he could score at any given moment that makes him such a threat.
Opponents are forced to pay attention to his movement, to track him when he's both on and off the ball, knowing that he can be as decisive as Messi if he's in the mood. That's often the difference between Villa and Barcelona's other wide forwards, and it's a large part of why the team looked so dismal without him at times last season. With the number 7 around, a weight is lifted off Messi's shoulders, and the other players now have someone else they can look to for inspiration in difficult moments. Moments like this.
The records support the theory too. With Villa playing frequently, Barcelona won a Champions League, league title, two Supercups and a Club World Cup within a year. Without him, they had to settle for the Copa del Rey.
Villa's unexpected sprint forward on the road to recovery has also bought both him and the club some time in avoiding a difficult decision in the near future. There's a sense that much of Barcelona's hopes this season rely on the striker re-achieving his best, and that should he not do so by Christmas there's even the possibility that they'll offload the player and look for a replacement. In his strong start to the league campaign the striker took a small but important step in proving any doubts over his comeback wrong. Tito Vilanova alluded to this lingering sense of doubt indirectly in his post-Real Sociedad press conference, mentioning that Villa's goal was a moral boost for not only the player, but his team.
It's almost ridiculous to suggest that a record-breaking, multiple trophy-winning striker isn't too far away from a potential cull by the Catalans, but it's a reality that holds some truth. Prior to his injury, Villa was struggling to recover the form of the 2010/11 season with Barcelona, and though it eventually emerged that he had been carrying a significant knock in the leg he would eventually break which surely will have played a part, it wasn't enough to deflect much of the criticism. For some reason, people within Barcelona as well as elements of their growing (and growingly vocal) foreign fan base never seem to have accepted the striker.
On the part of the club there's no obvious answer for why this is the case, though I would speculate that Villa's role as the final and triumphant signing of Joan Laporta has never sat well with current president Sandro Rosell. The cynical could suggest that Rosell's clear desire to sign Neymar in the near future would kill several birds with one stone –  not only providing an opportunity to make a marquee signing via his relationship with Nike,  but the opportunity to succeed Villa. I speculate, of course…
The supporters, on the other hand, have no clear motive for their mistrust of the Asturian, other than the usual traits displayed by  misguided, short-sighted football fans that consider themselves experts. I for one would love nothing more than for Villa to make fools out of those who have managed to over-look his brilliance, and given his displays so far this season in the face of hugely unbalanced odds, and looking at the sheer fire in his eyes so far this season, I wouldn't bet against it.
Follow @icentrocampista