Barcelona, Bernabeu and the Blonde Arrow – When Real Madrid got one over their fiercest rivals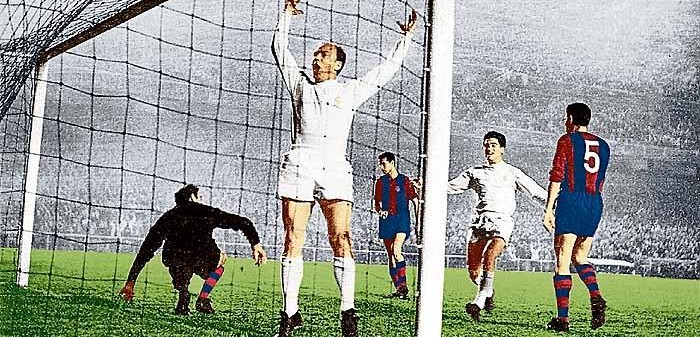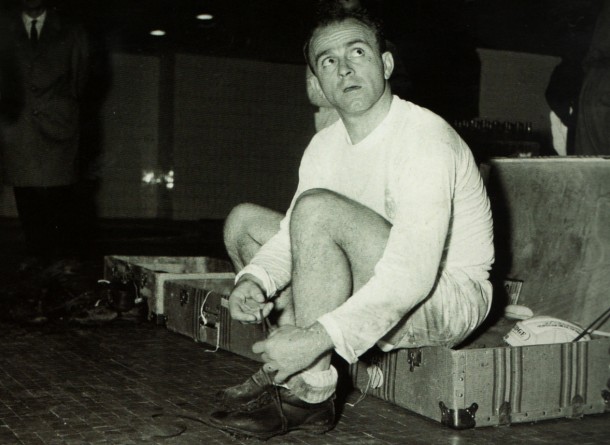 No footballer dominates the glorious history  of Real Madrid more than the  legendary Alfredo Di Stéfano. A player whose arrival in Madrid became the catalyst for los blancos' subsequent dominance of European football during the fifties and sixties, Di Stefano's legacy continues to run deep today at the club where he became honoury president in 2000.
And yet Alfredo Di Stéfano's career and football history could have been very different had he completed the move to his original destination, Real Madrid's eternal rivals Futbol Club Barcelona.
Born in Buenos Aires in 1926, Di Stéfano came from a poor Italian imigrant family, one of thousands that had flooded into South America at the end of the 19thcentury searching for a better life. The young Argentine found his calling playing football on the dusty pitches of Barracas, a Barrio in the south of the sprawling city, and he joined his first club Los Cardales at the age of 12.
After finding his forté as an attacking midfielder, Di Stéfano eventually signed for Buenos Aires powerhouse River Plate, breaking into the first team when he was still only 16-years-old. The club had a well established and feared forward line when Di Stéfano arrived and in 1946 he went out on loan to Hurucán, in search of regular first team football.
The youngster impressed in his short spell away and made a return to River Plate, aged 20. Once back at River, he broke into the starting XI and proved a revelation. Di Stéfano scored 79 goals in 95 games and began to carve a name for himself as one of the most exciting players in South American football.
In 1949 Argentina was hit by a crippling general strike and Di Stéfano moved north to the then-lucrative surroundings of Colombian club Millonarios, who had also recruited fellow Argentines Adolfo Pedernera and Néstor Rossi into the side.
The three players formed a lethal attacking force at the Bogota club and the press soon referred to the side as the 'Ballet azul'. During his four-year stay in Colombia Di Stéfano scored and amazing 267 goals in 294 games and soon became the hottest prospect in Latin American football, attracting unparralled interest from a host of European clubs.
It was Barcelona who made the first move. The club's hierarchy appointed Ramón Trias Fargas, a lawyer and son of a Millonarios shareholder, with the task of getting Di Stéfano to sign for the famous Catalan club and Fargas used his influence to great effect as he convinced Di Stéfano to move.
It was then the problems began, as Barça legend and head scout Pep Samitier sent another representative, his Colombian friend Joan Busquets, to help with the negotiations. The arrival of Busquets caused confusion between all involved and led to, what would later prove to be a costly, delay in securing Di Stéfano's signature.
However, the player eventually agreed to joined Barcelona and flew to Spain in 1953 to complete the transfer. FIFA had sanctioned the move but it soon emerged that both Millonarios and River Plate where owed money from the deal, and a formal complaint was lodged to the Spanish FA.
A short delay was announced as the technicalities were addressed and Di Stéfano was left waiting to complete the final move to Barcelona. It was during this confusion that Barça's bitter rivals, Real Madrid made their move. Seeing a glorious opportunity to grab the initiative, Madrid president Santiago Bernabeú made contact with Di Stéfano and convinced the Argentine that his future belonged in the Spanish capital rather than Catalunya.
The situation caused outcry in Spain and led to a temporary ban on foreign players being imported into La Liga, as the Spanish Football Federation attempted to defuse the situation.
On 15 September 1953 it was announced an agreement had been reached that would allow Di Stéfano to play in Spain for four seasons. Two at Real Madrid and two and Barcelona. There was a storm of protest in Barcelona as they accused their rivals of all manner of skull duggary but to no avail, and Di Stéfano began the first of his two seasons in the white of Madrid.
He stayed there for eleven years and the closest he came to playing for la blaugrana was his one season at city neighbours Espanyol before he retired. Di Stéfano's career at Real Madrid almost defined football during that period, as he inspired the club to eight league titles, one Copa del Rey, one Intercontinental cup and most famously, five consecutive European Cup triumphs.
Arguably Di Stéfano's greatest performance was seen in the 1959/60 European Cup Final in Glasgow, when his hat-trick helped sink Eintract Frankfurt 7-3 in a game that also saw his team mate, the great Ferenc Puskas, net four goals.
Alfredo Di Stéfano scored 246 goals in 302 games for Real Madrid and also wrote himself into the record books by representing Argentina, Spain and Colombia at International level. He later tried his hand at coaching, but found less success than he did as a player, and retired completely in 1991.
Described by Pele as 'one of the greatest players to have played to game', Alfredo Di Stéfano created a legacy at Real Madrid that still run strong over half a century later, and he is as revered today on the streets of the capital as he was almost sixty years ago.
As for the streets of Barcelona? well that's another story…
___________________________________________________________
Follow @icentrocampista