Could Barcelona soon be joined by their noisy northern neighbours?
Updated: 17 October, 2012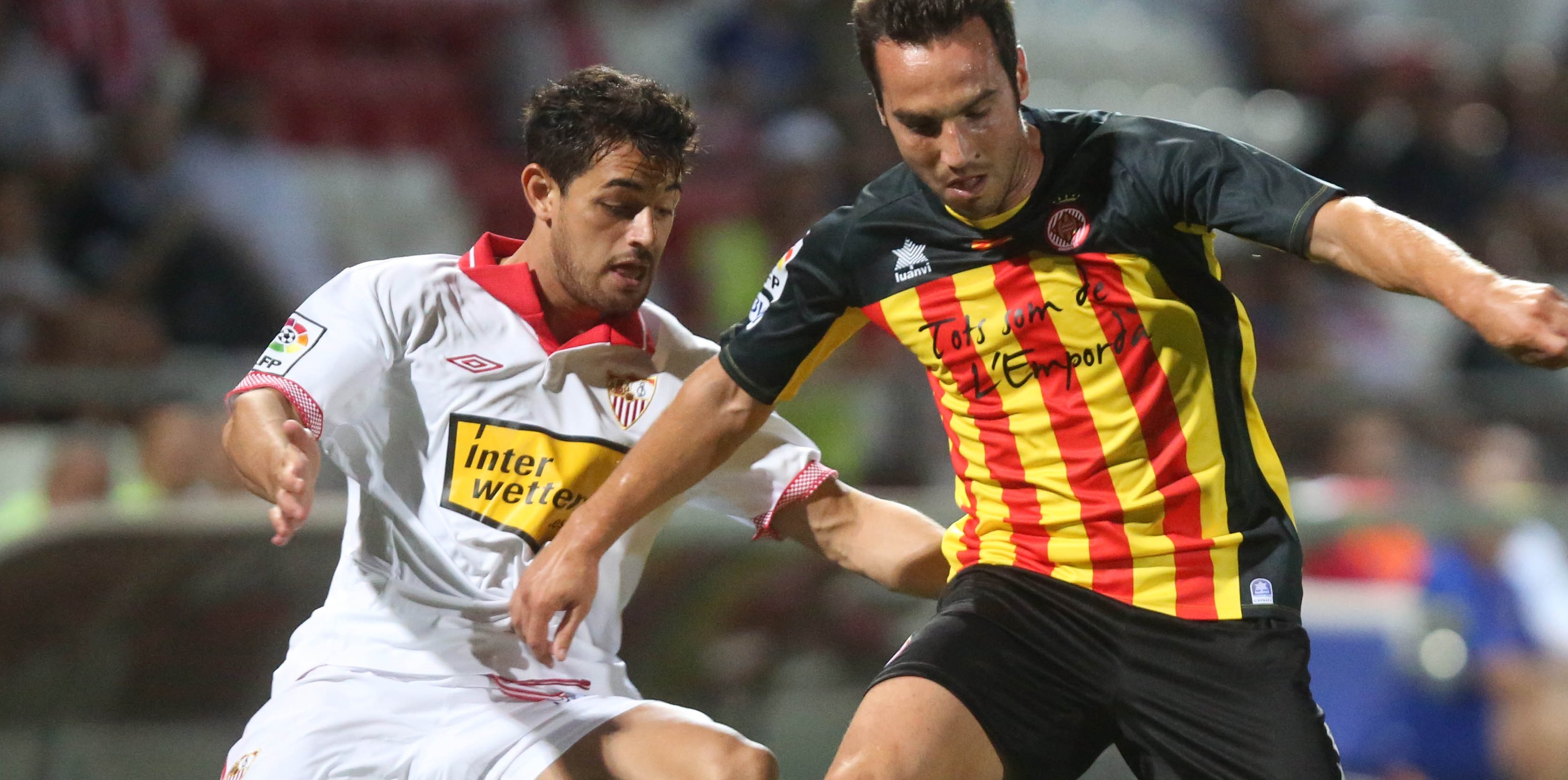 Futbol Club Barcelona and Catalan politics are no strangers, but in recent weeks the relationship between the two has been pushed to the international fore. The image of the region's huge Senyera  mosaic broadcast to millions during the recent Real Madrid tie, the sound of the two independence protests at the same game, or the leaked information that Barça will be adopting the same Catalan flag on their away kit next season, regardless, it's clear that Barça's 'catalan-ness' is apparent now as much as ever.
Yet Barcelona are not the only team in Catalunya, and not all Catalans support Barça. Espanyol have voiced that very point with minimal success in the past, but when it comes to smaller teams like Sabadell or Girona, voices can often be drowned out amidst the Barça behemoth just down the road.
In recent times, the closest Girona have come to hosting FC Barcelona at their Montilivi stadium was the bizarre open training session in August, where spectators were invited to pay for the privelege of watching Barça do nothing but practice. Many of Girona's more dedicated supporters were understandably irked that with over 7000 people on the gate, far more spectators turned out for the session than for the local team's match against Villarreal a few days later.
For the clash agains the Yellow Submarine, a meagre 700 people filled the stands of a ground capable of holding around 9000, and a large section of those who did bother to come were season ticket holders anyway. Hardly a brilliant turnout, and many wondered as a result why Barça hadn't simply agreed to play a pre-season friendly with Girona in order to truly aid the local team.
It's the classic example of the underdog vs the bigger, more powerful local rival, and while these kind of arguments are always far less straightforward than either side would have you believe, what is becoming clear is that there is a very specific annoyance amongst a proportion of Girona's supporters that FC Barcelona use 'Catalanness' as a brand for their own benefit, while at the same time giving little back to the smaller teams around them in Catalunya itself. Give with one hand, take twice as much with the other.
Girona supporters have pointed out that their 'Senyera' shirt was announced and ready for production before FC Barcelona staked their own claim for the flag, with the 'leak' of Barca's intentions to use the symbol coinciding conveniently with the run up to the huge Catalan independence protests on the 11 September. Petty it may be, but the pettiness of the issue itself highlights the frustration that exists on behalf of the smaller team in relation to their bigger neighbours.
In truth, Barcelona probably take little notice, because with the two teams playing in separate divisions, they don't really have to. The thing is, though, come next year, that may not be the case.
This season, under their new manager Joan Francesc Ferrer (or simply 'Rubi' for short), Girona have embarked on an incredible run of home games that has seen them turn Montilivi into an impenetrable fortress. Girona have scored five goals at home on the road to defeating their opponents on no less than three occasions in their last nine games. That's three of the very 'manetes' (little hands) Barcelona made famous when they put the same number past Real Madrid in 2010, and it has Girona sitting comfortably in fourth place, one of the playoff positions for promotion to the first division.
That's particularly incredible considering where Girona were last year. Last season, the Red and Whites went through three different managers in one campaign, starting off with Raul Agne, ditching him for Josu Uribe, then when things went pear-shaped for the second boss, they showed him the boot too and settled on Javi Salamero.
Salamero orchestrated an incredible fight-back that took them from relegation dead-certs to comfortably avoiding the drop, all within a matter of weeks. Yet despite that, he was also shown the door, after a dispute with the club which was rumoured to be centred on the meagre salary he was offered. When you consider that this all took place to the back-drop of a crooked owner and a mountain of debt, you could forgive Girona supporters for being pessimistic over what this season would bring.
To make matters worse, they lost their playmaker and talisman, Ferran 'Coro' Corrominas in August to Elche, with reports that the deal was shrouded in controversy over unpaid fees. No manager, no key player, and, at times it seemed, no fans. It wasn't a good time to be one of the vocal few  who really did support Girona with passion.
Yet despite everything looking against them, in their new coach, Girona have unearthed a gem. Rubi has gone about rebuilding the side from the ground up, bringing in new players on a shoe string budget on the one hand, while revitalising others like former Barça B forward Benja on the other. He has even converted their somewhat erratic right back Luso into a brilliant central midfielder, showing vision that a certain former Barcelona boss would be proud of. To top it all off, should things go to plan in the coming days, Girona could have new owners before the month ends.
It's early days yet, but momentum is often an important thing in promotion campaigns, and Girona certainly have that in their favour when it comes to their home ties. Results away from home have been more of a mixed bag, though not without  bright spots. An away record of a win and a draw plus two losses adds to four wins, one draw and not a single loss at home. In any case the team certainly look more likely to improve rather than go in the other direction.
Perhaps the biggest shift has been the mood of their supporters, with some beginning to dream for the first time ever that promotion may well be possible. For a team who have never played in the Spanish first division, simply gaining promotion in the first place would be of huge significance. The closest Girona have ever been to doing so was in 1935, where they topped their initial group to make it to the second division playoffs, only to fall at the final hurdle. Confident that they could go one better the following season, the Civil War soon put paid to that, and they never reached the same heights again.
If Girona keep going in the same vein, and can build on their excellent home start by adding some more away wins, then Barcelona may yet find they have to finally take note as their pesky neighbours find their own voice. With a core support that's more than fired up, players and a manager that are equally determined, and the likelihood of a new generation of fans turning on to the club should they achieve what was previously believed to be unachievable, it could be a good year for this lowly team in the north of Catalunya.
Follow @icentrocampista