A record breaking year in the life of Lionel Messi
Updated: 24 November, 2012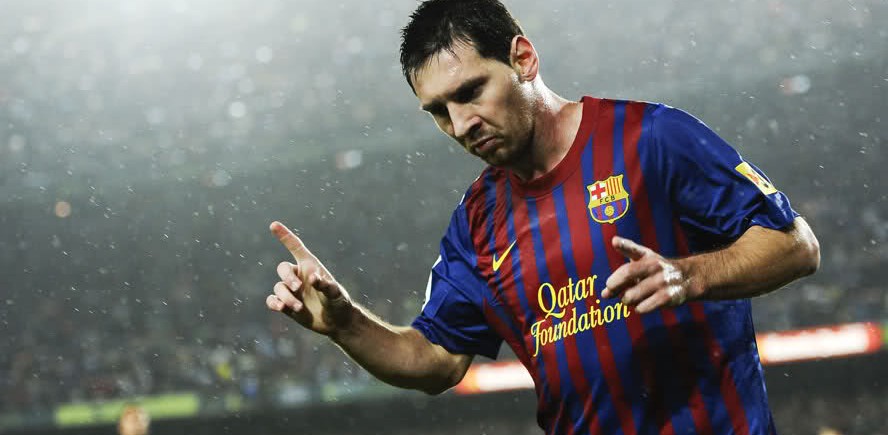 Argentine  superstar Lionel Messi seems to be breaking records during  every game he plays this year. He also seems to score a goal in every game he plays this year. In fact, he has recently surpassing Pele's 75 goals scored during one calendar year and is quickly bearing down on Gerd Muller's record of 85.
Messi's 2012 will certainly go down in history as one of the best (if not the best) year in any professional footballers career. Therefore, we will take  this opportunity to analyse this remarkable year in Messi's life – based on his La Liga statistics during the past 11 months.
Twice a pichichi
Messi didn't just set the all-time record for goals scored in a single season last term when he bagged a stunning 50 goals, he also managed to hit 28 goals in the last 17 matches he played last term, – going back to January.
In fact, if Messi had played just that half a season in any of the previous 89 La Liga campaigns, he would have won the pichichi award 74 times. That means that there were only 15 occasions when a striker in La Liga scored more goals during an entire season than Messi did in half of one.
The Barcelona maestro has also scored another 17 times in the other 12 matches played in this year. His total of 45 goals scored in 2012 so far, would have also seen him claim the  pichichi in every La Liga season – if competition was played over the calendar years only.
It's also worth noting that despite his remarkable amount of goals, Messi also leads 2012 in La Liga assists with 13 – producing 58 goals for Barcelona so far this year.
The mathematical consistency
The Argentine international has a million and one interesting stats or figures for us to look at. For example this season in La Liga, Messi has always scored twice or more in every game that he has scored. He lead the league last season in games with at least one goal and one assist, having done this 10 times, while this year he has already managed that  in two matches.
However, Messi's most impressive statistic, and probably the reason why he is having arguably he best everyear as a footballer, is his mathematical consistency. As a statistics analyst, the totals are usually the least important figure, as we are basically obsessed with the way and the why that number was obtained, we look at the result as the starting point of the equation. So when we look at Messi's stats, instead of seeing the 50 goals and be blown away, we look at the number of shots and shots on target and then we are also blown away.
Football is not an exact science of course, however, there is certainly room for science in any sport and football is not the exception. There are a certain amount of variables and invariables that you can almost always play around with to obtain some fascinating facts and indicators of the beautiful game. One of these 'factors' is the relation between shots, shots on target and goals. Without going into any great detail, the almost perfect outcome that a team can dream of, is to produce is what I like to call an 8-4-2. Eight shots, four on target and two goals.
With that in mind, Messi has pretty much achieved that dream. In the first half of last season, going back to 2011, Barça's number 10 took 99 shots, with 51 on target and scored 22 goals. He managed to hit the target over 50% of the time, however, he did fall just short by  scoring 25% of his chances. Nontheless, Mr. Consistency managed 103 shots, 49 on target and 28 goals in the second half of the season.
This time Messi hit the target just under 50% of the time but converted over 25% of his chances into goals. On total, the 25-year-old took 202 shots, with 100 on target and scored 50 goals. Pretty much the perfect conversion of 100-50-25 that every coaches would dream of.
This season Messi has taken 63 shots, with 33 of those shots on target and he has scored 17 goals. To put this in to percentages, the Barcelona forward has hit the target from 52,4% of his shots and has scored 26,98% of his total shots, meaning that he is even a little  better than the dream 8-4-2 conversion.
If we look at his 2012 as a whole, La pulga has taken 166 Liga shots, with 82 on target and he has scored 45 goals. That is a 100-49-27 conversion. These statistics explain  how Messi  has managed such a great year, in fact, this arguably the greatest year in the careerof Lionel Messi.
The answers to how he has managed to produce those figure are something only Messi himself can explain.
_______________________________
For more stats and La Liga facts please follow Javier on twitter @javierjotah
Follow @icentrocampista