La Liga Scouting Report: Sevilla
Updated: 22 November, 2012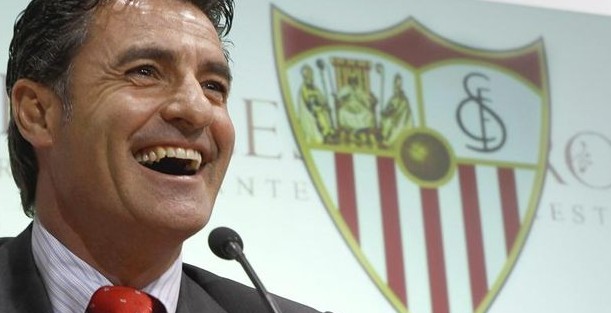 This week sees the first installment of a new feature to El Centrocampista in which tactical expert John Pelini gives readers an in-depth look at Spanish football. These articles will analyse the strengths and weaknesses of La Liga's greatest teams and explore the tactics that help formulate their unique styles of play.
Today's report takes a look at Andalusian giants Sevilla who, under the tutelage of former Spanish international Michel, currently sit in a solid seventh spot in the Spanish top flight.
Attacking Organization
Michel prefers to align his side into a 4-3-3 system. They play a very direct style of play based on speed from the flanks and crosses into a big central striker, Alvaro Negredo. Instead of controlling the match through possession, Sevilla tries to get the ball out wide early. Usually, this is Ivan Rakitic (or left back Fernando Navarro) playing long diagonals to Jesus Navas. Navas keeps his boots on the chalk and uses his pace to get a step on the fullback to cross with his right foot. He will rarely cut inside on his left foot. He becomes a more potent threat when Cicinho is in the team. At right back, Cicinho likes to bomb forward and overlap; forcing a second defender to defend to help out wide.
On the left, Jose Antonio Reyes has recently added an attacking option. Previously, they were experimenting with Campana and Manu de Moral. Reyes is willing to cut inside to add an attacking run through the center. He is quick and skillful on the ball.
The focal point of the team is Alvaro Negredo and Sevilla has built their side around him. He is a big physical forward who can capitalize on crosses from Navas, mostly from near post runs. Additionally, Negredo can play with the ball at his feet and tends to drift to the left side in away matches looking to pick up the ball. He is a poacher who will follow up shots to collect a rebound.
The biggest weakness in the Sevilla attack is through the center of midfield. Medel is a workman like player and rarely surges into the box. Rakitic prefers to spray long passes and is content on sitting deeper. One possible solution to this problem has been Baba Diawarra, who has mainly come on as a sub when Sevilla need a goal. He prefers to start in a deeper position than Negredo. However, he is able to get in the box to add a second target for a cross and is also willing to play combinations with Negredo.
Defensive Structure
Employing two tall and physical center backs (Spahic and Fazio), has enabled Sevilla to handle set pieces and crosses. However, they struggle defending in open spaces. Athletic were able to quickly counter, split the center backs with a through ball and Sevilla was caught out for a goal. When the holding player, Hedwiges Maduro, is unable to clamp down and prevent the counter, the center backs are exposed.
When they get men behind the ball they are tough to break down. Nine outfield players will work hard to defend and the wingers energetically track back. The central three stay compact and drop off waiting in their own half. Once they get close to the defensive line, they will seek out the ball. The center backs stay in position and do not chase into midfield to track opponents strikers. The fullbacks are more willing to chase the ball out of their position. When they win the ball back, they are willing to knock it long to relieve pressure.
Sevilla are a very dangerous team when Navas gets the ball early and has Cicinho overlapping. However, they are very one dimensional going forward. Defensively, they can be exposed on the counter but quickly recover and drop off, only remaining vulnerable for a short time period.
Follow @icentrocampista