Pique and Puyol return to the Barcelona backline but the prognosis still isn't good
Updated: 17 November, 2012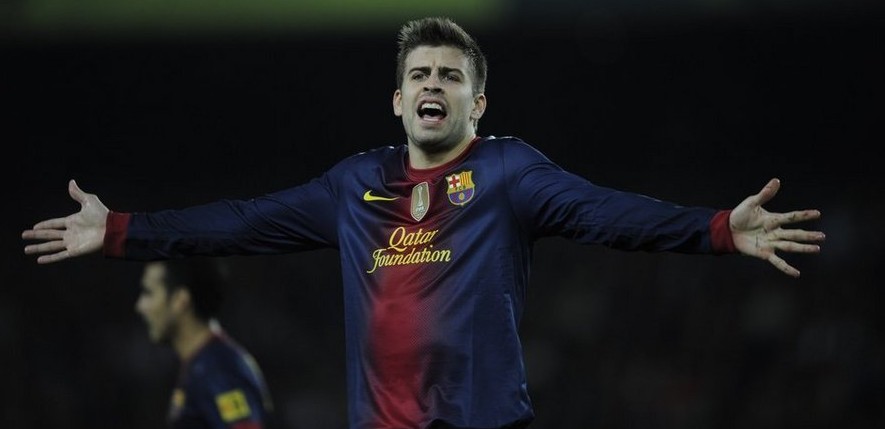 A point each, two goals a piece, and symmetry in the goal scorers. The spoils were shared in the last meeting between Barcelona and Real Madrid, and though figures can be divided to add weight to either team's cause, few would disagree that overall, the sides were largely inseparable.
It was a far cry from the same encounter at the Camp Nou less than two years prior, where Pep Guardiola's Barcelona put in one of, if not the finest performance of a generation, humiliating their arch rivals and forcing Jose Mourinho to truly consider the weight of the task on his hands. These days, Barcelona rarely dominate any opponent with such comfort, let alone Real Madrid.
Barcelona's line-up that night in 2010 read largely the same as the one they can now call upon, with David Villa, Lionel Messi and Pedro Rodriguez in attack, Sergio Busquets, Xavi Hernandez and Andres Iniesta in the midfield, and Victor Valdes guarding the net. Yet it is in the back four that the difference is apparent between the current Barcelona team and the side that was rightly compared to Arrigo Sacchi's Milan as one of the greats of the modern era.
With Dani Alves at his optimum, and Gerard Pique and Carles Puyol at their most assured, Barcelona's defence was already on the road to brilliance, and through the presence of Eric Abidal – then in the form of his career – it was given an important dose of balance. The Frenchman was a key cog in Barcelona's back four not only in his technical ability but in the simple but much-needed addition of inches while defending balls in the air, contributing a huge amount to a solid back four which in turn helped Barcelona's system to function at its most effective. In other words, with the spine in good condition, the brain was able to send its messages with maximum efficiency.
Fast forward to the present day and the Barça rearguard lacks the reassured swagger of the past, lying deeper than before and preventing the side from squeezing play effectively.  There are several reasons for that, most notably due to a combination of the dip in form experienced by Dani Alves and the frequent injuries to Pique and Puyol, but the absence of Abidal is also too often overlooked.
Against Real Zaragoza, Tito Vilanova was finally able to call upon Carles Puyol and Gerard Pique together again, providing one of the first opportunities to pass judgment on Barcelona's defensive quality (or lack thereof) this season, and the Catalans experienced shaky moments throughout.
It is striking that, while in the past, the Catalans looked confident in defending counter-attacks, and were able to rely on a combination of pace, positional awareness and  good old fashioned muscle to do so, in its place these days there is a shakiness and perhaps even fear that is becoming more regular than irregular in its occurrences. With the passing rhythm in midfield and beyond no longer consistently at the level it once was, the ball is being lost in key areas more often, and that is in turn particularly problematic when the defence isn't coping well.
Again undone by a ball in the air tonight, the loss of height in the side is becoming an obvious weakness for the Blaugrana.  Jordi Alba is a fine footballer, but he doesn't have the same command in his leap as the man he succeeded, and that leads to a loss of  robustness when Barcelona are forced to take to the skies, as is becoming increasingly common due to their sloppier outfield play.
While Carles Puyol can usually rely on a combination of strength and elevation to overcome his own lack of stature, Alba doesn't have those attributes to the same degree, giving him a huge disadvantage if asked to mark someone who enjoys attacking balls in the air. With one less defensive options in those aerial situations therefore, an error by a team-mate, such as Puyol himself committed against Zaragoza, has an increased chance of proving costly.
Against a side like Zaragoza the Catalans will always be confident that they can rely on their superior firepower to prevent these errors from costing them too dearly. Even against Celtic, with Barcelona's position as leaders in their group already firmly established, the books could be balanced elsewhere to curtail their failings. In the coming months however, whether in the knockout stages of the Champions League or a decisive tie in the second half of the season, it could prove fatal.
Barcelona were reminded against Chelsea that small margins decide big games, and when similar ties inevitably return at key moments this season, set-plays and high balls are obvious avenues of attacks for their opponents. While in weeks past such failings could be explained with the absence of key players in defence, with Pique and Puyol back, we can now truly begin the process of evaluating the defensive capacity of Tito Vilanova's Barcelona, and after coming undone against Real Zaragoza in an all too familiar manner, the Barcelona coach was given another reminder of one deficiency he desperately needs to find a solution for.
Vilanova has shown a knack for problem solving already during his short tenure as Barcelona coach, swapping personnel or adjusting formations mid-game to good effect in these first few months. Now, he must work to arrive at the kind of eureka moment his predecessor used achieve so regularly in order to address the imbalance of his fragile team. Should he fail to do so, it could cost Barcelona dearly in the future. Not all sides can be out-scored, after all.
Follow @icentrocampista