Betis tie should test the artistry of Vilanova's Barcelona
Updated: 9 December, 2012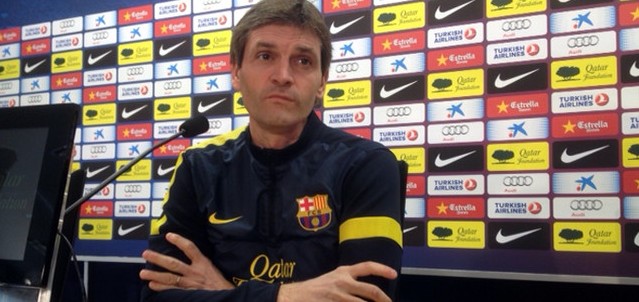 Barcelona's demolition of Athletic Club in last weekend's fixture at the Camp Nou showed the first real signs that Tito Vilanova's version of the Catalan side can begin to reproduce the artistry of the Guardiola era. While Vilanova's reign has been marked by the brilliant results he has achieved, they have at times come despite rather than because of the intricacy of their performances.
The football on display under Vilanova's Barça has undoubtedly been more direct, and, as put brilliantly by Guillem Balague, the kind of game you would expect from a more pragmatic coach like Vilanova, compared to the works of art crafted from a the more romantic mind of Pep Guardiola.
Against Athletic, Adriano's goal in particular suggested it may be time to reassess those conclusions. The exquisite buildup play involving Messi and Cesc Fabregas was punctuated perfectly by the finish from the Brazilian fullback after a telepathic pass from Barcelona's number four.
It was the kind of goal that the Guardiola era became synonymous with, but has, until now, been absent from Vilanova's side, with goals more often than not created by far more easily definable (and perhaps coachable) threats like width combined with shifting the ball into the box as quickly as possible – often at the expense of possession and intricate play in the final third.
It's no coincidence however that the re-emergence of Barça's more free-form and inspired side has coincided with two very important factors. Namely, Vilanova firmly establishing the role of Cesc Fabregas in the side, and the return to form of Gerard Pique.
With Pique back to his marauding, penetrative best, Barcelona now rely less heavily on Sergio Busquets to build from the back, but it isn't only in attack that the defender's benefits can be seen. Pique allows Barça to play a higher line than is possible in his absence, in turn helping them to squeeze the play, so it's no coincidence that the side's pressing game seemed much more effective against Athletic than it has been this season.
More obviously, Pique's eye for a raking, long pass and ability to step up into midfield means the opposition have far more to worry about when trying to counteract Barcelona's build up, making relying on staying deep to resist the Catalans far more risky.
Admittedly, this season's Athletic are the perfect team for Barcelona to find their feet against , with the Basques defending comically and their fall from grace now of a tragic proportion, but Barcelona's play was so strong that it can't simply be attributed to the errors of their rivals without acknowledging the things the Catalans are doing better.
For Fabregas, the anarchic side of his game once referred to by Pep Guardiola is being harnessed more effectively by Vilanova than his predecessor, while at the same time the midfielder appears to now understand how to alternate that characteristic with a more fixed role in the side.
In other words, Cesc looks  to have learned when to stick and when to twist, producing generally more disciplined and restrained displays, though still being able to augment this increased positional attentiveness with his usual attacking threat, particularly around the box, but crucially, managing to reduce the risks for his team when doing so.
Notably, that is also made possible by Andres Iniesta, who now appears to excel playing further forward while Fabregas is positioned behind him, then slotting in when the number four is more advanced. More broadly, the understanding between Messi, Fabregas, Xavi and Iniesta as a quartet looks to be blossoming as Barcelona enter the time of the season they traditionally aim to peak in, and that spelled trouble for Athletic.
More stubborn resistance should come in the form of Betis on Sunday night, who, despite a few hiccups along the way, are knocking on the door of a Champions League place, putting the domestic form of more expensive sides like Malaga and Valencia to shame.
The way Betis dealt with Real Madrid  showed that Pepe Mel is both intelligent enough to lessen the attacking potency of more powerful rivals while at the same time managing to do so without sacrificing some of the brilliance going forward that the Sevilla side have shown.
Mel will be aware of Barcelona's weaknesses, particularly those which persist in their back line, with the Catalans unable to keep a clean sheet against Athletic. It should prove intriguing to observe how the scholarly Betis coach attempts to manipulate and expose such deficiencies when the Catalans come to town.
If Betis do indeed manage to do so on occasion then the tie should therefore allow us to test the theory that Vilanova's side are beginning to re-tap the intangible inspiration which helped Barça overcome their shortcomings in their previous incarnation. Whisper it quitely, but Guardiola's Barcelona side also had weaknesses.
Part of their genius however was how on occasion their sheer brilliance on the ball overcame such faults in moments of doubt – whether through a ridiculous string of one twos in an impossibly tight space, or through Gerard Pique taking the game by the throat and driving forward to deliver a splitting pass in contrast to the interchange of his team mates.
Those moments of creative greatness allowed an often makeshift or below par defence  to succeed where it should have failed in major ties, and with the Catalans notably yet to find their defensive form under their new boss, Vilanova may find he needs to put pragmatism aside for a moment and allow the inherent brilliance of his side's best players to do the damage, as they done so effectively against Athletic.
Could Barça's spark be returning, then? If so, and it can be married with the results Vilanova has been able to produce so far, he may yet begin to dream of challenging the successes of his predecessor.
Follow @icentrocampista