Ballon d'Or meets Golden Boy as Malaga welcome Barca for the tie of the year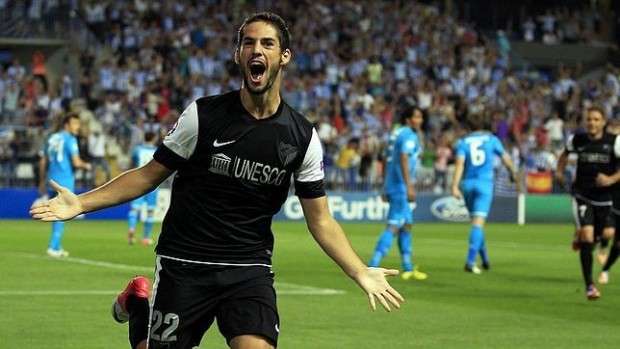 Jose Mourinho's love of a bust up may have some claiming that the best drama in La Liga can be found at Real Madrid these days, but don't be fooled, this weekend's encounter between FC Barcelona and Malaga is the place to cast your eye. The La Liga tie of the year. So far.
Admittedly, the fact that we're only in the second week of 2013 allows me to take some liberties when throwing that phrase around, but the scheduling of the encounter at La Rosaleda for such an early date has certainly been kind to the Spanish football follower, and with neither team likely to opt for a withdrawn approach to the game, we're going to be spoiled.
Malaga's stumble – nay, horror show – against Deportivo leaves Manuel Pellegrini's side barely clinging on to fourth in La Liga, sitting level on 31 points with Andalucian neighbours Betis, and the veteran coach will be more than aware that a strong performance against Barcelona could be the kick start needed to help them juggle a continuing Champions League campaign with a bid to finish strongly in La Liga.
A poor display against the Catalans, on the other hand, could be morale-crushing. Better teams have seen a season go to ruin through a bad star to the new year. Just ask Barcelona. A 1-1 draw against Espanyol this time last year was one of the wobbles which would ultimately see them humbled by Real Madrid in the league.
Manuel Pellegrini made no attempt to keep his cards close to his chest by resting Isco in Malaga's Copa del Rey victory over Eibar. The mediapunta has had an astounding season so far, but is likely to be tested even more in the coming months, with ties such as Sunday the first of several big fixtures both domestically and in the Champions League.
Fittingly considering the opposition, there's something of Ronaldinho at his best in Isco's ability to invent something brilliant and brash out of nowhere. The Valencia graduate certainly wouldn't look out of place in the current Barcelona side.
Malaga can take heart from the return of Jeremy Toulalan from injury, with the veteran French midfielder playing the first half against Eibar and likely to be available for the entire game against the Catalans. Fielding a strong midfield will be key against Barça.
Tito Vilanova's side don't need the wake up call of a shock loss to motivate them – the Catalans seem to be doing that all by themselves. Barcelona continue to steamroll opposition with freeform bliss (though admittedly, Espanyol were something of a cheap date), and Vilanova's poor health appears to have galvanised the Barcelona camp even further, much to the detriment of their opponents.
Then there's the minor presence of a certain record setting Argentine, who despite astonishing observers the world over in 2012, deemed the year as 'not his best'.  Any hope for opponents that a fourth Ballon d'Or title could lessen Messi's motivation evaporated with those words. He only scored one against Espanyol. Only scored a penalty. That will bother him.
What better way to combat Messi than through your own inspirational genius? In Isco, Malaga have their own individual award winner. The Golden Boy may not be the Ballon d'Or, but with previous winners like Sergio Aguero, Cesc Fabregas and Messi himself, the award has a pretty decent success rate of predicting the future.
On paper, one would expect Messi to be the victor when the Golden Boy meets the Ballon d'Or this Sunday, but don't count Isco out yet. Unpredictability is what the genius in the making does best, and defending against the unpredictable is by definition, a bloody nightmare. Barcelona will try.
The tie of the year? It could well be. It certainly wont be dull.
Follow @icentrocampista