Goals galore as La Liga returns with a bang – Spanish Football around the Web
Updated: 11 January, 2013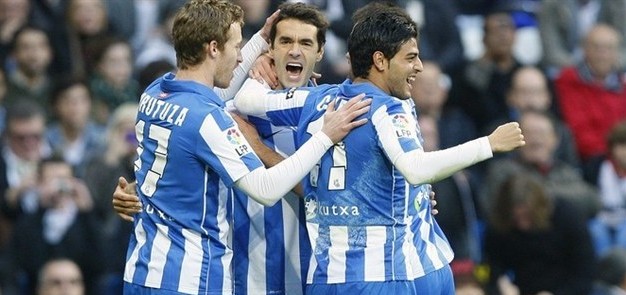 La Liga returned from its annual winter break last weekend  and goals proved to be plentiful. Again no scoreless draws, with a crazy game at the Bernabeu, a thrashing at the Nou Camp, a dramatic turnaround at Los Carmenes and three points for Depor under new coach Domingos Paciencia.
After Round 18's results, a greater net has been cast around relegation candidates as six teams are within four points of each other at the bottom.  This aspect of the league will probably be the story of the season along Levante's quest to return to Europe.
——
FC Barcelona 4  Espanyol 0
Kxevin of Barcelona Football Blog worried about this match, identifying the possible ingredients for failure: holiday break, resurgent opponent with something to play for, rust.  In the end Barca overwhelmed their opponents, putting them under pressure from the first moment to the last.  The second half, as he rightly noted, was a testament to this team's hunger and desire.  With the match all but over, every turnover was immediately challenged, Valdes kept a clean sheet with a big save and the search for another goal continued.  Kxevin encourages everyone to keep watching, to keep admiring, to keep appreciating.
Chalk on the Boots focused on the passing of Busquets and the movement of the Barca players in the demolition of Espanyol.  Iniesta and Fabregas interchanged on the left, supported by Alba, while Pedro cut in from the right, all the while Messi drifted around the field.  At its peak, the dynamism was breathtaking.  Add to this a poor effort from the opponent, which he also touched on, and you get Sunday's scoreline.
——
Podcast, Articles, and Kits
Inside Spanish Football produced a winter break podcast, which broke down the season month by month.  Then the panel shared their moments of the season thus far.  Definitely worth a listen as it put the opening months in perspective and set the stage for the rest of the season.
Phil Ball returned to Spain just in time to stop by the pub for Real Sociedad's visit to the Bernabeu.  Mourinho went with Adan again only for the young keeper to be sent off and replaced by Saint Iker.  Prieto's hat-trick was not enough as the hosts survived with a makeshift defense (Arbeloa, Varane, Carvalho and Essien) and playing with 10 men for 80+ minutes.
I was able to catch the last nine minutes plus injury time so I missed all off the goals.  Prieto's finishes were nice but a lot of attention was given to Ronaldo's free kick.  It was well struck but the goalkeeper really should have done better.  Any touch by Bravo and the shot would have been saved.
Los Merengues gained two points on Atleti to cut the gap to five, but alarm bells must be going off in the defense.  Real Madrid has given up 20 goals this season, conceding 10 in last four games.  They now turn their focus to the return Copa match against Celta.  Down 2-1, Real Madrid will need to put their internal conflicts behind them in order to progress.
Sid Lowe also examined the Real Madrid/Real Sociedad game for his weekly column, noting the special circumstances with which Iker Casillas arrived on the scene over 10 years ago: coming on as substitute in the European Cup Final and taking over for Canizares before the World Cup after the Valencia keeper injured himself just before the tournament.  Since then Saint Iker has been an institution and Mourinho has been playing with fire by demoting him to the bench, and the Special One looks to burn all of his bridges before exiting the capital.
Kaushik took over for Madridista Mac at Real Madrid Football Blog, lauding the midfield performance of Alonso and Khedira and giving special praise to CR7, who was captain for the match.  This game also saw the return of Higuain, giving Los Blancos much need depth as they fight on three fronts.
For the other side of the capital, Martin Rosenow recapped the game for Atletico Fans and saw Los Colchoneros give up a late equalizer away to Mallorca.  The visitors were without Miranda, Turan and Falcao, and manager Diego Simeone was pleased with his team's performance, which including fine efforts from Diego Costa, Koke, Tiago and goalscorer Raul Garcia.  Atleti should progress in the Copa and then get back at it against Zaragoza on the weekend.
Tim Stannard commented on the return of La Liga for Football365.  Besides Barca's destruction and Real's crazy victory, he looked at Atleti's possible prospects next season without Falcao and Turan and Betis' continued success before concluding with Depor's vital three points.
Garreth Nunn did a La Liga Top 11 for 2012 for Forza Futbol, with one small tweak—no Real Madrid or FC Barcelona players.  He has a much better grasp of the league than I do, so his picks made sense to me.  Imagine his proposed midfield—Joaquin, Isco, Benat and Turan. Wow!  I would have gone with Leo Baptistao up top instead of Vela but not sure how the young Brazilian striker did in the second of half of the 2011/12 campaign.
Peter Alegi turned me on to Spanish Football Tales, a blog that looks at snippets from the history of the Spanish league.  I read a post called the Tenerife Leagues, which saw Real Madrid surrender the league title to FC Barcelona two seasons (91/92 and 92/93) in a row against Tenerife in the most dramatic circumstances.  Nice slice of history and shows how narrow the margins of victory were for Cruyff's Dream Team.
A Football Report released their best of football writing of 2012, broken into the following categories: Most Compelling, Most Creative, Best Research, and Best Storytelling.  The list is overwhelming and not sure when I'll find time to go through it, but I clicked on Brian Phillips' eulogy for Pep Guardiola from last spring as he examined the "cocoon of silence" created in a world of noise and hype and tension.
Not only did Pep fashion a team that was pleasing to the eye, but the players performed with a joy and a spirit that was captivating.  Eventually Mourinho came in and upset the balance, yet for a short period the Blaugrana were the greatest show on Earth and under Tito Vilanova they are returning to those levels.
Many times I have stressed that this cycle will end and hopefully everyone can enjoy this moment now instead of waiting for time to pass and being forced to remember, to put it back together.  It's happening, right now. We are in the midst of a glorious epoch in footballing history.  Take a second to let it wash over you because it will be gone soon enough.
A Couple of kit related items:
Tom Conn reported on Inside Spanish Football that Atletico have finally secured a shirt sponsor—Chinese communications brand, Huawei.  The company has partnered with the club in the past but now look to go full time.  Currently Los Colchoneros have Azerbaijan: Land of Fire across their chest.
According to Football Fashion, Celta Vigo will be changing kit manufacturer's next season, switching from Li-Ning to adidas.  The brand with the three stripes is already getting a jump on proceedings and released a special kit that the club will wear against Real Madrid during the second leg of the Copa del Rey.
_________________
Visit Austin at Soccer Nomad and follow him on Twitter at @AustinLong1974
Follow @icentrocampista