How would football look if Barcelona had opted for Jose Mourinho and not Pep Guardiola?
Updated: 16 January, 2013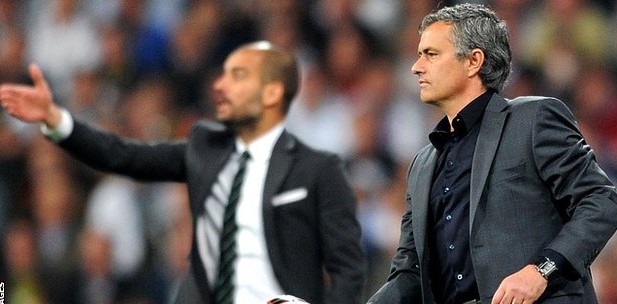 Two coaches. One is currently unemployed; the other is experiencing one of the most turbulent moments of his career, yet few would doubt that Pep Guardiola and Jose Mourinho are the most coveted managers in European football. In Guardiola's case, not a day passes without yet another 'exclusive' claiming to know what in reality only a handful of people know: the headline news of where he will coach next season.
For Mourinho, the current fallout at Real Madrid has resulted in a microanalysis of every action executed by the coach, no matter how minute, often with the suggestion that it is an indication of where he will be working next season. The two may even end up competing for the same job in the summer. Not for the first time.
In 2008, the balance of power between Pep Guardiola and Jose Mourinho was very different to their current situation. The Catalan had just completed a strong first season as a manager by leading FC Barcelona's B team to promotion to the Spanish second division, which, though useful for the club's youth development, was largely insignificant to those outside of Spain.
The Portuguese, on the other hand, was out of work, but very much on the market, taking a short break after his departure from Chelsea. As Graham Hunter explains in the excellent Barça, when it became clear that Frank Rijkaard was no longer the man to steer the good ship Barcelona, both Mourinho and Guardiola emerged as key candidates for the job, and, back then, Mourinho was the runaway favourite.
Barcelona's then-Sporting director Txiki Begristain travelled to Lisbon to meet Mourinho and screen him ahead of his decision on who should take Rijkaard's position. By all accounts, the former Barcelona winger was impressed, yet something in his gut told him Mourinho was not the man to lead the Catalans forward. At a time when Barcelona were at a key crossroads in their development as a modern football power, perhaps the single biggest decision in the club's recent history was made. Guardiola got the job. We all know what happened next.
What if, however, what happened next didn't happen at all? What if Begiristain had decided that taking a gamble on a young and relatively inexperienced coach was too risky at such a decisive moment for the club? What if, in such a situation, Begiristain had made the logical decision and decided that Mourinho's curriculum was too good to decline, handing him the job? Such questioning is of course speculation, but while speculation can be one of the most irritating aspects of football writing, in this case it can also lead us to truly appreciate the impact Guardiola's decisions had not only on Barcelona, but on football at large.
There's no doubt in my mind that Mourinho would have been a success. He would certainly have faced scepticism from sectors of the Barcelona support, but would probably have proven to be a popular choice in comparison to what had preceded him. The final, trudging days of Rijkaard's era were painful to watch, and bringing in a young, fresh yet proven manager would have been a welcome change. Moreover, Mourinho had a connection to the club, having worked first as a translator than as a reserve team coach with the Blaugrana. He was, to an extent 'made in Barça'.
That would certainly have been the line that Barcelona would have pushed in his first days as manager, that Mourinho was simply coming home, not just an expensive hiring. Mourinho would have been intelligent enough to play up to that, too. He would quickly have relearned the Catalan language, knowing full well that it is not only a useful tool when operating in the city, but also an easy way to win over Barcelona's infamously fickle support.
One of his first tasks would have been dealing with the big 'troublemakers' in the Barcelona locker room. The Portuguese isn't one for the work-shy types, and Ronaldinho, for all his former glory, would probably have been respectfully told to move aside as Guardiola had done. Deco, on the other hand, with whom Mourinho had an excellent relationship at Porto, may yet have been given a second chance.
The result? If the midfielder's Chelsea form was anything to go by, bright moments would have occurred, but far too sporadically, and his presence would likely have hampered the development of the Andres Iniesta/Xavi Hernandez partnership that Guardiola was smart enough to build his team around post-Euro 2008. While Lionel Messi would in time develop into the focal point of the Barcelona attack, it's easy to forget that, in Guardiola's first season with the senior side, the partnership of Xavi and Iniesta, caressing and feeding the ball forward with telepathic brilliance into a dynamic and interchanging front three of Samuel Eto'o, Thierry Henry and Lionel Messi, was a huge part of their success.
That very front three may have developed in an entirely different manner under Mourinho. Guardiola's Marcelo Bielsa-inspired pressing game would not have been enforced, at least not to the same degree, under Mourinho. Lionel Messi would probably have gone on to excel as he did under Guardiola, but would Mourinho have had the same moment of inspiration and decide to move the Argentine into the middle, ahead of a 6-2 thrashing of Real Madrid at  the Santiago Bernabeu? Probably not.
Instead, the easy to rely upon yet oft dangerous rationale of 'if it isn't broken, don't fix it' would have prevailed, with Mourinho opting to keep Messi in his seemingly natural right wing position. After all, the rot was already setting in at Real Madrid, and Barcelona may still have gone on to win the league, with an inspirational Lionel Messi on the right hand side leading the charge.
Continue to NEXT PAGE>>>