Spanish Inquisition – Just what HAS gone wrong for Luka Modric?
Updated: 14 January, 2013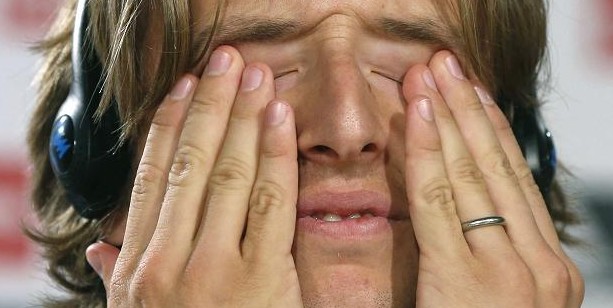 For many football fans and sports fans in general, the summer of 2012 was a special one. In football terms, the European Championships  hosted by Poland and Ukraine was a magnificent spectacle.
The showpiece of the tournament saw Vicente Del Bosque's Spain successfully defended their European crown after a convincing 4-0 triumph over Italy, in the process becoming the first team in history to win three consecutive international titles.
There were of course stand out players, ones who put themselves in the proverbial shop window after some eye-catching displays. Performances that left their club coaches feeling less than comfortable as some of the continent's biggest clubs began to hover, chequebook in hand.
One of the biggest transfer sagas of the summer involved Tottenham Hotspur's attempts to hold onto stare midfielder Luka Modric in the face of intense interest from Spanish champions, Real Madrid.
One cannot help but feel a little sorry for Spurs and their chairman Daniel Levy who could do little but sit back and watch while admiration for Modric poured in during and after every Croatian team broadcast
A fantastic tournament came on the back of another impressive domestic season from the 27-year-old and a 35 million euro bid from Florentino Perez's Madrid was eventually accepted by Levy  at the end of August.
Seen as an alternative to the inconsistent Mesut Ozil, Modric arrived at the Bernabeu amid huge anticipation. Things haven't quite gone to plan however. After some underwhelming displays, Modric recently hit rock bottom when he was voted the 'worst signing of the year' by Spanish fans.
With Modric now facing an uncertain future, many are questioning whether the Croat has what it takes to compete in La Liga, despite having only been in the country under five months. Madrid fans are notoriously fickle, however, and time is something Modric may not have on his size.
Modric's start to life in La Liga could have gone better that is true, however, it could be suggested that a fair amount of perspective is also necessary with any transfer this size.
The midfielder was an instrumental figure during his four years at White Hart Lane, and played a key part in Tottenham's exciting charge to the Champions League quarter finals in 2011. Almost every attack came through Modric's cultured feet and he was the most influential player Spurs fans had seen since the days of Paul Gascoigne.
Things are different at the Bernabeu however.  Modric is no longer the key man, but rather another talented piece to fit into the Real Madrid puzzle.
Having started only eight league games under Jose Mourinho so far this term and with a return of just one goal, it would seem the Portuguese coach has quickly lost confidence in Modric's suitability to his side.
To be voted the worst signing of the summer is something Modric obviously did not envisage when he first pulled on the famous white of the reigning La Liga champions, admitting rather dejectedly to a Croatian newspaper that: "I'm not making any excuses, I am not that kind of person, but it is very challenging to adapt to life at a big club like Madrid."
Perhaps that's all it is. A player finding out the hard way that there is no where to hide in the Bernabeu, that one bad game will result in unscrupulous ridicule.
Or Modric is being made a scapegoat, a perhaps naive assumption, but things for Mourinho are not going to plan and the player he wanted the club to sign during the summer has flopped.
The simple fact is that Mourinho is not short of options in midfield, and with players such as Kaka haveing to sit on the bench to bide their time, maybe Modric should cut his losses.
One unexpected source in the name of Xabi Alonso came out in the defence of his perceived competitor stating that: "I found it difficult in my first season after coming from the Premier League but he is very well integrated, he is a fantastic lad and a great player. I have no doubt he will be important."
If you look at Modric's impact so far in La Liga – considering Real's league position, it's perhaps easier to understand his plight. Had Madrid been sat in second or first place in La Liga, on the coat-tails of Barcelona or even ahead of the Catalans, it is difficult to believe that so much pressure would be placed on his shoulders.
In a perfect world there would have been a period of grace where Modric would be free to ease himself in and find his feet whilst his team mates coasted through their challengers, but in reality Real Madrid currently sit seven points behind city rivals Athletico and an imposing 18 points behind Tito Vilanova's Barcelona.
Modric has found out the hard way that the level of expectancy at the Bernabeu is perhaps the highest out of any professional football club on the planet and, as such, he is required to earn the respect and admiration of the Madrista faithful.
For what started out a dream for Modric must surely be feeling like a nightmare right now.
Follow @icentrocampista