Doping allegations set to rock La Liga
Updated: 23 February, 2013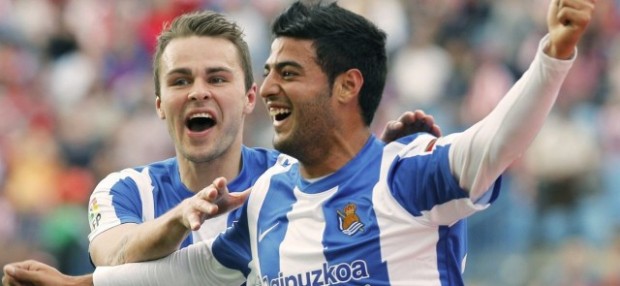 'You shouldn't have heroes', particularly if those heroes are professional footballers. After years of ignorance and sweeping under the carpet, football could well be on the verge of hitting one of the dirtiest periods in the history of the sport.
The widespread match fixing investigations could soon hit La Liga and many other leagues very hard, but doping could well hit so much harder.
The recent allegations that center around one of Spain's most storied clubs, Real Sociedad, hit the headlines after former club president Inaki Badiola claimed that upon his appointment at the Basque side he removed two employees that were alleged to be part of a doping operation during some of the most successful years in the history of the club.
The reactions to Badiola's claims were as depressing as they were predictable. The head of the Spanish FA has called the revelations "just an anecdote to an anecdote" whilst two of La Real's prominent figures that played during the accused period, Xabi Alonso and Xabi Prieto got more attention for their dismissal of the claims than Badiola did for making them. "Our sport has nothing to do with cycling" Prieto claimed taking a rather ironical side swipe at a sport where athletes are tested in more than any other; unlike football where years can pass for players without as much as a urine sample taken.
When Badiola should have been given enormous credit for not only stopping doping but later reporting it he's been treated like a martyr; bringing an issue into the public's focus that many would rather ignore.
The accusations surrounding Real Sociedad coincide with the on-going Operacion Puerto doping case which began at the start of the year. The case centres on Doctor Eufemiano Fuentes who successfully ran a doping network that featured numerous athletes, and more tellingly, numerous sports. Spain's lack of anti-doping laws is likely to lead to Fuentes getting off rather easily, despite being charged with endangering public health, but for the athletes involved it may be a different story.
In a trial that involves the reoccurring theme of cyclist's constant denials Fuentes, in a possible attempt to shift the blame away from himself, offered to name every athlete he treated, revelations that could have shock the world of football were turned down by the presiding judge to the outrage of many. A respite to potential doping footballers as the spotlight continues to rain down on cyclists, and many will hope it continues that way.
A one man machine Fuentes spearheaded an organisation that is accused of using a long list of banned substances on a long list of athletes. Suspected of providing the now famous EPO as well as anabolic steroids, testosterone, growth hormone and insulin, Fuentes has treated the likes of Tyler Hamilton who was a team mate of Lance Armstrong as well as many other disgraced cyclists such as Ivan Basso and Jan Ullrich.
The doctor has himself claimed he treated other athletes including famous footballer's and tennis players and even went as far as saying in 2010 that "If I would talk, the Spanish football team would be stripped of the World Cup". Those claims remain unsubstantiated and are likely to stay that way as cycling is trapped in the spotlight.
Nevertheless, a domino effect will continue to accelerate as long as doping stays in the public conscience; from Armstrong, to Badiola, to Fuentes, athletes are running out of places to hide.
Follow @icentrocampista