Real Madrid humiliation shows Barcelona lack a coach: whether that is Vilanova or Guardiola remains to be seen
Updated: 26 February, 2013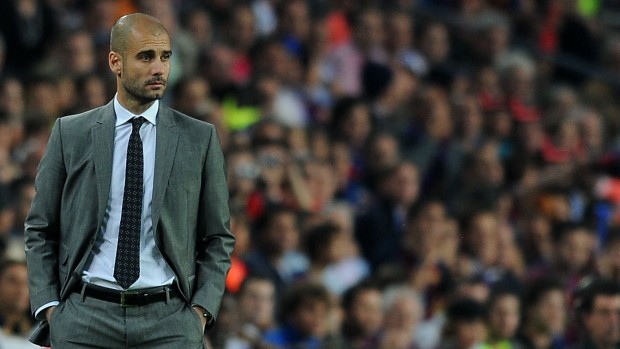 Anyone could manage Barcelona, they said. Tonight, many Barcelona fans would disagree. Jordi Roura set out his team with their habitual starting eleven, with the only notable difference being that Cesc Fabregas was in a more advanced role while Andres Iniesta was deeper in midfield. Though the reasoning behind putting the number eight there was clear (namely to maintain possession better in the middle of the pitch and break through the lines through his dribbling ability), with Fabregas essentially acting as a wide forward attempting to cut inside or take shots from the middle when possible, it is worth asking why David Villa, who is far more suited to such a task, wasn't playing there in the first place.
The irony is, Barcelona started the game with a higher intensity than they have tended to against Real Madrid in recent years, and in the initial minutes, the game looked promising for the home side. That all changed when Gerard Pique dove in during a one-on-one situation against Cristiano Ronaldo and duly conceded a penalty. Ronaldo showed a typically cool head to tuck the spot-kick away, and suddenly, Barcelona were chasing the game.
Which suited Madrid perfectly. With virtually five at the back off the ball, Madrid broke with ease and worked their counter-attacking opportunities brilliantly. Mesut Ozil and Angel Di Maria were breathtakingly good. Carles Puyol's slip while in a relatively good covering position against Di Maria, allowing the Argentine in for the second goal of the tie was unfortunate, but in truth, Madrid deserved to double their lead and looked assured throughout. Jose Mourinho's side passed the game relatively untroubled, and Rafael Varane's goal from a corner to take the tally to three gave an accurate reflection of the difference between the sides. Jordi Alba's consolation goal was just that.
The ease with which Madrid counter-attacked down the flanks raised a question that may have seemed obvious at the start of the season but is now very relative: how has Tito Vilanova and/or Jordi Roura added the defensive cover necessary when playing with two very attacking fullbacks, who are often caught out of position? More than ever, Eric Abidal's disciplined presence is missed at the back for the Catalans, and with Sergio Busquets having a rare off-night, Madrid were happy to take advantage of the opportunities produced as a result.
Looking ahead, Barcelona will not lack motivation in their weekend meeting with Madrid, but with the league already wrapped up, a victory will be little compensation for tonight's humiliation. Perhaps the biggest difficulty faced by the Barcelona players will be changing their mentality ahead of their Champions League clash with Milan. Jordi Roura, who will be feeling the pressure heavily in the coming days, may find his hand is forced in sticking with David Villa, so poor have Barcelona been up front in recent weeks, but why now and not earlier?
On a bigger scale, recent results raise questions over whether the failings of Real Madrid in the league this season have masked those of Barcelona. Of course, the Blaugrana's poor displays in recent weeks have to be contextualised with the absence of Tito Vilanova, but it is also true that even at their best in 2012/13 there has always been a sense that Barça have lacked the ability to control games, something they used to thrive on both offensively and defensively under their former coach. Vilanova's side started the season brilliantly, but are they really a more complete team than Guardiola's Barcelona in its final season, on the rare occasions when they were not compromised by major injuries?
Compare Barcelona's recent performances to the 3-1 away victory at the Bernabeu in December 2011, or indeed, the 2-1 victory for the Blaugrana at the same stadium only a month later, and the way in which Guardiola managed to find solutions in those games, and it is hard to avoid the sense that something is missing amongst the Blaugrana these days. Whether that is Guardiola himself, or simply their current coach, who is still battling far more important issues in life than football, remains to be seen.
Follow @icentrocampista