Real Madrid v Manchester United: Appraising the game of the season
Updated: 12 February, 2013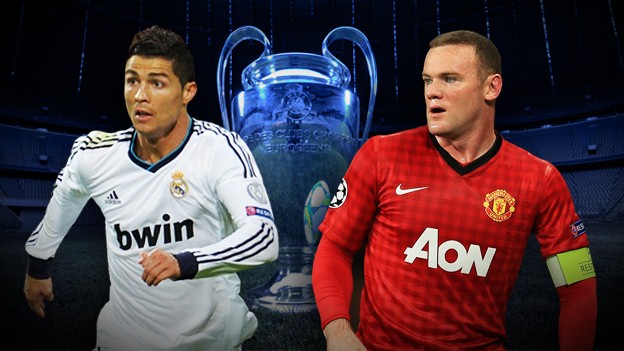 In the Santiago Bernabeu on Wednesday evening, the most illustrious football competition will pit two of the most storied clubs in the world. But, before the whistle blows, it is important to analyse how each team will approach the two legs.
How can United shut down Los Blancos?
Jose Mourinho has built his team through a constant formation (4-2-3-1) and a specific approach (lethal counter attacking). Obviously, Sir Alex Ferguson is aware of this, but he has a complex solution to solve.
The most fundamental aspect in stopping Real is marking Cristiano Ronaldo. When United faced Tottenham, Ferguson decided to double up on Gareth Bale by deploying Phil Jones as right center midfielder to help Rafael stop Bale.
This tactic quieted Bale. However, it had ramifications in how United attacked. The Red Devils only mustered two shots on target and struggled to break down the flanks since a wide player was sacrificed in order to start Jones.
Also, doubling Bale left open spaces in the center for Dempsey to run into and for Aaron Lennon to torment Patrice Evra in one v one situations. Leaving Ozil and Di Maria space and allowing Khedira room to make forward bursting runs would result in a long ninety minutes.
Sir Alex could be more ambitious and elect to cut of the supply line to Ronaldo by closing down Xabi Alonso. Alonso is the chief distributor for Real and utilizing Wayne Rooney's defensive prowess to pressure Alonso would help slow down Madrid's attacks and force the center backs to distribute. Barcelona and Borussia Dortmund have found success using this strategy.
A third method would be to sit the defensive line deep. Ferguson could start Valencia on the right who is willing and able to track back and help Rafael. In the league, Madrid has faltered on the road at times against teams who do not commit numbers forward.
For example, they created very little in Granada and lost 1-0 against a side that parked the bus. Yet, they scored five in the first half in Valencia against a more proactive side that allowed spaces in the center and on the flanks for Real to storm past them.
Attacking could be the best defence
While Ronaldo remains a dynamic force on the left, United may be able to exploit his lack of defensive discipline. Normally, Cristiano does not track back and Xabi Alonso is relied upon to drift over and aide Fabio Coentrao. If the Red Devils field Antonio Valencia on the right, he could be a vital ingredient in creating chances.
Furthermore, Rafael could get forward on occasion to create a numbers advantage. This right side attack was used against Chelsea and Manchester City this season to exploit Eden Hazard and Samir Nasri. Similarly to Ronaldo, these two lazily track back allowing a two v one which ultimately ended up in two United goals.
United should be prepared to deal with intense pressing from Real in the first quarter hour in Spain. Los Blancos have been able to test teams nerves by using this tactic and even scored in 20 seconds against Barcelona last season.
Once they weather the storm, United should be able to keep the ball and try and dictate tempo. Carrick will be needed to provide service out wide and into Rooney. In the final third, United need to swing in crosses and also isolate Pepe to try and pull him out of position.
Can Madrid Defend?
With Pepe reported being fit, Mourinho will likely go with Arbeloa, Pepe, Ramos and Coentrao. Although Rafael Varane has played well recently, his inexperience may not be trusted by Mourinho. United should be able to trouble this back four. Cesc Fabregas troubled Real in the league match with his willingness to drop into midfield to pick up the ball.
The center backs were reluctant to chase him and vacate their position. In the Copa del Rey, Messi often dropped off and was pursued by Carvalho which allowed Pedro and Cesc to run from deep and get in behind. Since Van Persie likes to drop off, Rooney could look to break forward and break the Madrid offside trap.
Conclusions
In the first leg, United will proceed with caution. Expect them to try and pack the midfield zone and use Rooney to drop off to mark Alonso. Ferguson would not mind a scoreless draw but would be delighted to pick up a score draw in Madrid. If United have an away goals lead, they will be confident that they can defend it by sitting two deep banks of four and launching an occasional counter attack.
Real would prefer to keep a clean sheet at all costs at home. Even a nil nil would suit them. They have experienced players who will be confident of getting a win or a score draw in Manchester. Best case scenario for Madrid would be United needing to attack at Old Trafford to get a goal. This will open up plenty of space for a trademark counter. After all, Los Blancos are more likely to score from your corner than you are.
Follow @icentrocampista